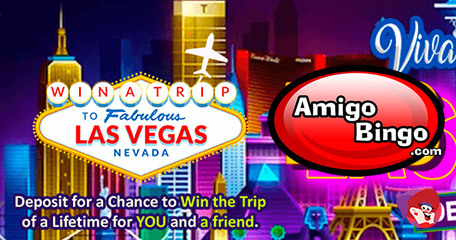 It's time to get those party hats and confetti ready as we celebrate 24 years of Amigo Bingo!
A $500K anniversary fiesta promotion has been created specifically to mark this monumental occasion and you're invited to attend a bingo party like no other…
…where you'll witness Amigo Bingo pay out jackpot of up to $10K in cash! Anniversary celebrations have always been big here only this year Amigo Bingo are pushing the boat out with fantastic jackpot winning opportunities as well as a 'buy 30 get 5 free' offer on all cards. It's their way of saying thank you for supporting them over the last 24 years. Not a member? Sign up for a free trial offer before RSVP'ing to the $500K bingo event of the year!
How To Participate & Win
To win a share of that half-a-million dollars in cash and bonuses, all you need to do is deposit, play, and call bingo on the contest games in the main room throughout the day.
Each contest game win gets you 1 point into the weekly contest.
Every $10 wagered on contest games gets you 2 points into the weekly contest.
Each deposit made within the weekly contest gets you 3 points into the ranking.
There will be weekly draws throughout the promotion and to make it fair, winners will be selected both at random and by their position on the leaderboard. Here's how the winners will be drawn:
Draw 1: Runs between 1st and 7th November and winners will be drawn at random
Draw 2: Runs between 8th and 14th November and winners will be drawn from their leaderboard positions
Draw 3: Runs between 15th and 21st November and winners will be drawn at random
Draw 4: Runs between 22nd and 30th November and winners will be drawn from their leaderboard positions
Prizes that will be won on top of the jackpots are as follows:
1st Place: $250 bingo bonus and 250% deposit bonus (on next deposit made)
2nd Place: $150 bingo bonus and 150% deposit bonus
3rd Place: $100 bingo bonus and 125% deposit bonus
4th Place: $75 bingo bonus and 100% deposit bonus
5th Place: $50 bingo bonus and 100% deposit bonus
Other promotions at Amigo Bingo this month include a fifteen-million slots tournament where they pay out thousands of real money jackpots, daily reload bonuses, $150K team bingo tournament and wait for this…
…a raffle to win a trip to Las Vegas! The Vegas Trip giveaway was such a hit earlier this year that they decided to run it again! Every deposit you make will earn you a raffle ticket. The more you deposit, the greater your chances of winning a free trip for two to Las Vegas to include flights and hotel, or the cash alternative! The winner has the choice of 2 nights in Sin City or $2,500 credited to their account for withdrawal! What would you choose?
Bingo Promotions & Bonuses
Back to articles
Your feedback
Please enter your comment.
Your comment is added.
bridgetjones
11/02/23, 07:11:18 AM
I'd choose the cash over Las Vegas because it would be cheaper to book it yourself and have money left over for the slots!