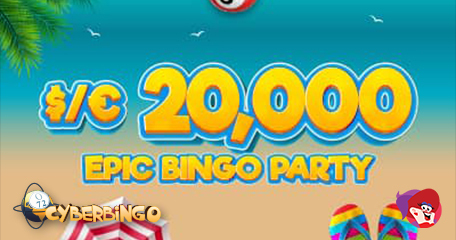 Massive Match Bonuses Every Day You Play!
It's bingo bonanza time LBB'ers with a series of new July promotions from Cyber Bingo. You're being asked to gear up for the finest adventures of the bingo world in not one, not two, but a plethora of promos, including the Sparkling Bingo Tourney where the top 20 players will be rewarded with generous cash and bonus prizes!
Every Tuesday to Thursday this month, players who dab and grab the most wins will take home an additional $500 in cash…
…that's right, $500 on top of all other bingo winnings! The second and third runner-up will also win dazzling cash prizes, while the rest in the top 20 will receive mouth-watering bonus rewards to keep the fun times rolling!
What: Bingo fun and excitement in the exclusive Sparkling Bingo Tourney to win one of 20 cash and bonus prizes.
When: Play in the diamond bingo games (Diamond Bingo room), between 6pm and midnight every Tuesday, Wednesday and Thursday.
How: Purchase your cards on the day or in advance. The more games you win the higher your ranking on the tourney (weekly) leader board.
More promotions at Cyber Bingo this July include:
$13,750 Summer Breeze Bingo Tournament: Every Saturday to Monday this July, there's only one place to be and that is in the Tropical Bingo room. The rules are simple, win the most bingo games in the Tourney to take the bingo crown, that and a mega $1,200 cash prize! And that's not all! This bingo promo is loaded with even more prizes – come second or third and you'll still win cold, hard cash prizes too. Or land in the top 20 to win yourself a cool bonus reward.
Dazzling $25,000 4th of July Special: Over $25,000 in prizes will be won as the Independence Day celebration go big at Cyber Bingo with 5 top of the hour $5,000 coverall games plus a minimum of $500 games too! The bingo games start at 6pm, with the final game playing at 11pm.
B90 Special Bonus: Play for 10c to win $50 prizes from 5pm every Friday night in the B90 bingo fun and games! The Sporty Bingo room is a new addition to Cyber Bingo and it's crammed with many ways to win. At the top of the hour every hour and the middle of the hour, the special low cost games will get underway.
Make A Splash Tourney: Will you make off with the $500 weekly top prize? Get involved with the weekend slot spinning action games to eliminate your competition to land a spot on the prize-paying leader board. Spin the reels on the qualifying slots every weekend to be one of 10 lucky players picking up a cash prize of up to $500 or a bonus! Play between 12:01am on a Saturday and 11:59pm on a Sunday to be in with a chance of winning.
Epic Bingo Party: An incredible $20K in cash will be won on Saturday 29th July, and with cards costing as little as $2, there's no reason why you can't particpate. It's the biggest bingo event of the bingo calendar and there guarantees to be $10K won in 10 warm-up games followed by a $10K end of event special!
TGIF Bingo: The Tropical Bingo Room on Monday nights turns up the heat with $50 in extra prizes for those who manage to call house on specific cards. Play from 6pm and if you manage to win on the full house showing the collectible image, your winnings will be boosted by $50! To keep things fair the extra prizes can only be won once per player on any Monday night.
Summer Slot Mission: Particpate in slot missions from Saturday to Sunday every week to get yourself $100 extra prize money! There are 5 separate missions to complete every weekend with $100 being paid instantly on completion. The tasks are so easy:
Trigger 5 free games on Aloha Wild
Hit the bonus round on Summer Smileys
Lose 5 consecutive spins on the bounce on Lobsterama
Hit 3 consecutive wins on Pinata Pop
Play 10 games on Sporty Smileys
Mini Games Tourney: Win the most by playing any of the many mini games featured and you could win up to $250 extra! Mini games can be played with both bingo bonus and cash balance! The top 10 players get the prizes with $250 going to player in spot 1 of the leader board. Player 2 and 3 receive $150 and $75 respectively while players in positions 4 through 10 receive bonuses of between $15 and $30.
Dauber's Mini Golf: Help the Cyber Bingo mascot track down his golfing equipment to win $100 cash. Make your way to the Tropical Bingo room between 12am and 4am and then again between 12pm and 4pm every day this month, to collect his gold club, golf ball, golf buggy, golf flag, golf shoes and his golf sweater! Items can be collected by winning on bingo and collecting his items in the process.
Bonus Mania: Boost your deposit by as much as 325% with the daily bonuses at Cyber Bingo. Deposit from $30 to $100.01 to get an instant bonus offer.
Crash Crazy Tourney: A total of $3,800 will be won every Monday and Tuesday throughout July.
Lucky Cash Tourney: Just one lucky spin could see you top the tourney leader board to take home a weekly $500 in cash!
Hot Slot Cashback: Play the Dreamcatcher slot and get up to $1,500 in cashback (bonus every week).
Spin-Tastic Bonus: Special funding bonuses of up to 250% for the slot playing community. Deposit $30 for a bonus of 125%, deposit $55 or more for a bonus of 150% or credit your account with at least $125 to receive the maximum bonus of 250% every Saturday and Sunday this month!
*All times shown are EDT.
Promotions & Bonuses
Back to articles
Your feedback
Please enter your comment.
Your comment is added.