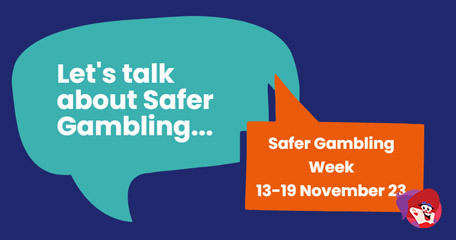 It's almost that time of the year again where all gambling operators, both online and offline in the United Kingdom and Ireland, get together for a cross-industry initiative to promote safer gambling.
Running from 13th to 19th of November, Safer Gambling Week wants you the consumer to equip yourself with the knowledge and tools to help gamble more safely. There are four main points to remember not just during Safer Gambling Week but all year round:
Setting Limits: Responsible gamblers set themselves limits, and this can be done by setting limits in motion across online gambling websites. Example, you're playing online bingo and can afford to lose £50 a month, so you head to your account section and set yourself a deposit limit of £50 per month. As soon as you reach this threshold you will not be able to deposit any more. Limits also come in the form of time limits so ask yourself how long do you want to play for then stick to it. More than 400,000 deposit limits are set every month according to Safer Gambling UK.
Gambling Isn't A Money Making Scheme: Gambling should NEVER be seen as a way to make money. You may get lucky now and again but you shouldn't be tempted to gamble with money that you cannot afford to lose. Gambling with money you have set aside for things like rent and bills is where the problems start. Only ever stake what you can comfortably afford to lose.
Breaks Are Good: Step away, tap out and pause before you play. Take time to think. Logging out for a break doesn't mean you'll lose what funds you have in your account. You can leave them where they are or withdraw them (providing you have no wagering requirements attached to bonuses).
Family and Friends Should Come First: It's important to remember that friends and family come before gambling. If you're prioritising gambling over either of those then you should consider taking a break or contacting gambling helplines for support.
Do you recognise ant of the following "warning signs"?
Gambling may be becoming a risk for you if you are…
Spending more money on gambling than you can afford. If you're playing bingo games, slots, heading to the casino or placing bets on sports with money set aside for things like utility bills or shopping you're displaying a warning sign.
Finding it hard to manage or stop your gambling. There are tools in place at all gambling venues (online and offline) to help manage or stop your gambling altogether, such as GAMSTOP.
Having arguments with family and/or friends about your gambling.
Losing interest in other activities that you usually enjoy in favour of gambling.
Always thinking or talking about gambling.
Lying about your gambling or hiding it from your friends and family.
Chasing your losses or gambling to get out of financial trouble – this will only lead to more financial issues as there are no guarantees in gambling.
Gambling until all your money is gone instead of making a withdrawal.
Borrowing money or selling possessions to fund your gambling.
Needing to gamble with larger amounts of money or for a longer periods of time to get the same level of excitement.
Neglecting work, study, family, friends, personal needs or household responsibilities because of your gambling habits.
Feeling anxious, worried, guilty, depressed or irritable due to gambling.
If you are experiencing one or more of the warning signs there is help out there. You can connect with the GamCare forum and live chat to connect with other people in a similar situation, plus you'll also find support there.
General Gambling News
Back to articles
Your feedback
Please enter your comment.
Your comment is added.