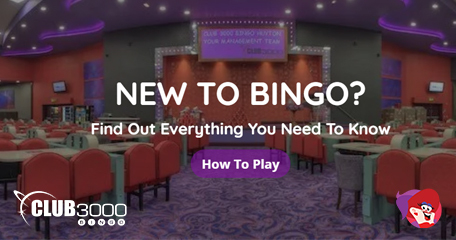 We're always excited when a new online bingo site opens its doors, but are we excited for Club 3000 Bingo? What has taken this long-established, award-winning, family-run bingo company so long to launch its online bingo product? They've been around since 2006 and in that time, they've set records (and the competition are yet to break them!), paid out astonishing amounts in cash each month and are even in the process of opening a 20th venue in Blackpool!
Again, why did they take so long in moving online? Nobody knows, but I have my suspicions (couldn't decide on the bingo platform to go with no doubt!). Unless you've been lucky enough to sample the hospitality offered by Brian Fraser's bingo brand, you'll not know what to expect. Like all land-based venues, there are session bingo packages with food, drink and plenty of slot machines!
Does the new bingo site offer the same innovative designs, promotions, jackpots and first-class games that can be found up and down the high street? You bet, all thanks to the Jumpman Gaming platform. The world record for the single biggest pay-out to one customer is still held by Club 3000 Bingo, after one lucky devil landed a win of £1.2million!
You'll have the chance to beat this when you sign up, what with there being a phenomenal range of progressive and fixed jackpot games on offer! Beat the Bobbies is just one of the titles where eye-watering cash can be triggered on any spin, plus I bet you didn't know you can win up to £1,000,000 by dabbing bingo tickets!
That's right LBB'ers, there are bingo rooms open all hours with prizes ranging from free bingo tickets to one-million-pounds! And not just I the one room either; in a total of four different rooms! Looking for something different? Bingo Blast is packed full of fun with its unique and explosive game mechanics – do you have what it takes to trigger a colossal win?
Win an iPad Pro
It's always nice to learn a little a bit about the company behind the bingo brand before you play, so here are a few statistics for you to digest:


In 2019, Donna Kunyo from Club 3000 in Middleton, beat off stiff competition to take home the coveted 'National Bingo Caller of the Year' award.


There are 19 bingo clubs dotted around England, Ireland and Wales.


The bingo club is on Facebook and regularly post promotions and news on big winners!


More than £5million is paid out across those 19 clubs every month.


In 2021, a new £7milion bingo hall will open its doors in Blackpool, bringing 55 jobs and investment to the local area.


Aside from a welcome offer of up to 500 bonus spins…
…what else can you expect from the new bingo site? How about loyalty perks, daily cashback awarded as real money (double in the first month), happy hours, a multi-tiered rewards system where more bonus spins could be won by completing fun-filled task and the chance to get your hands on more free games on subsequent deposits!
Oh, and one lucky player will win a free takeaway each month! If you can hit the biggest single win in the month, you'll get your hands on some free grub! And if you're quick, there's an Apple iPad Pro (2020) worth £769 up for grabs this July! Make a deposit of just £10 (through various banking methods!) and play this through, to be included in the draw!
General Bingo News
Back to articles
Your feedback
Please enter your comment.
Your comment is added.
Member's Feedback (1)
lollipops321 07/29/20, 08:07:19 AM
I've a bingo venue near me and it's lovely! The staff are super friendly, and you can win big cash, just like Mecca and Buzz clubs.