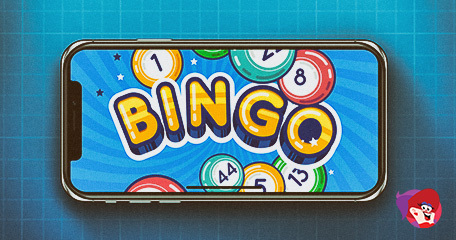 A Dummy's Guide to Mobile Bingo & Apps
Playing real money bingo games on mobile is simple, especially with the use of a mobile app. Do you download the app or don't you? Not all online bingo operators offer an app, but plenty of reputable sites do. Should you download it or not? It seems a simple question but before you can give your answer you need to know the differences between playing via app or accessing the site through your browser.
No two bingo sites are the same, yes they may seem similar when it comes to offers such as spin the wheel and daily promo codes, but how they operate is very different. The vast majority of mobile compatible bingo sites welcome gameplay through the browser (even when there's an app available) and accessing games this way is done by tapping the address of the bingo site into the browser and signing in (or registering). There are disadvantages to this, including the search bar being visible at all times and getting in the way when you want to play games. Plus, the chatbox won't be visible unless you hide other parts of your screen.
Downloading a bingo app offers a quicker route to the bingo and games you love and it'll be free…
…simply tap that app (log in/register) to gain access to the lobby and current news and promotions. One noticeable difference between the app and the browser is that search bar: it's only visible when accessing online bingo via a mobile browser. Disadvantages to the app include having to search for it on your app store and waiting for it to download.
Regardless of how you choose to play bingo on mobile, there are some cracking offers out there. Take the In Touch Games brands for example (Mr Spin, PocketWin etc), each one guarantees a no deposit sign up offer just for confirming your mobile number! Then you have others where everything you win is real cash, even from bonuses! No having to meet wagering requirements - EVER! And we're in the process of testing as many of these bingo sites as we can, how? By putting our hand in our pocket and making real money deposits to bring you the very latest details to help you make an informed choice before spending a penny!
Mobile Bingo FAQ's:
Q: Can I Get Exclusive Bingo Offers Via Mobile?
A: Yes! MrQ for example will throw even more no deposit spins your way when just for confirming your mobile number. You don't even have to play on mobile to qualify for this offer. Everything comes with no wagering promise and no maximum win limits at this particular gaming destination.
Q: Do I Need a SIM Card to Play Mobile Bingo?
A: Yes and no. If a website needs you to confirm your mobile number then an active SIM is required. If it doesn't then you're good to go with no SIM card installed.
Q: Will Playing Bingo (and Games) on Mobile Eat My Mobile Data?
A: Best to play when you are using WIFI, not only is it more reliable, but it also means no nasty surprises when it comes to your data! If you want to play using your data you should be prepared for two things: the possibility of losing connection mid-game and running out of data long before you should! Those with unlimited data plans need not worry!
Q: How Do I Pay to Play Bingo on Mobile?
A: Like you would when playing on a desktop or laptop! Go to the cashier, add your payment details and make your deposit. Don't forget to look for any promo codes before you complete your transaction! There is also a range of bingo sites with apps, which may be downloaded to your mobile phone or tablet for easy access.
Q: Are Withdrawals Processed Quicker Via Mobile?
A: No. The withdrawal process is the same on mobile as it is on desktop. Withdrawal time frames vary from one bingo site to the next but there is a few things you can do to speed up the process, one includes using a more efficient payment provider.
Q: Can I Access All Bingo Games and Slots on Mobile?
A: It depends on the software provider as not all games, especially older versions, are compatible for mobile play. These days most games are optimized for mobile play.
Q: Is Support Available on Mobile?
A: Yes! Customer support is always available and can be found within the help pages. If live chat is accessible on desktop or laptop it will be available via mobile too. Tombola's live chat feature on mobile will open up in a new window.
Q: Do I Lose Chat Privileges When Playing Bingo on Mobile?
A: The chat community can be a great place to make new friends and to pick up additional bonuses, but with small mobile devices it can be tricky accessing this. If you want to chat it will take up 90% of your screen space, meaning you won't be able to keep track of your bingo tickets/casino gameplay at the same time.
Q: Am I Only Able to Use Apple Pay on Mobile?
A: Apple Pay is only available at a handful of mobile bingo sites and in order to use it you need to be playing on an iOS device (iPhone/iPad).
General Bingo News
Back to articles
Your feedback
Please enter your comment.
Your comment is added.
Bubles12
02/24/22, 01:02:55 PM
I like playing on mobile but not for long, because the screen is small and I like to multi-task.