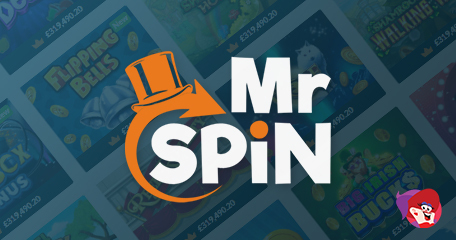 That's One Way To Do It!
Gambling should be fun and Mr Spin have come up with a new and unique way to stop it becoming anything other than that.
The key to keeping things fun (and safe!) is to keep on top of the time and money you spend and they're always looking at new ways to make it easier for you to stay in control whilst you're playing, and they have just announced the release of a brand-new tool to help players to manage the time spent on the site – they call it the "Deposit Curfew."
What is it? The "Deposit Curfew" tool can help you by disabling your ability to make a deposit between 10pm and 8am every day. This doesn't only apply to Mr Spin – in fact once implemented, it will apply to any accounts you may have with Intouch Games.
What's the big deal? This tool is a great way of taking a positive step to ensure you're not gambling too late into the night or early into the morning. Losing track of time (and money!) is easy when gambling!
How does it work? The "Deposit Curfew" tool can be applied by going to My Account > Safer Gambling > Deposit Curfew, which will take immediate effect. Just like all other responsible gambling tools, you have the power to remove this tool at any point – it just takes 24 hours before you can deposit between these hours again. Why? To make sure you're making the right decision.
More Ways To Help
As well as this, In Touch Games brands also have other safer gambling tools to help you stay in control of your play time and spend time, and they and we recommend all customers should make regular use of them. Here's what's at your disposal:
Deposit limit - You are able to set yourself a deposit limit for a period of 1 day, 7 days or 4 weeks on your account.
Cooldown period - You are able to set yourself a cooldown period for 1 day, 7 days, 4 or 6 weeks on your account. This temporarily deactivates your account. During this (chosen) period you will not be able to access your account to play, deposit or withdraw.
Session Limit - You are able to set yourself a time limit of 30 minutes, 1 hour or 2 hours on your account. This won't limit the amount of time you're able to play, but it will give you a reminder of how long you've been playing for once your chosen time limit has been reached.
Access to customer history - You can access the full history of your transactions by going to 'My Account' and 'Game Records', this will then display your total deposits, withdrawals and bonuses received, as well as your full gameplay records for the last 3 months.
Self-exclusion - an exclusion will apply to all accounts in your name across the In Touch Games network. This includes mFortune, PocketWin, Mr Spin, Dr Slot, Casino2020, Bonus Boss and Jammy Monkey. This self-exclusion option prevents access to any existing accounts or the creation of any new accounts for a minimum of 6 months.
General Gambling News
Back to articles
Your feedback
Please enter your comment.
Your comment is added.