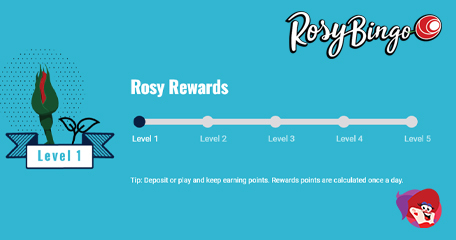 Get Up to 30 Bonus Spins Every Friday & A Casino Bonus
Rosy Bingo offers one of the best selection of bingo and games on the internet, that goes without saying, but how many of our readers know about their huge range of promotions, freebies, no deposit deals and rewards? I bet it's not many. From must drop jackpots to progressive jackpot slots, big prize money bingo rooms to bonus spin Friday's, Rosy Bingo has something to suit every type of player…and budget!
Jackpots, we all want to win one only the bad news is not all of us can, but Rosy Bingo want to help make that dream a reality with scores of jackpot promotions and hundreds of jackpot games. Take the mini jackpot got to go promo for example, it plays twice a day and there is a guaranteed jackpot to be won each time. Games commence between 6pm and 7pm and then again between 8pm and 9pm in the Broadway room…
…and that ball count will keep on increasing until someone wins. The same rules apply to the bigger jackpot games, only this time instead of £100 in each game there's £2K to be won. Games will play every Thursday and Friday between 9pm and 11p, with the jackpot available to be won at any time. Ball count will increase throughout each event until there is a winner.
Then there's the drop pots room with multi-tiered jackpots and multiple chances to win a jackpot on bingo games every day. There are three prize pots available in addition to the one-line, two lines and full house prizes and tickets start from just 10p each.
The Mini jackpot starts at £10 and on 30 ball calls. The ball calls increase on each game throughout the day until it is won. The mini jackpot is available between 6am - 1am each day.
The Midi jackpot starts at £300 and on 32 ball calls. The ball calls will increase every three games between 3pm and 8pm. The Midi jackpot prize will also increases until someone wins the jackpot prize.
The Maxi jackpot is the largest of all and starts at £700 on 34 ball calls. The ball calls increase by 5 numbers each game between 9pm-10pm. If the jackpot hasn't been won by the end of the hour it is guaranteed to be won on the last game of the hour.
Progressive jackpot slots include the Mega Moolah series of titles by Microgaming, with four jackpots and plenty of bonus features. These titles include Mega Moolah, Thunderstruck Mega Moolah, Juicy Joker Mega Moolah, Mega Moolah The Witch's Moon, Mega Moolah Goddess and Immortal Romance Mega Moolah. Which is your favourite?
A Rewarding (Rosy) Bingo Website
Earning rewards with Rosy Bingo is as simple as making a deposit and playing games. The more points you have, the better those daily perks. You'll get 15 rewards points for every £1 you deposit. This means a deposit of £10 is worth 150 points. Every £1 wagered on casino games is 1 point and it doesn't matter if the funds being wagered are cash or bonus. For every £1 in cash spent in selected bingo room, you'll get 5 points. That's how quick your points tally can really add up!
To advance through the Rosy Bingo rewards levels you simply need to accumulate rewards points over a 30-day rolling period. Every day those points will be tallied up and as you continue to earn those points, you will climb through the levels, unlocking bigger and better offers as you go. If you haven't earned enough points to move up a level but have earned enough to stay in your current level, you'll continue to get the rewards for your current status. Simple!
Level 1: 0 – 499 points
Level 2: 500 – 6,499 points
Level 3: 6,500 to 19,999 points
Level 4: 20,000 to 59,999 points
Level 5: 60,000+ points
Now for the levels and rewards. On level 1 players are treated to a daily deposit deal. Spin that one-arm bandit to get a freebie or a deposit offer every day…
…look for the daily deal next to your notifications, spin the reel and claim your prize! Three other offers come with level 1, including a casino bonus of 10% on a Monday. Then it's free games Friday with bonus spins credited to one of three top-rated titles. Finally the loyalty tokens begin to flow with tokens awarded on cash stakes. Tokens can then be redeemed for cash prizes.
Levels 2 to 5 get much better…
…in terms of what you can claim! Level 2 consists of everything you see on level 1, only a grander scale. There's the deposit deal, the casino bonus on a Monday – only this time 15% up to £50, double the number of bonus spins on a Friday and a better loyalty token rate.
Level 3 ramps up the rewards with more daily deposit deals and now a 20% casino bonus on a Monday. Bonus spins Friday now includes 15 free games on top slots with even more loyalty tokens on cash stakes.
On level 4, daily deposit deals are their biggest yet. Pull that lever, set those reels into a frenzy to see what you've won. Will it be a deposit deal or a no deposit freebie? Monday's come with a casino bonus of 25% this time and up to £100. Bonus spins Friday sees players claiming 30 casino spins and even more loyalty tokens.
The grandest tier of all is level 5 and here the daily deals are the biggest they're ever going to get. Casino bonuses are 50% up to £100 and bonus spins on Fridays have been increased to 50! Oh, and there's those loyalty tokens too. When you have a total of 5,000 tokens you can then redeem them for cash at a rate of 1,000 for £1. It's like a big bingo shop!
Bingo Promotions & Bonuses
Back to articles
Your feedback
Please enter your comment.
Your comment is added.
TinTinn
07/18/22, 01:07:04 PM
It's one of the friendliest places I've ever played at. The rooms are limited but that means more players and more cash to be won. I've never had an issue with cashing...
It's one of the friendliest places I've ever played at. The rooms are limited but that means more players and more cash to be won. I've never had an issue with cashing out either. Love the slots too.
Show more