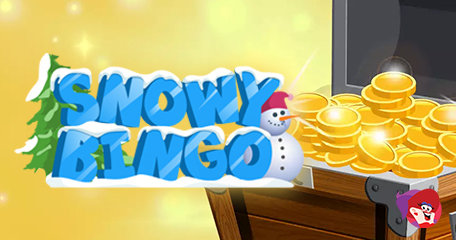 £500 Is All To Play For Every Couple of Minutes
I always said there would be snow way in hell of me playing bingo games with mystery prizes, but here I am enjoying the intrigue of it all. If you've never heard of mystery jackpots bingo, this one's for you and I guarantee you'll love it just as much as I do.
Not knowing what you can win can be a bit of a let-down, but it can also be exciting. Take my friend for example, there she was playing mystery jackpots bingo when her luck finally came in. Purchasing just 10 tickets at 5p each, the treasure chest appeared and revealed a massive £500 cash prize. The chat community erupted into flurries of excitement and it wasn't long before my mate called a full house to bag that mega jackpot prize!
Mystery jackpots bingo isn't your typical 75-ball bingo game, but how you play and win is. Players are able to purchase up to 96 tickets per game at a cost of either 5p or 10p a ticket. Off-peak times are quieter with fewer players and cheaper tickets. Busier periods (from 5 pm onwards) bring more players and 10p tickets.
Q: What's the best time to play mystery jackpots bingo?
Quieter periods mean you have more chance to win and the bingo tickets are at their lowest.
Busier times mean more players and less chances to win. Ticket prices will be 10p each during these times and you should see bigger prizes more often.
Q: What can you win with mystery jackpots bingo?
That's the fun thing about this 75-ball bingo game; you won't know what you can win until ticket sales close! The bingo rules state prizes can vary between £10 and £500 with a treasure chest opening to reveal the prize once ticket sales have closed.
Q: How do you win?
Match the pattern on your ticket or complete a coverall to win the current prize, it's as simple as that! Keep an eye on the example ticket to the top of the page when patterned bingo games are in play, as it helps you identify what numbers you need to get a win.
Q: Is there anything else I need to know about mystery jackpots bingo?
Yes! It's a mobile friendly bingo room and that means you can play on the go or from the comfort of your sofa! Plus there is a chat feature where friendly hosts run chat games and quizzes for additional bonuses, usually they feature shop coins.
Never heard of shop coins? Every time you play bingo and games you earn coins and they can then be used to purchase bingo tickets, games and bingo bonuses, bonus spins, real cash or a combination of all offers! And of course, you can get a bingo win from any offer!
Q: Where can I play mystery jackpots bingo?
Many Dragonfish powered bingo sites, including Snow Bingo where you'll find a flurry of free bingo rooms and big jackpots. Where else can you play for free to win a guaranteed share of £10K (in cash!) every month?
Back to articles
Your feedback
Please enter your comment.
Your comment is added.
Member's Feedback (1)
TinTinn
07/15/22, 06:07:21 AM
It's an exciting game but when you max out on 10p tickets you're looking at £9.60p a game. Maxing out on 5p tickets is still £4.80p a game. I tend to play 10 tickets...
It's an exciting game but when you max out on 10p tickets you're looking at £9.60p a game. Maxing out on 5p tickets is still £4.80p a game. I tend to play 10 tickets in every game to make my money stretch further.
Show more