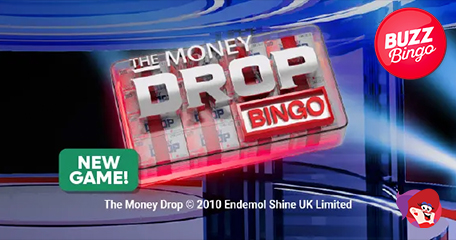 Learn How To Beat The Drop To Win!
Sound those klaxons! There's a brand-new way to play (and win) online bingo and it comes with not multiple ways to win and a bonus prize pot round for added excitement!
The Money Drop Bingo room has just launched over at Buzz Bingo HQ with its unique trapdoor feature that allows you to win an additional prize if you can beat the drop. Some pf our television gameshow readers will probably recognise the name but for those of you who don't, the new bingo variant is based on The £100K Drop (formerly known as The Million Pound Drop and The Million Pound Drop Live), a once-popular British gameshow on Channel 4.
Gameplay…
Lucky contestants selected to go on the show, either alone or in pairs for the first series, or only in pairs from the second to the ninth series, were given £1,000,000 in £50 notes at the start of the show – but not to keep. The prize money was divided into 40 stacks of notes. Participants were then presented with multiple-choice questions during the live event and were required to place their money on the answer(s) they thought were correct.
Each answer option represented a different trapdoor or "drop" but only one answer is correct, but as per the rules, at least one door must be left clear with no money on it. Any money not placed on a drop when the time runs out was forfeited, and contestants who put money on every drop typically face immediate elimination.
Once the timer runs out and the answer is revealed, drop zones will open and money will be removed from gameplay. So, the aim of the game is to keep getting as many questions right as you possibly can to keep hold of as much cash as possible!
The Bingo Game…
The Money Drop Bingo game is an 80-ball bingo variant based on the television gameshow once hosted by Davina McCall. By purchasing bingo tickets players have the chance to win one of multiple prizes, as well as particpate in an exciting bonus round. The goal is to mark numbers on your ticket(s) to win… and to beat the drop to win again!
After every 4 balls drawn (at random), the bingo game will come to a brief pause and the drop zone will appear on screen with four trapdoors labelled 120, 21 – 40, 41 – 60 and 61 to 80. You then have to place a token on which trapdoor you think will be safe when the next ball is called. Example, you place a token on trapdoor 41 to 60 and the next ball drawn is a number between 41 and 60, your trapdoor will open and you still in the feature game. Survive 4 rounds to win a share of the prize pot.
If nobody beats the drop, the feature will end and the prize money will be carried over onto the next game. The new Buzz Bingo variant is available to play between 5pm and midnight. Will you be joining in?
General Gambling News
Back to articles
Your feedback
Please enter your comment.
Your comment is added.