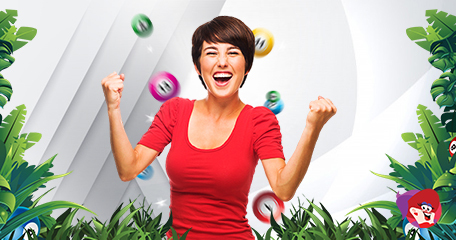 If you're reading this, I take it you're looking into playing bingo online (or games!) for the first time, but you're not sure where to start. Let me enlighten you. The registration process is far from the first step in playing, your finances are! Now more than ever it's important to look after the pennies, so before deciding where to play, decide on an amount you can afford to lose.
If you're under the impression you need to splash the cash to win big, you'll be surprised to learn you don't. There are free to play bingo games where tens of thousands of pounds are guaranteed to be won but not only that, every player with a ticket into the game is also guaranteed to win something.
Dinky Bingo is among the network of bingo brands offering such promotions where all new players will receive a bumper-load of tickets into the monthly (on the 10th) bingo game, and the best bit is; this is a money can't buy access room!
#1 - Budgeting
First thing's first; budgeting. All operators ask is that you play within your means but often we find ourselves tempted to play more. Playing bingo and games online is a gamble and you're not guaranteed to win, so popular phrases such as "I've been playing all day, surely it's time to pay out now" can be the ignition needed to fire more cash into that bankroll, but you shouldn't.
Temptation to play on is always there which is why all online bingo and casino operators have introduced safe play measures. Upon registration, you'll be required to choose either a daily, weekly or monthly deposit limit and we urge you to take advantage of this facility. If for some reason the option of deposit limits doesn't appear in the sign-up process, you can always access it within your account.
Tombola players earn £1 for stating their limits and that £1 could see you go on to win thousands in fixed jackpots! Have you confirmed your limits?
#2 – SOF Checks
If I was to say show me your bank details, you'd be horrified. But that's' exactly what operators are required to do by law. There have been some scathing reviews appearing across social media of late regarding operators and their 'source of funds' (SOF) checks, and it amazed me just how many bingo players didn't know about this. Just like applying for a loan or car finance, your credit would be subject to status, and in a very similar way, the UK Gambling Commission (UKCG) require gambling establishments to undertake risk assessments on players.
Should you receive an email or telephone call regarding your account, they would want to see (banking) proof that you have the wherewithal to gamble. Not only is this process there to reduce the risk of gambling related harms, but it is also there to stop money laundering. In one such case, a cleaner who was reportedly earning just £10K a year, had spent more than £1m on gambling in just a 3-month period. Now can you see why these checks are carried out.
#3 – Welcome Bonus
Next step is to choose somewhere to play with bonuses that won't see you playing though substantial cash just to withdraw. Bonuses more often than not are super but there are some that have hidden terms and conditions that could see you tied into splashing the cash. Wagering requirements will be applied to every bonus; bonus spins, deposit bonuses, reload bonuses and even cash-back.
Low wagering is anything up to 10x, medium is up to 25x and high is beyond that. Let's go with 10x wagering for an example. If you were to accept a bingo bonus of £10 with a 10x wagering (also known as turn over or playthrough terms!), you would need to spend £100 to be able to withdraw. That 25x would become £250 on a £10 bonus and 65x (which are notorious terms on spin the wheel), would result in a spent of £650 on just a tenner bonus.
Is there a way of playing without having to meet wagering? You bet and you can read all about it in our handy 'keep everything you win' guide.
#4 – Who Are You?
You've been playing bingo games at your new bingo site for some time when a message pops up about verifying your identity. Alarm bells start to ring. What's going on? Don't panic, again, you are required by law to prove you are who you say you are. But why? Again, this is to combat money laundering, to prove you are the over the age of 18 and to check where your money is effectively coming from.
Photographic evidence of your passport, driver's license or other photo ID will be required, so too will be a utility bill in your name with your address (within the last 3-months) and a photo of the debit card used to fund your account. You can place something over the middle 8-digits, so you don't expose your entire number to strangers. Once done, your account is usually verified within a 72-hour process.
#5 – Speedy Cash
One other important factor (for me) is how quickly I can get my hands on my winnings. If you'd rather not wait in lengthy processing queues, try using an e-wallet such as PayPal. It's important to remember that any withdrawal request will be processed back to the original method used to fund your account, so if you use a debit card, you're looking at between 3 and 5 working days to receive your funds.
PayPal is a (free) electronic system which sees withdrawals processed within a speedy 24-hour period and from there, you can send your finds to your bank instantly! Why wait?
Back to articles
Your feedback
Please enter your comment.
Your comment is added.