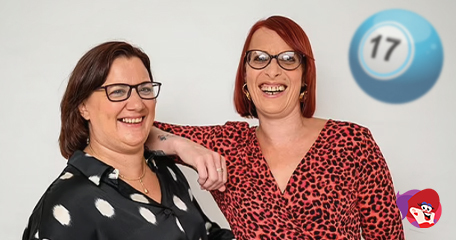 What a Win! Bingo Dabbers Discover They're Sisters!
Two sisters in their 40's who last saw each other as teens have found each other through their love of online bingo. Reunited by chance through a bingo chat room makes this story even more unbelievable as we all know, you cannot give your real name and personal details through chat. Amanda, 44, from Ipswich, Suffolk, and Melissa Paterson, 43, from Colchester, Essex, struck up a friendship back in February 2020 without even realising they were related. All they knew was each other's usernames!
Single Amanda who is a mum-of-four and a carer, said: "Melissa and I were very close growing up, we were inseparable. Our mum loved bingo and used to take us with her. I've always had fond memories of us playing bingo together. But our parents got divorced and I think we both took it pretty hard. I left home quite early on, and I just took my own path. Melissa took her own path too."
Dab and Grab Happiness
Unlike Amanda, Melissa stayed in her hometown of Colchester with her painter and decorator partner Carl and their two children. Speaking to the media, she revealed how the pair lost contact and how she felt she couldn't reach out to her. Fifteen years apart is a long time, but she would think about her all the time, she said: "I didn't want to interrupt her life and I was also scared of the possibility of rejection. We're both quite stubborn, so we both just kind of dug our heels in. It became longer and longer since we'd spoken and reached a point where I wasn't sure if she would even want me in her life."
Fast forward to 2020…
…the pair were playing at Mecca Bingo and instead of sitting back like many of us do, they got involved with the chat games and quizzes and fun chat when someone asked an innocent question "Where is everyone from?" Melissa noticed someone had put they were from the same town as her, so she decided to get chatting about the area and whether or not they knew the same people. When Amanda revealed the school she went to, Melissa was stunned.
"I started to get a hunch, I can't explain it, it was just a feeling. I asked what her age was and realised she was the same age as Melissa." And from this little bit of info, she had a hunch it was her sister who she hadn't spoken to for 15-years! "I just knew it was her," she said. "She was telling me that she had children and they were all the same age that I knew Melissa's children would be. There were too many coincidences."
What happened next? Convinced this was her long-lost sister, Amanda typed into chat "Hi sis" and burst into tears when the other person playing bingo wrote "Amanda?" What happened next is proof that Mecca is one of the best bingo sites out there. Chat rooms are public and cannot be used to exchange personal details, so how would these two sisters finally get to meet without being able to give each other any of that info? Amanda contacted Mecca Bingo and explained her situation. None of them had social media, making it all the more difficult. The site manager at Mecca agreed for the pair to swap numbers, and they rang each other immediately!
Due to the pandemic, the pair couldn't meet last year, but they finally got to meet over the May bank holiday this year. They will be keeping in touch from now on and have made plans to play bingo together offline as well as online!
Source: "The Real Winners! Sisters Who Spent 15 Years without Speaking After 'Drifting Apart' in their 20s Reunite After Meeting by Chance in Bingo Chatroom Where Screen Names Masked Their True Identities". Mail Online. July 8, 2021.
Bingo Society News
Back to articles
Your feedback
Please enter your comment.
Your comment is added.
TinTinn
07/13/21, 06:07:11 AM
What a lovely story! I often wondered how people would contact each other. Shame they didn't have social media, would have made it so much easier.