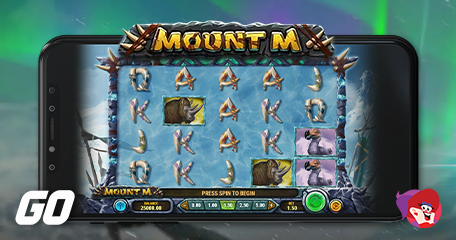 It's Brrrrr-illiant Fun!
There's a brand-new slot machine on the market and it draws its inspiration from the majestic mammoths that once ruled our lands and its name is Mount M. Packing heat through a variety of cool features means players get to walk in the shadows of one of the largest prehistoric mammals known to man, while encountering many other extinct species along the way iQDncluding the dodo, Javan tiger, West African black rhino and ancient wolf.
Mount M, short for Mammoth Mountain, was where prehistoric men would go to worship the mighty mammoth only the journey wasn't easy. Ascending to the top of the mountain took great courage and not all who set out to accomplish this mean feat got to say their prayers. What did those men get in return for such a gruelling and back-breaking act? Health, wealth and good luck and there sure is plenty of cash hidden behind those reels!
The Mountain is Calling
Regardless of stake, players will be thrust into an immersive journey crammed with mysteries. The aim of the game is to reach the peak of the mountain but luckily, walking for days on end is not a necessity. Get to the top of the mystical mammoth-shaped mountain and take part in a secret ritual to summon the spirit of the mammoth. Unfortunately the majestic beast is not available for any queries you may have!
The 5x4 reel engine delivers multiple ways to win per spin during the base game, however, prepare to be amazed when the scorching fires land as the number of ways to win increases from 1,024 to as many as 8,192! A mountainous jackpot prize up to 13,000x has been frozen in time, will you be the one to release it?
Three, four or five bonus scatters (the fires), award 10, 15 and 20 bonus spins respectively. Two, three, four or five scatters re-appearing during the bonus will trigger an additional 3, 5, 8 or 10 spins. All-in-all, a player can win up to 68 bonus spins in the one bonus session. Special orbs occupy the reels during the free games round and each one that appears…
…is then collected. Reach a tally or 5 orbs and a new row of symbols thaws out. When reels are extended, an animal symbol is upgraded to mammoth and an additional spin is granted. A total of 15 orbs are needed for the reels to reach their full potential.
Charlotte Miliziano, Head of Games at Play'n GO said: "We love to tell stories through our features. The expanding reel isn't just an innovative feature, but another tool to tell the story of Mount M, helping the player on the journey to the top of the mountain. Creating an experience is what we do best."
Source: "Will You Reach The Top of Mount M?". Play'n GO, September 8, 2022.
Bingo Games
Back to articles
Your feedback
Please enter your comment.
Your comment is added.