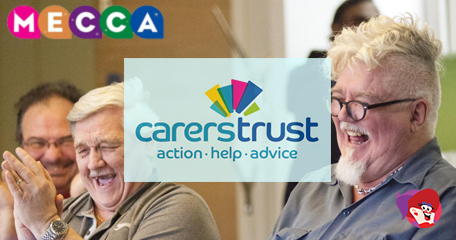 Did you know Mecca has charity bingo games? Not only do members get the chance to win generous cash prizes, but the rest of the money raised goes to good causes! I've been a member of the bingo site for years and I've only just discovered this brilliant feature. The Rank Cares charity games raised an astonishing £333,162.82p last year alone and this year, they're hoping to smash that figure.
Mecca support Carers Trust, a major charity for, with and about carers. Working throughout the UK, the charity works to improve support, services and recognition for anyone living with the challenges of caring, unpaid, for a family member or friend who is ill, frail, disabled or has mental health or addiction problems. They have but one vision: that unpaid carers count and can access the help they need to live their lives…
…and anyone can be a carer – a 13-year-old girl looking after her mother with an alcohol problem, a 30-year-old man caring for his wife who has terminal cancer, or an 82-year-old woman looking after her husband who has Dementia.
Working with a network of quality-assured, independent partners and through the provision of grants, Carers Trust helps individuals get the extra help they need to live their own lives, and this is achieved with locally based Network Partners.
Have Fun and Donate at the Same Time:
The Rank Cares charity games at Mecca Bingo allow you to enjoy all the usual benefits of online bingo; the chat, side games and bingo daubing – just a little differently; a sum of the money accrued from the sale of the bingo tickets, is awarded to the charity. By giving them a go, you're raising money to support struggling carers across the UK.
You don't have to wait until Sunday to donate to the charity – you do have the option of donating directly via the site. If you'd like to show them you care, you can donate directly via Just Giving.
How it Works:
You can play the charity bingo games and see 50% of the profits go towards the Carers Trust. These new games will run every weekend on a Sunday, from 8:30am to 8:30pm, in the following rooms: Two Little Ducks, Meccarena, Key to the Door, Legs 11 and Lucky for Some. You'll need to have a funded account to take part. Once logged in, make your way over to these special bingo rooms on a Sunday and take part in 12-whole hours of fundraising bingo games.
Fifty percent of the ticket sales will be divided into prizes for one-line, two-lines and a full house, so it's a win-win situation. The more players that take part in these games, the more prizes on offer and the bigger the donation that will find its way at the charity. Will you be taking part?
Bingo Games
Back to articles
Your feedback
Please enter your comment.
Your comment is added.
Member's Feedback (1)
JaniceJ 07/07/19, 12:07:08 PM
It's great to be able to support charity whilst playing bingo.