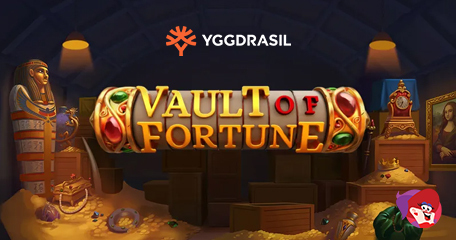 At some time or other, we've all found ourselves rummaging through bargain bins at charity shops or various tables at car boot sales, looking for that one purchase that could net us a fortune, however, the chances of that coming true are extremely slim! Sometime in the 1980's, a diamond ring was purchased at a boot sale for just £10, then in 2017, it went under the hammer at Sotheby's for £657,000!
Picking up a bargain is something we all try to do on a regular basis, so what did Yggdrasil decide to do? Develop an online slot with a 'cash in the attic' style theme and boy, is it exciting! Being the first game of its kind to feature the software developer's disruptive technology solution, GATI, which is also known as game adaptation tool and interface.
The 5x3, 20 win line engine takes players into a crowded warehouse where lost artefacts and riches (plus cobweb after cobweb!) lay undiscovered for years. The aim of the game is to hunt through all those boxes full of valuable goods to unearth a fortune!
Jonas Strandman, Senior Product Strategist at Yggdrasil, said: "Vault of Fortune combines a number of familiar features into a unique multi-dimensional rollercoaster. Games with super high win potential in Free Spins usually have a dry base game, but this game is different.
The base game is a delightful journey and offer win chances often, especially with the super expanding wild that shows up on a regular basis. I envy those who get the chance to play this awesome slot for real money."
Mesmerising Soundtrack
Oil paintings from some famous names are stacked from floor to ceiling and there are…
…precious gold items strewn all over the place – who on earth could on such precious gems and not even bat an eyelid at their presence! Someone filthy rich that's for sure and now's your chance to get your hands on some of that treasure, from as little as 10p a spin!
Dropdown re-spins are just a fancy name cascading reels (or symbols) and to activate this feature, a win of three or more matching symbols is required on any of those 20 active win lines. As soon as you achieve a win, the symbols that make up that win vanish to make way for new ones. And, each drop (cascade), will increase the multiplier by 1x.
Regular wilds aim to take the thrills to a whole new level, all thanks to their expanding element. Regular wilds expand vertically 6 symbols high on winning drop downs! Up to 20 free games are initiated on the presence of three or more scatter (scroll) symbols and in this round, the bonus is the multiplier doesn't reset!
What do you make of the latest Yggdrasil title? Just a little tip: it's a marathon not a sprint which means you'll need to conserve your budget for as long as possible, what with being a high variance slot! Speaking gobbledegook? I apologise, what I mean is this casino game has wins that are few and far between, so, you'll go longer periods between (bigger!) wins than usual!
Source: "Yggdrasil, the Innovative Online Gaming Solutions Provider, Has Opened the Doors on Its Latest Thrilling Hit, Vault of Fortune". Yggdrasil. July 23, 2020.
Bingo Games
Back to articles
Your feedback
Please enter your comment.
Your comment is added.
Member's Feedback (1)
bridgetjones
07/29/20, 08:07:29 AM
I absolutely love slots with cascading symbols, so I'm looking forward to playing Vault of Fortune. They've got some exciting releases coming up too, and I for one...
I absolutely love slots with cascading symbols, so I'm looking forward to playing Vault of Fortune. They've got some exciting releases coming up too, and I for one can't wait to try them.
Show more