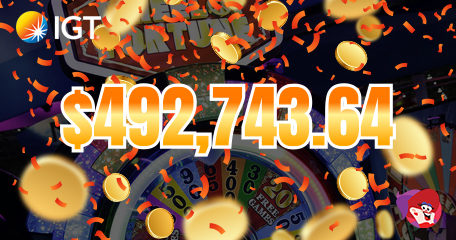 Las Vegas is the gambling capital of the world and it's estimated the city that never sleeps pulls in as many as 43 million visitors each year, visitors who are looking to strike it lucky in any of the many casinos in Nevada. Bellagio Hotel and Casino, Las Vegas Strip, Red Rock Canyon National Park and Luxor Hotel and Casino are just a handful of the attractions in the desert, but when it comes to the wow-factor, it's the mega-money slot machines.
Forget the glitz and glamour, Las Vegas is famed for its roulette tables, blackjack and slot spinning action and, on the weekend, one lucky player found out just how dazzling those slot jackpots could be…
…after winning a staggering $492,743 on a 25cent slot machine – the Wheel of Fortune Triple Red Hot 7 slot! The software developer behind the slot – IGT, took to Twitter to congratulate their winner on Monday:
"Congrats to the lucky #IGTJackpots player who won a massive $492,743 Wheel of Fortune jackpot at @parkmgm! #ParkMGM"
The winner had only played five credits on the casino game before landing the life-changing sum, which means a total stake of just $1.25 – that's less than a quid here in the UK! Congratulations to the recent winner of almost $493,000, we hope you enjoy your winnings!
Lucky for Some
Half a million quid is a heck of a lot of money to win on such as small stake, but it's not the biggest sum that's been won on the Las Vegas Strip. Christmas Eve 2018 at The Cosmopolitan, one lucky guest was taking her 960th – yes, 960th spin on the dazzling Wheel of Fortune Red Hot 7 slot machine when she struck it lucky…
…$1,023,743 – Christmas certainly came early for her! A few months earlier, a man celebrating his 30th Birthday won $1.4 million on the same slot machine at the same hotel!
Elmer Sherwin, the WWII Veteran landed his name in the record winnings book when he not only scooped $4.6 million on a Megabucks Jackpot just 10-hours after The Mirage casino complex opened, but he also won the biggest ever jackpot recorded (then); £21 million on the same slot machine 16-years later. Despite winning big, he still continued to spin the slots and gave a lot of his money to charity, including victims of Hurricane Katrina.
Freemont Hotel saw a record win of $8.9 million, the jackpot sum was won by a 71-year old woman who was on holiday at the time and spent just $100 trying to win the big cash.
Excalibur Casino; an unknown 25-year old man won $39 million whilst passing time waiting for a basketball game to air. Instead of opting for the real money prize in one lump-sum, he decided to take $1.5 million per year for the next 25-years.
Kerry Packer, a billionaire started his high-roller adventure during a 1997 trip to Vegas, winning up to $40 million, but luck was not on his side when he lost $28 million in a London Casino just two years later.
Another double winner to report on now, only this time the 60-something woman hit the slots at the Palace Station Hotel. Landing a win of $680K, the woman didn't stop spinning those casino games and landed a greater win of £27 million just a few months later on the same Megabucks Jackpot!
General Gambling News
Back to articles
Your feedback
Please enter your comment.
Your comment is added.
Member's Feedback (1)
Bubles12
10/29/19, 02:10:09 PM
If I ever won that amount of money, there's no way I'd carry on spending it in the slots!