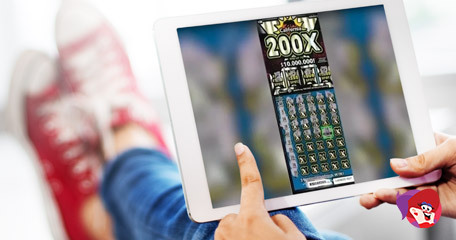 We all have our favourite places to shop…those little corner shops or convenience stores where we randomly decide "you know what, I'll buy a lottery ticket or scratchcard while I'm here."
We're not the only ones to do this - Brent Young, a man from California who typically only stops at his local gas station, decided to do just that, buy a scratchcard only the store was closed, so what did he do…
…he decided to venture to the Prince Food & Gas in California, and he even let the shop worker take decide on his fate. Once filling his truck with gas, he asked for a scratchcard ticket. The clerk asked which one before Brent's next action led to an extraordinary life-changing event!
Struggling with what scratchcard to purchase, Brent asked the clerk to decide for him, saying he "didn't care" which one he had as his usual gas station was closed. Once he'd paid for his goods the ticket was handed to him – a California 200x game ticket. He stood and scratched that ticket there and then to reveal he had just scooped the top prize for this game – a cool $10million!
Speaking about his fortune, he said: "I had no choice but to go to Prince's. My usual stop was closed. If it had been open, none of this probably would have happened. I was like, just pick whichever one. I didn't care. It's crazy. Out of all those options, the clerk could have picked a different game. But he didn't. He grabbed a winner."
ABC13 reports the lucky winner chose to take the lump sum prize of $5.8million (after federal taxes), but it gets better! For selling the winning scratchcard ticket valued at $10million, the owner of the store received a $50K bonus!
More Good & Bad Lottery News
In other shocking US lottery winning stories, over in Massachusetts, a month before truck driver Paul Bashaw's retirement, he won $1million on a scratchcard ticket! Purchasing a $20 ticket at the J&J Variety convenience store in West Boylston, Paul landed the top prize of $1millon which was a one-off lump sum of $650K after taxes…
…even more unbelievable is he carried on working without telling his co-workers about his life-changing win! He told lottery officials: "I told my wife there were three things in life I never thought I'd see happen, the Patriots winning the Super Bowl, getting a hole-in-one - that happened five years ago - and hitting the lottery. Now I've hit all three."
It's not all good news though! One very unfortunate winner who landed a $1million win on the lottery was then declared bankrupt after he boyfriend of 15 years sued her for half of her winnings! Lynne Ann Poirier from Orlando, Florida, was locked in a heated 9-year battle with her ex which didn't end on good terms. It was discovered on CCTV that the women withdrew money from her boyfriend Howard Browning's account before purchasing the winning ticket. In 2016, a jury ruled in favour of her ex-boyfriend, telling Lynne Ann she must give him half!
Source: "Lucky Lottery Winner Bags $10million After Letting Clerk Pick Scratchcard For Him". Mirror. October 21, 2023.
Bingo Society News
Back to articles
Your feedback
Please enter your comment.
Your comment is added.
bridgetjones
10/24/23, 06:10:33 AM
That's just fate though. I bet the store clerk is miffed! Picking a $10m scratchcard and the owner of the shop getting the $50K bonus! I smell a lawsuit coming.