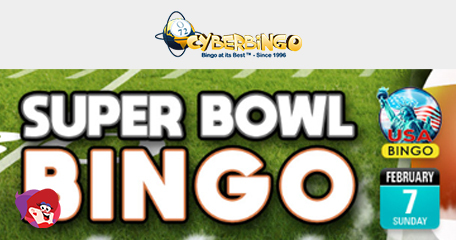 Bargain Ticket Prices for Bingo Main Event!
The biggest event in the American sporting calendar is about to get underway and you're being invited to celebrate with a unique bingo special packed full of cash spills! February 7th will see the Buccaneers go up against the favourites – the Chiefs with entertainment both on and off the pitch. Cyber Bingo are hoping to tap into that entertainment with an evening of guaranteed games and ticket price sales, including the player favourite of buy 10 get 3 free!
Six guaranteed games with a prize pool of $1,500 will certainly get your fired up for the action that's about to take place on your screens and in usual Cyber style, there are jackpots to be had too! The fun begins at 6pm (ET) and will run right up until kick-off. Can't make it on the night? Pre-buy is available in the lobby. So sit back, settle in and keep your fingers crossed for a great big win!
February Delights
What else is going down at Cyber Bingo this February? An action-packed line-up of big jackpots, that's what, and you'd be mad to miss them! A $3K valentine's special could see you surprising the love of your life with a big…win and tickets will set you back just $1.50 in each of the to-of-the-hour guaranteed cash prize games. As ever, the buy 3 get 2 free deal offers great value for money gameplay.
Get all fruity with the new slots tourney every week in Feb and you could be among the many winners walking away with a share of $1,500! All you need is an account and a love of new games and you're halfway to winning. If you've a competitive streak, this is the perfect promo for you as you will be required to knock your opponents off the podium if you're to stand a chance of winning juicy prizes.
We've only touched on three of the upcoming specials – Cyber Bingo is home to multiple promotions and free play offers whether you're a newbie or an existing player. Fair n' Square bingo is a room gaining in popularity as it offers each ticket-holder the same chance of winning! Forget buying maximum tickets, if you want a better chance of winning, this is the room for you!
Free bingo is also a firm favourite here and it's no surprise given that there's $6K to be won each week. As you play bingo, you will travel the world virtually in fun-themed bingo rooms, some offer guaranteed games for a set price while others such as the USA, the Netherlands and Australia offer a free to play the game for a generous bingo bonus. And these games can also see you benefit from a buy 6 get 3 free bingo offer.
Yet to play at Cyber Bingo and want to see what all the fuss is about? Sign up and play for free with a generous free play offer to see for yourself!
Promotions & Bonuses
Back to articles
Your feedback
Please enter your comment.
Your comment is added.
Member's Feedback (1)
HangingAround
01/29/21, 11:01:28 PM
Can't wait for the super bowl! The bingo games are bound to add to the excitement!