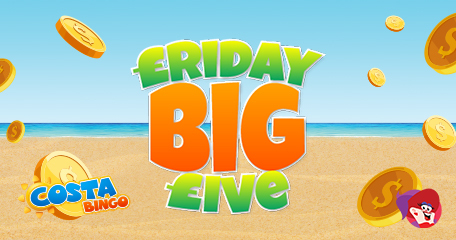 We've plucked five of the best free bingo offers from around the net where winning big for free comes as standard. Naturally, to take part in these games, one must be a registered member and must have made at least one deposit – if you've done that, you can dab until your hearts content (unless otherwise stated!). Whether it be free bingo rooms or bingo promotions where games are completely free to play, we'll be telling you how you can take part – and win, right here, and all of the sites listed below can be found on LBB.
Kicking things off is Lovehearts Bingo, the wager-free bingo brand. Every 6-minutes, free bingo games get underway in both 90-ball and 75-ball rooms and unlike the vast majority of bingo sites out there, you won't have any restrictions on your winnings! So, what can you win? There are bonus spins up for grabs across the one-line, two lines and full house prizes with a £10 cash jackpot up for grabs at 9pm every Friday.
Moving onto Buzz Bingo now, who has something in common with Lovehearts – the wager-free promise! Two promotions offer the chance to win free cash; Spin a Chair based on The Voice UK television show, what with them being the official gaming partner of the all-singing, all-dancing show for a second year on the trot, it was only right they'd introduce a promo based on this popular series. To win up to £1K each day for free, log in and choose a chair to see what you've won! It's like no lose bingo!
Next up, Buzz is offering a great freebie - a free fiver every 5-minutes in the free bingo room, but if that £5 prize doesn't seem like much, there's the option to super-charge your tickets by paying either 5p or 10p per ticket for more cash. And don't forget to get involved with the bingo chat – you can win more this way too! Whether you choose to pay or play for free, the winnings will be credited to your real money bankroll and will be withdrawable instantly. Minimum you can cash out here is just £5!
Three Down, Two to Go
If you've been counting, you'll know we've two left to tell you about, and the first of those two is Kozmo Bingo, another online bingo site promising never to throw red tape at you when it comes to keeping 100% of your winnings! Sunday's may be a day for relaxing, but what would you be doing if you landed a £250 prize for free? The Saucy Sunday special begins at 9pm each week and every player who enters has the same chance of winning, making it the best odds guaranteed!
Last but not least is Costa Bingo who aim to bring more than just a dose of…
…sunshine to your (Fri)day, thanks to five-hourly games crammed with £5K in real cash! Every hour from 7pm until 11pm, there will be a grand available, only as the night draws on, the full house prize gets bigger! If you're wondering how a grand can get bigger, let me explain. Each game is a 75-ball game, meaning just the one full house prize, but each game also offers two prize pots, or as I like to call them, losers pots. The pots get smaller and the full house gets bigger each time, making these games super exciting!
Again, each of these games sees players dabbing the same number of tickets (6), to make it all fair and square. At 7pm, £500 is won on the full house with pots of £300 and £200 shared between 1TG and 2TG players respectively, at 8pm, £550 is won on the full house with £600 at 9pm, £650 at 10pm and a whopping £750 at 11pm – who said free bingo games were boring?
Bingo Promotions & Bonuses
Back to articles
Your feedback
Please enter your comment.
Your comment is added.
Member's Feedback (1)
TinTinn
01/19/21, 09:01:47 AM
Lots of free fun here! I don't really think to play free games, but it can all add up!