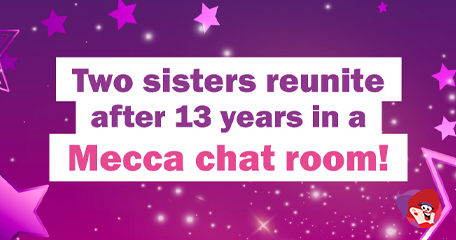 A truly heart-warming story to bring you today, one where long-lost sisters are reunited over a game of bingo! A family feud saw two siblings pushed apart, but never did they think they would become a social media sensation more than 13-years later! The surprise of a lifetime was almost like a dream come true for two Mecca Bingo players who after a brief period of chatting, discovered they were in fact sisters!
The (unidentified) pair had been chatting to each other for months on end without realising they were biological sisters, but what happened to make them drift so far apart? Asking to remain anonymous, the siblings revealed a family feud erupted more than 13-years ago and this led to them moving to opposite sides of the country.
One of the sisters said: "We never thought we'd end up speaking to each other after all these years! A lot of things have changed in our lives, but we are really looking forward to catching up in the future. Never did we think we would be reunited whilst playing bingo, but we couldn't be happier that we have been and are very thankful to Mecca."
Happy Ever After
As the connections were being made over a game of bingo, onlookers and chat hosts looked on in amazement! And when the penny finally dropped, after each revealed their hometown and little snippets about themselves, one player said: "family reunited, bless the both of you."
Laura Bacon, Bingo Community Manager at Mecca Bingo online, said: "We're over the moon that that these two lovely ladies could be reunited after 13 years apart, what a fantastic outcome from a game of bingo! To be a part of the reason these sisters have been brought back together after all this time is what makes our bingo community so special – and we hope we can arrange a special get together for them really soon."
Now very much reunited, they say they wouldn't have been able to…
…cope in the current climate if it wasn't for each other's support, and at the time they were strangers to each other. This isn't the first time a game of bingo has reunited a family – back in 2016, Elaine Walker, who at the time was 59, spent 8-weeks trying to track down her long-lost sister without any luck. Then, when she found her on Facebook, Jackie Green, she discovered they had already met some time previously – on an online bingo site over more than just a handful of bankroll boosting sessions!
It's always good to talk, not just because you can benefit from bonuses and freebies here and there in quizzes, but you can make new friends and all bingo sites welcome this! Why pay to play when you can simply log in to chat for free? If you're in need of social interaction, you can head to Facebook or you can head to your favourite bingo site(s) to strike up a conversation, any time of the day or night, as long as you follow the dos and don'ts of bingo!
Source: "Bingo Lovers Discover They Are Long Lost Sisters in Mecca Chat Room". Mecca Bingo Blog. January 8, 2020.
Bingo Society News
Back to articles
Your feedback
Please enter your comment.
Your comment is added.
Member's Feedback (1)
bridgetjones
01/11/21, 10:01:59 AM
Amazing story! Could you imagine what it must be like now! No wonder they want to stay hidden because there will be media coming at them from all angles, digging...
Amazing story! Could you imagine what it must be like now! No wonder they want to stay hidden because there will be media coming at them from all angles, digging into why they decided to drift apart.
Show more