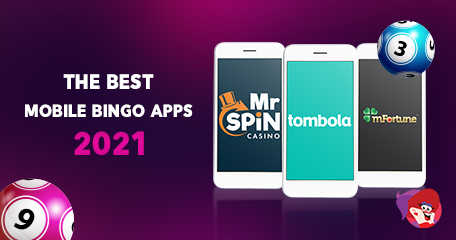 There's no denying there has been a surge in the popularity of online bingo these past few months, and we all know that the current climate conditions have had something to do with it, which got me thinking – who delivers the best experiences, the best bonuses and best performance for the mobile bingo player? Stay with me as we take a look at the very best of the best mobile bingo apps.
Quick Log In
Having bingo and games at your fingertips is a convenience. No longer are we confined to our desks where we sit hunchbacked for hours on end dabbing our tickets. A glance of an eye or a gentle caress of a finger will launch your favourite games with ease, adding additional layers of security where it's needed most. And. When it comes to quick log in, nobody does it quicker than mFortune!
In Touch Games, the folks behind the popular mFortune brand, started out a in 2001 as a video games terminal manufacturer. Just a few years later, the eyed a gap in the online gambling market and started to develop mobile phone casino games. Their products were a huge success and expansion led to the release of even more mobile bingo and casino platforms, including Mr Spin – another no deposit joint packed full of bonus spins offers!
Fastest Withdrawals
What do you think the biggest downfall of a bingo site is? The speed of withdrawals and while some make you wait as long as 47 working days to receive your funds (yes, I'm looking at you Marinas Bingo!), some recognise the importance of speeding up that process and nobody does it quicker than Mr Green! The mystery man in green may be renowned for his sports market and online slots, but he once offered a damn good bingo service too!
Notice I referred to past tense there? Sadly, Mr Green has decided to step away from the online bingo market in a move which I can only describe as disappointing. There I was waiting to enjoy a few rounds of bingo and noticed there was no tab for it anymore, so I took myself off to live support to make an enquiry and Jocelyn, the chat support agent, had no idea it had vanished but assured me all was well. A few minutes into the chat she revealed that management had taken the decision to remove online bingo but couldn't tell me why.
Don't be sad though, Mr Green is still a really good place to head if you're looking for thousands of online slots, table games, live variants – including enchanting shows as well as whopping great jackpots. Win on any of these and you can expect your (e-wallet!) withdrawal within the hour! That's right – one hour! But only if you've verified your account previously.
Exclusive Content
We all want to play games we've not played before and there is one place that caters to this – Tombola! Forget networks where each and every bingo site offers the same promotions, rooms and games, because this is the only place that offers bingo games in the form of Pirates, rollercoasters and even hamsters! In December 2020, Flash died – a piece of software that many sites relied on for their games to operate, which led to the death of Rollercoasters, but fear not, the game is about to make a come-back, and all will be revealed when it does!
Tombola members are also able to access a huge range of unique arcade games too through its arcade website where playing from as little as 5p can win you as much as £500! Exclusive games mean exclusive prizes and unlike Sky's insane bingo idea, the players actually enjoy what they have to offer and can be seen raving about the content all over social media. One little gripe I have is when it comes to Hex and Pulse, the game often freezes, which then leads to having to refresh the app.
Jackpot Games
Coral is a name you can trust, especially when it comes to bingo! Coral has been around since 1926 and no, that is not an error! Founded by Joe Coral as sports betting shop back in 1926, the company exploded and became a huge entertainment conglomerate in such a short space of time and with expansion comes more content. Fast forward to the 21st century and you have a series of games that can literally change your wife, sorry, I mean life!
Powered by many software providers, Coral Bingo is home to some thousand plus games, only when it comes to jackpots, Playtech are the masters! The mobile app is free to download and allows access to many core gaming products, including jackpots where the likes of Gladiator, Jackpot Giant and the smash-hit Age of the Gods franchise deliver ultimate thrills and maybe even cash spills!
Lots of Spins
There is no better than Jumpman Gaming when it comes to dishing out the spins. It starts with a spin of the wheel to win up to 500 free games on a first deposit and continues with weekly perks, the gathering of virtual trophies and a game of the month special – all of which offer more spin and win potential. But which of the many on the network offer the best value gameplay?
The mighty Zeus Bingo caters for both the bingo dabber and the slot spinner with bingo rooms crammed with as much as £10million in cold hard cash. The mobile bingo site is easy to navigate, only, you're not required to download an app to play on your device. Playing is achieved via the browser offering the player and uncluttered gaming experience with an easy to navigate layout.
General Bingo News
Back to articles
Your feedback
Please enter your comment.
Your comment is added.
bridgetjones
01/22/21, 10:01:07 AM
If only they would iron out the mobile app bugs at Tombola, it's driving me nuts! I play in many rooms and find it freezes and they keep blaming my internet, but loads are complaining about it in chat.