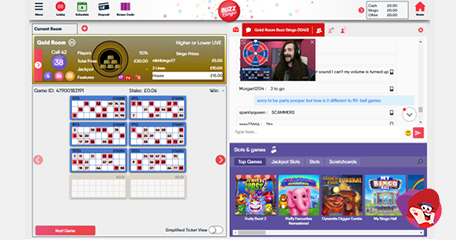 More Players Means More Cash? Not Necessarily!
If you recall, a few days ago I received an invite from Buzz Bingo to try out their top secret new bingo game, a bingo room promising to "change the face of bingo forever!" Now I've had the chance to experience it in real time, it's time to reveal what it is and whether or not it was worth the hype.
The message from Buzz instructed me on how to access the 'invisible' bingo room. On Thursday I had to enter the bingo lobby pop in the exclusive promo code and watch as the "Gold Room" appeared. An hour of games were scheduled from 8pm and the first thing to note when entering the room was that the music was repetitive. Could I find a mute button? Nope!
"A select few players" amounted to more than 1,000 invitees, all eager to get a glimpse of this revolutionary new bingo game, so naturally the prize money had to be decent, right? WRONG! The prize money was pitiful for the number of players in the game.
The "New Game" Unveiled
The Gold Room is none other than a typical 90-ball bingo game with a few added extras. The room does come with a live or pre-recorded "gameshow" and a bonus board, but it's nothing to write home about. The live host remarked on how irritating the soundtrack becomes after only a few minutes – thankfully it's muted when the action begins.
Once ticket sales are closed the host (when active), will spin a wheel for either a low or high outcome. Low means any full house won on a number from 1 to 45 receives additional cash while high awards more money for a full house called on any number ranging from 46 to 90.
How much can you win? On launch night the prizes were a dreadful £5 for the one-line, £10 for the two-lines and just £15 for the full house. And if you're sat there thinking the bonus of high-low will hand out generous cash, you're very much mistaken! Extra prizes were just £15 and then you had to call on the right number to get that. the bonus board offered more low value prizes should you complete the ticket, such as free tickets to an upcoming game.
The chat feature was naturally busy with a few commenting on how to get subtitles as they were hard of hearing, sadly there is no such option. I was sat there thinking there would only be a handful of players trialling this game, a bingo game that then turned out to be a disappointment, so I had to jump on chat…
… "I hate to be a party pooper, but how does this bingo game differ to any other 90-ball game?" The reply from the live host was nothing short of unremarkable, he said "You've got me!". There's nothing I like better than being distracted by loud and irritating music while a host tries to shout over the music. So cheers for that.
The Gold Room is not going to change the face of bingo forever unfortunately, it's just another bingo room with the same old 1TG/Roll On features and very minimal payouts.
Bingo Games
Back to articles
Your feedback
Please enter your comment.
Your comment is added.
TinTinn
09/19/22, 07:09:39 AM
Wow, I'd be totally embarrassed if I was Buzz Bingo. How can they make a bold statement like that when it's clearly just the same old game.