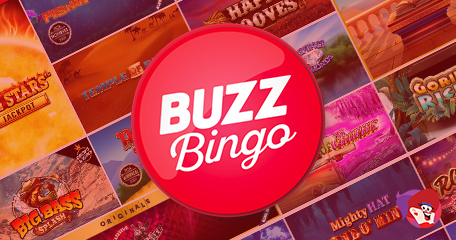 Gold Is The Colour Excitement Is The Game
I'm going to let you in on a little secret LBB'ers, and you need to promise not to tell anyone! Buzz Bingo will shortly unveil a brand-new bingo game and they're promising that it will be a "bingo experience that is going to change the face of bingo forever!" And we're not referring to the recent Cash Cubes addition.
On Tuesday I received an email from Buzz Bingo titled "Your Exclusive Invitation," so naturally I was eager to see what it as all about. "This is your EXCLUSIVE invitation to try out our BRAND NEW bingo game before anybody else! It's a NEW online bingo experience that is going to change the face of bingo forever!"
Superb! I'm all for trying new games! The email continued with details of how to enter a top-secret bingo room on Thursday evening where I and a small number of other guests will get to play the game before everyone else. Those selected will get to play an hour of bingo games but only after inserting an exclusive code in the bonus code section.
Is All That Glitters Gold?
The "Gold Room" as it's being referred to, will only appear to those of us who have a code to use meaning everyone else gets the usual bingo lobby with the usual, but exciting games. We're being advised to have our sounds on for a truly immersive experience and now I can't wait to see what it's all about.
I've been trying to guess what it could be but these days it really could be anything. Nobody ever imagined there would be a 90-ball bingo game with explosions of numbers and 4x quicker gameplay but there is. Nobody ever thought there would be picture-bingo but thanks to Tombola there is!
What do you think it will be? Could it be something along the lines of Gold Bar Roulette where gold bullion bars are revealed before each game? I'm so excited to find out what it is and thankfully I don't have long to wait Check back on the weekend where I will reveal exactly what the new Buzz Bingo game is and how to play it. I'll also be adding my thoughts on whether it was worth the hype.
Until then why not check out the latest Buzz Bingo offers:
Jackpots Of Up To £5K Every Friday: Friday 16th September - Win a share of at least £3,000 in the Deal or No Deal 75-Ball Room, Friday 23rd - £5K must be won in the Link Room and Friday 30th – Head to the Flash room to try and win a share of £7,500!
Take On The Banker: On Friday 16th, Deal or No Deal 90 games will be boosted by a massive £20K! Tickets will start from 1p and will never cost more than 10p each.
Spend A Penny: Play penny bingo between 8am and 1am for generous cash prizes.
Bingo Games
Back to articles
Your feedback
Please enter your comment.
Your comment is added.