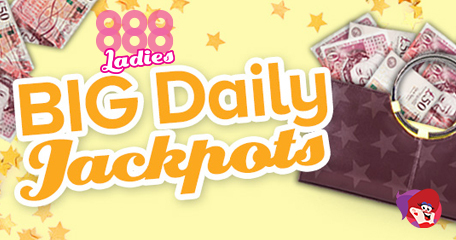 Five pence can't buy you very much these days, but it can give you the chance to win a share of £600 each Monday evening at 888 Ladies Bingo! There are many games to try your luck with over at the community-led bingo site; from free bingo games with little pick me up prizes to bargain basement games where you can win some pretty generous prizes, but all eyes tend to be on the jackpots.
Every weeknight, you could be among the lucky winners bagging a share of the cash and all it takes is a single ticket to win. Although, the more tickets you have in play the more chance you have of winning. They've stacks of bingo games to keep you entertained and if that wasn't enough, you could always spin the reels of the slot games where even bigger cash and bountiful bonus features can be triggered.
Show Me the Money:
Every Monday at 9:30pm, there's a chance to win one of five £120 prizes in the marvellous Monday game. A prize pool of £600 will be awarded over five lines– that's five chances to win for just 5p a ticket!
A pot bursting with £1500 will be won each Tuesday at 9pm, so make sure you have you tickets into the game before the ticket sales close. This 90-ball bingo game will deliver three chances to win for 25p a ticket. The one-line winner will win £250, the player who calls for the two-lines will receive £500 and the full house winner will be awarded £750 for their efforts.
Wonderful Wednesday is another 9pm special, only this time there will be prize pools for runners up too. Each ticket will cost 50p each and in this patterned 75-ball bingo game, £250 will go directly to the player(s) who manage to mark their numbers off to the pattern displayed before anyone else and pots of £150 and £100 will go to those waiting on 1TG and 2TG respectively.
On Thursdays, £1000 will be won and its winner takes all in this one. Tickets cost 25p. Frilly Friday has a fixed jackpot of £2000 and for 50p a ticket, the full house winner will receive £1400 and all 1TG players will split a £600 prize pot.
The weekend is reserved for bigger cash – much bigger cash at 888 Ladies Bingo! Saturday superstar is another patterned 75-ball bingo game only this time the full house winner will receive £1500 and 1TG and 2TG players will share £850 and £650 respectively. Sunday at 10pm, £10,000 could be won depending on how quick you can call house! If you don't manage to daub your tickets off within the set ball count, you're still guaranteed to win at least £2000 which isn't bad for a 50p ticket.
Bingo Promotions & Bonuses
Back to articles
Your feedback
Please enter your comment.
Your comment is added.