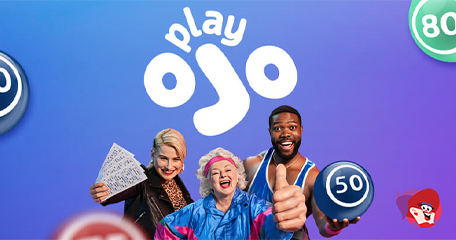 I think of January as being a balloon – it's filled to the max during December with plenty of excitement and then as midnight strikes on January 1st, bang – the balloon explodes and there's nothing left to look forward to! While bingo sites are still very much open, the promotions are as thin on the ground as the ice outside, but believe it or not, there's still much more on offer than meets the eye!
Mecca Bingo is ramping up the thrill value this month with another winner spinner promo where you can play for free every single day! To celebrate 60-years in the bingo business, they've added a touch of diamond sparkle to the wheel where 10,000 prizes will be won each day! Big cash prizes, bingo bonuses, scratchcards and much more have been packed into the colourful wheel – all you need to do is log in (between midday and midnight) to find them!
Pick of the Bingo Bunch
Facebook is a great place to head if you're searching for promos and freebies and Play OJO is among the very best when it comes to both a freebie and a competition. Before I reveal details on how you can win a £400 Airbnb voucher, I want to let you know about a newly launched promo – the Prize Twister! January is the longest month ever, even if the calendar says otherwise, so the folks at OJO want to spoil us and they're doing this with a Prize Twister spin where pots worth £500, £2K and £25K are up for grabs (and other real money prizes and bonus spins)! Earn a bonus spin with every deposit you make (minimum is just £10!), but for one month only!
Where was I? Oh yes, a competition. Play OJO are inviting you to take part in a giveaway to win a £400 Airbnb voucher by revealing where you would go if you could travel freely this year. That's it! Just make sure you comment on the correct post (once!) by the end of the month or you won't be included in the draw.
Bet365 Bingo are opening the clubhouse to qualifying players from now until the 10th, where £500 will be won every day! Here's how it works:
Spend £5 on bingo tickets during the qualifying period
Get 36 tickets to each of the following day's 10 clubhouse games
Play for up to £500 in wager-free cash daily!
The room will open its doors from 7:50pm with the final evening (11th) scheduled to offer more value with enhanced prizes as well as roll on and 1TG and 2TG features.
Love a bingo bargain? Lucky Pants Bingo have got you covered with a line-up of special features, bargains and an all-winning spinning wheel! Get more for your buck by taking part in any of the many 1TG/2TG games – being a loser never felt so good! Look for the multi-coloured 'W' icon in the lobby because these room will offer a spin of the wheel to win one of five prizes when you buy 6 bingo tickets.
Roll on bingo can award anything from 1 to 20…
…additional extra full house prizes, making this feature one of the more popular ones from Lucky Pants. Will you see stars in your eyes? Look for the star icon in the lobby to be in with a chance of winning up to £250 extra when you buy 6 tickets. And finally, with 'win-win' everyone is a winner, even if they don't win any of the main prizes! If you buy 6 of more tickets into these special bingo games, you're guaranteed to win something should you be deemed a 'runner-up!'
Bingo Promotions & Bonuses
Back to articles
Your feedback
Please enter your comment.
Your comment is added.
Member's Feedback (1)
lollipops321 01/08/21, 07:01:14 AM
Lots to take part in here! I didn't realise there was so much I was missing out on!