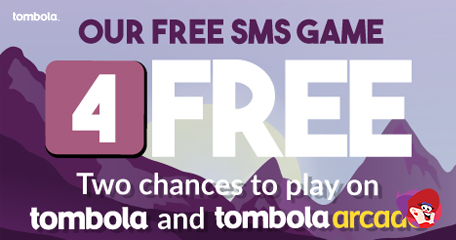 Tombola has something for everyone and while they may not offer free bingo rooms, what they offer in its place is something far, far more rewarding and it comes packed with real money winnings with no wagering requirements! There are just two rules needed to join in with the freebie fun; a mobile phone and an account and if you have both of these, you're one step closer to winning a share of £40,000 each and every week!
The free to play game is what it is; completely free to play and players have a total of two chances to win each and every day! The new free SMS game '4Free' can be played on Tombola and Tombola Arcade and you could even win on both! No deposits are required and winning is as simple as matching four numbers on any of your tickets!
Styled on an a typical game of online bingo (only with four numbers instead of 15), 4Free is packed with prizes ranging from £5 to £5K! And last week, a total of 2,895 players won a share of that cash! 'Captaindon' bagged the top prize of £5K, 'dashworth0710' and 'alanc222' both won £1K and 'hollyht83' and 'bobbyboy320' both won £500 each! All prizes are credited to players accounts instantly and can be withdrawn with absolutely no restrictions!
Totally Free
Want in? If you're a registered player all you need to do is register your mobile number and tombola will send you a unique code each Monday to access the game on the website. Here's how to play 4Free:
Make sure that you're signed up to get text messages from them – you have to opt-in to SMS using the form on the website or by adding your contact details in the 'my account' section.
Every Monday you'll receive a unique code – this will let you access 4FREE for a full week. You can decide when to get the text too, so no unexpected alerts when you don't want them! Midnight, 9am or midday are the options provided to players.
You can play twice a day – once on the Tombola website and once on Tombola Arcade (this one is packed with exclusive slot releases and much more!). That's two different chances to win every day, for free!
The game will call 15 numbers and to win, you need to match four numbers within a prize box to win the stated prize. Just like a typical bingo game, when a number is called, it will change colour on the ticket.
A total of £40,000…
…will be won in real money prizes every week (from 00:00:00 on Monday until 23:59:59 on Sunday) and prizes will be split between both Tombola and Tombola Arcade. Prizes up for grabs are as follows:
2x £5000
5x £1000
4x £500
60x £50
300x £20
600x £10
1600x £5
Don't forget LBB'ers! You can play twice a day every day – free! If you're having issues receiving your unique code, head to live chat where an operator will supply another.
Bingo Promotions & Bonuses
Back to articles
Your feedback
Please enter your comment.
Your comment is added.
Member's Feedback (1)
lollipops321 09/24/20, 07:09:53 AM
It's a simple game to play but I rarely win on these daily free games. I've been doing them on and off for almost 15 years and only won twice; £50 and £10! Hope...
It's a simple game to play but I rarely win on these daily free games. I've been doing them on and off for almost 15 years and only won twice; £50 and £10! Hope my luck changes soon.
Show more