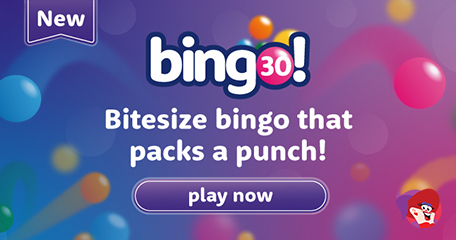 Twenty-Three Different Chat Rooms To Choose From!
There's a brand-new bingo game in town – bingo30, the bitesize bingo variant by tombola that packs a punch! The speed bingo games are available to play from 10p a ticket with no more than 20 tickets per player permitted. Launched on Monday 6th Feb, the exclusive game offers a jackpot of up to £1K in every game, and that's not bad at all for a 10p ticket!
The bingo30 room has 23 different chat rooms to choose from, all of which are going to be busy for the first couple of weeks… all new games are popular for the first few weeks. You can chat with other players and chat hosts before, during and after your games. You don't even need to buy a ticket to chat and can win prizes via chat games and quizzes too!
Round The Clock Fun
You can buy into bingo30 every minute-or-so to win a full house prize and a jackpot prize. The first player to mark off all 9 numbers on a single ticket will win the stated full house prize. The value of which will be determined by the number of players participating in said game. Example, in one game there were 90 players and the full house prize was £54. The first player to mark off all 9 numbers on a single ticket in 11 calls wins a jackpot prize. No surprise to see this speed bingo game is yet to produce a jackpot winner.
That jackpot of £1,000 can be won if the game is won in 11 calls or less and the good news is tombola jackpots are never shared, meaning if more than one player wins the jackpot at the same time each player will win the full amount. That's real cash with no wagering requirements! Visa Debit customers can expect to have their withdrawals in their bank account within an hour (typically!).
Other Tombola News & Offers
Let's say a massive well done to XX4LEAFCLOVERXX who won £157,012 in Britain's Biggest Bingo game on February 1st. The special 90-ball bingo game offers a full house prize only with a minimum of £100K up for grabs every month! Tickets for the March 1st game are now on sale. Prebuy from 50p to a maximum of £2. Even if you're not logged in, you still have a chance to win when you secure your bingo tickets in advance!
Are you on Facebook? Now would be a great time to go check out tombola on the social media platform because this month, over £7,800 worth of prizes will be won this away alone! And for free with no deposit! There's a chance to win a prize every day until the end of the month, just look out for the daily post and answer the trivia question within the comments. Don't forget to leave your username or you won't be included in the draw!
Each Facebook trivia question will run from 10am until 9am the following morning. Take a look at what you can win this month:
Monday 6th: 1 x Towel Dual Basket Air Fryer
Tuesday 7th: 3 x £100 IKEA vouchers
Wednesday 8th: 5 x Amazon Echo Dot 5th Generation
Thursday 9th: 5 x £50 B&Q Vouchers
Friday 10th: 10 x Afternoon Tea Hampers
Saturday 11th: 3 x £100 Voucher Express Reward Of Winners Choice
Sunday 12th: 3 x Crockpot 12-in-1 Multi-Cooker
Monday 13th: 5 x £50 TKMaxx Vouchers
Tuesday 14th: 3 x Fitbit Versa 3
Wednesday 15th: 10 x £25 ASOS Vouchers
Thursday 16th: 5 x Blink Video Doorbell
Friday 17th: 30 x £10 Bonus Funds (no wagering on winnings)
Saturday 18th: 15 x Retro Sweets Jar
Sunday 19th: 5 x £50 ASDA Vouchers
Monday 20th: 15 x £25 ODEON Vouchers
Tuesday 21st: 15 x £25 Just Eat Vouchers
Wednesday 22nd: 3 x Samsung Galaxy Buds 2 Earphones
Thursday 23rd: 10 x Clean cotton Yankee Candle Jar
Friday 24th: 3 x Hotel Chocolat Velvetiser
Saturday 25th: 10 x £20 Waterstones Vouchers
Sunday 26th: 5 x £50 Primark Vouchers
Monday 27th: 5 x £50 The Restaurant Choice Vouchers
Tuesday 28th: 1 x Shark Upright Vacuum Cleaner
10 more promotions to keep an eye out for at tombola:
Love Links:
Where: bingo90
When: February
What: £355,000 in guaranteed prizes to be won during February!
Back to Back Links:
Where: bingo90
When: Every Friday during February
What: 5 x £5K and 1 x £10K full houses in Link games between 9pm and 9.30pm
Cash Climber:
Where: bingo90
When: Monday 6th February 9pm to 10pm
What: Back to back link games with guaranteed prizes!
Juiced Up:
Where: Reel Bingo
When: Wednesday 8th and Thurs 9th February from 9pm until 10pm
What: Guaranteed full house prize of £1000 in each game (based on max stake)
Multi Links:
Where: bingo90
When: Monday 13th, 20th and 27th February from 7pm until 9pm
What: Link games every 30 mins with guaranteed prizes!
Flirty 30:
Where: bingo90
When: Tuesday 14th February
What: £5K guaranteed full house prizes in each link game between 8.30pm and 9pm. That's a total prize pool of £30K!
The Machine Birthday Weekend:
Where: The Machine
When: Saturday 18th and Sunday 19th February from 9pm to 10pm
What: Guaranteed prizes of up to £100 in each game (based on max stake)
Lites Week:
Where: bingoLite
When: Monday 20th to Sunday 26th February
What: £500 full houses in back to back link games between 1pm and 1.30pm.
Love Spins:
Where: Bingo Roulette
When: Wednesday 22nd and Thursday 23rd February from 9pm to 10pm
What: Guaranteed prizes in each room
10p room paying £75, 25p room paying £150 and the 50p room paying £500
Two Line Tuesdays:
Where: Picture Bingo
When: Every Tuesday in every game
What: Additional 2 line prize in every game. That's three chances to win in every game, every Tuesday!
Promotions & Bonuses
Back to articles
Your feedback
Please enter your comment.
Your comment is added.
bridgetjones
02/07/23, 08:02:45 AM
Can't wait to try this one! I love the unique games at tombola. You always know if you claim a bonus or get a play mates bonus, that anything won from that will...
Can't wait to try this one! I love the unique games at tombola. You always know if you claim a bonus or get a play mates bonus, that anything won from that will be real money with no wagering!
Show more