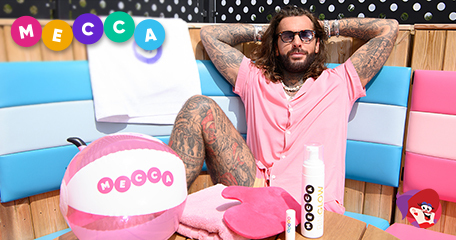 Get That Summer Glow with Mecca Bingo
Now there's something you don't expect to see…ever! One of the biggest bingo names on the high street has launched its very own fake tan product and brought in a celeb to help promote it! Dropping into Mecca Bingo in Luton was Pete Wicks with a dabber in one hand and a tanning mitt in the other. Is there more to this than meets the eye?
You betcha! This is no late April fools; Mecca Bingo really have created their very own fake tanning lotion and the good news is there will be a limited number of the Mecca Binglow bottles made available for free!
A Glowrious Promotion
Bingo games and fake tan don't exactly go together, so why are they doing it? Before the launch, Mecca Bingo commissioned research in the UK and came up with some of the biggest fake tan fails, including hands that turned orange – this was the most common embarrassing mistake experienced by half of Brits, closely followed by patchy knees and legs. Strangely enough, 14% of those questioned said they had seen their skin turn green after using out of date tanning products! I bet they went in a right (s)hulk!
Pete Wicks has been brought in to promote the new Mecca Binglow product and he can be seen rubbing the lotion all over his already tanned, supple skin. The sun-kissed, tried and tested tanning mousse is easy to use and promises to leave tan lovers with a flawless faux glow this summer. Claiming to be streak-free and long-lasting, the formula was unveiled at Mecca Bingo in Luton before Pete took to playing bingo.
Pete said: "It's no secret that I like to stay bronzed, especially before heading off on holiday, and now I'll be keeping my bottle of Mecca Binglow handy for top-ups. There's a real knack to tanning, so my advice is to make sure you exfoliate first, get your tanning mitt ready and then smooth it all out evenly – a patchy tan is a nightmare to fix!"
The fake tan product ties in nicely with The Great Mecca Summer Fridays promotion, only available in-club. Every Friday this month you've the chance to win extra prizes plus automatic entry into a free prize draw to win a share of £10K in experience or shopping vouchers. How? Every visit until Friday 26th will pop an entry with your name on into the draw to win 1 of 15 prizes…
…5 x £1K and 10 x £500 vouchers will be won. Clubs will also have extra prizes to give away on each of the nights, along with the usual prize money that is. A few very lucky players will also be invited to spin the prize wheel for a free session of bingo, free food and/or drinks or even some Mecca Bingo vouchers!
Source: "Mecca Bingo Launched Binglow Fake Tan in Luton with Help of TOWIE Star Pete Wicks". Luton Today. August 8, 2022.
Bingo Promotions & Bonuses
Back to articles
Your feedback
Please enter your comment.
Your comment is added.
Member's Feedback (1)
lollipops321 08/10/22, 05:08:27 AM
Bit of a strange pairing if I'm honest but it works. If you like that sort of thing. I'm more interested in the vouchers!