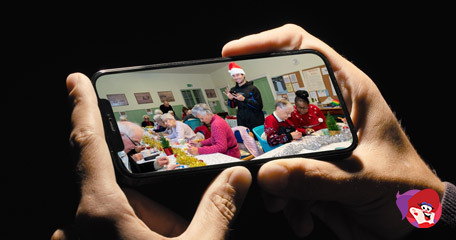 Joey Tries His Hand At Bingo – Gets It Right!
Reality TV star Joey Essex recently tried his hand at calling bingo in a bid to raise as much cash for charity as possible. The popular 32-year-old, famous for his appearances in The Only Way Is Essex and I'm A Celebrity Get Me Out Of Here, teamed up with The Sun in aid of their Helping Hands at Christmas Campaign, an initiative set up by the Royal Voluntary Service.
What's it all about? The Helping Hands at Christmas campaign was created to not only raise funds for the most vulnerable, but to provide services for people who have nobody to turn to during the festive season. Their goal is to make Christmas as happy, safe and warm for those who need it.
Calling Bingo Numbers Is Easy Peasy
Helping to run a session of bingo games, the celeb tried his best to call the numbers while the ladies kept on offering their laps for him to sit on! It was a surprising event in more ways than one, the first being the bingo players had no idea Joey was even going to be making an appearance and secondly, he managed to call the numbers without making a fool of himself! He even threw in bingo lingo of his own – "who wants to go on a date – 48!"
The former Towie favourite said: "Many of the people who come here don't have families and their only day out is this. The volunteers are incredible and it's all for a really great cause. It's been an absolute pleasure to see the volunteers bringing everyone together and putting a smile on their faces, especially at Christmas."
Joey continued: "I think a lot of us all know things like this exist but it's great to actually see it in person. I've got a nan who is quite elderly and it's great knowing there will be something like this around for her should she want it. It's good that older people have a chance to get out and keep their mind occupied. I know a lot of people here live alone."
The free bingo event was held at a club in Essex, run by co-ordinators Diane Coz and Joan Rawlinson who provided all attendees with a steak and Guinness pie meal along with hampers for the winners. One of the volunteers assisting Joey was 96-year-old Ivy George, she said: "It's an amazing feeling volunteering and I've done it for years. They won't let me do much now other than serve the tea in the morning. I just love being involved and seeing the smiles it puts on everyone's faces."
Source:
"Jowey Way Is Bingo – Joey Essex Runs Game Of Bingo For Elderly As He Backs Our Helping Hands At Christmas Campaign", The Sun, December 14, 2022.
Bingo Society News
Back to articles
Your feedback
Please enter your comment.
Your comment is added.
bridgetjones
12/21/22, 11:12:42 AM
He's a lovely lad. He had a lot of stick for doing The Only Way Is Essex but you saw a better side to him on im a celeb. He's seems like such a caring soul.