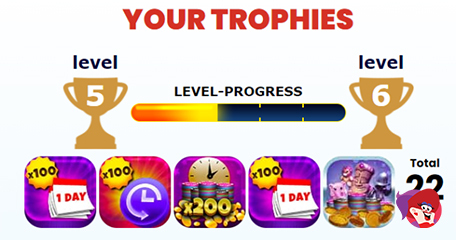 Become Victorious by Playing Your Favourite Games!
Let's talk about trophies, and no, not the ones your favourite football team has or hasn't won, but trophies that are popular with all Jumpman Gaming spin the wheel bingo sites. The concept behind any trophy is simple – play and win to get your hands on the coveted ornament, only with these virtual accolades, you can lose and still win!
Every time you complete fun tasks, you unlock a trophy and are one step closer to guaranteed spins. Each level consists of five trophies and when you reach 6, a new level opens up with even more chances to win spins. Each level grants a spin of the mega wheel, an exclusive Jumpman Gaming feature with 5 to 500 free games on the house!
Mission (I'm)Possible?
Missions or tasks, however you perceive them are simple. Nobody is required to take on the role of 007 or an assassin to get their hands on some spins. So, what do you need to do? You can collect trophies in any order and without doing anything other than playing your favourite games. To give you an example of what you need to do, check out the following categories:
Newbies:
Play 3 different slot games in 1 day
Log in and play on 3 consecutive days in 1 week
Play 15 different slots in 1 week
Wager £50 in 1 day
Make 3 deposits in the first 14-days of registering
Completing the missions from the 'newbie' category will boost you from level 1 to level 2. Every level gives you a different wheel depending on the level you've just unlocked:
Levels 1 to 5: You can win a minimum of 5 free games.
Levels 6 to 10: You can win a minimum of 10 free plays.
Levels 11 to 15: You can win a minimum of 15 bonus spins.
Levels 16 and higher: You can win a minimum of 20 games.
Top tips include breaking your bingo deposit down into smaller sums, playing in the cheapest bingo rooms and at the lowest stake per spin. Remember to play responsibly!
Other mission categories include:
Spins & Bets: Play on mobile, play on tablet, play on PC/laptop and play 5 different slots in one day are among the 30 different missions in this section.
100 Club: Win 100 times, win 100 times in one day, make your 100th deposit, 100 withdrawals, 100th log-in, 100 days since your first deposit and 100 deposits on a Sunday make up this category.
Mega Wheel: Win an Amazon voucher on the wheel, hit 500 spins, spin the wheel 200 times, spin 500 times and 1000 times completes these specific missions.
Games: Scores of trophies will be awarded based on wagers, wins and different games played.
Game Wins: From 100x to 5000x, triggering big wins awards more accolades!
Teamwork: Trophies in this section are awarded when you play and win the same time as somebody else.
Activity: Play on your Birthday, play at night, play in the morning, play on Humpday (Wednesday) and opt-in to promotions.
Special: Play on Halloween, Valentine's Day and other seasonal times of the year.
Withdrawal & Deposits: Trophies will be awarded based on how much you deposit and withdraw and by certain methods – PayPal being one.
Anniversary: One-week, 1 month, 6 months, 1 year, 2 years and 3-year trophies are available here!
Bingo: All trophies in this section are base don your ticket purchases and wins.
Collector: Collect 25, 50, 75 and 100 trophies to complete this category.
Where can you take part in the trophy collection programme? All Jumpman Gaming powered websites, including the new no deposit Star Wins, Daily Record Bingo, Zeus Bingo, Fever Bingo and Lights Camera Bingo!
Promotions & Bonuses
Back to articles
Your feedback
Please enter your comment.
Your comment is added.
Member's Feedback (1)
MadamMilly
09/24/21, 06:09:20 AM
It's a great feature because your mega wheel spins keep adding up until you want to use them.