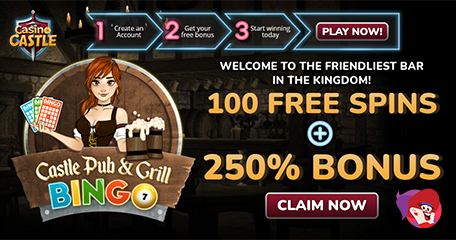 It's not often we see a new bingo site launch, so when two launch within a few days of each other, it's exciting! Quality Bingo and Casino Castle both offering very different services, opened their virtual doors this month with the aim of delivering something unique, but do they live up to expectations or are they just another replica of the hundreds of other sites out there? Stick with us as we reveal everything there is to know about the two new gaming destinations.
Something Old or Something New?
Quality Bingo first, and this new wager-free bingo venue looks awfully familiar. Owned by Tau Marketing Services Limited means they come from the same stable as the likes of Hunky Bingo, Mint Bingo, Dinky Bingo and Pizazz Bingo, something you'll recognise instantly. Here's where it gets interesting…this isn't exactly what you call a new site. Huh? You could even go as far as saying it's a re-launch and here's how, Quality Bingo was Kozmo Bingo, another Dragonfish powered brand with a no wagering guarantee. August 16th Kozmo closed their doors for good and Quality Bingo opened.
Offering a huge welcome offer of free bingo tickets and spins on just a £10 deposit, players can enjoy all the perks of never having to meet wagering requirements – ever! Promotions include networked specials such as the big monthly £10K everyone's a winner game, free no deposit bingo rooms and more than 1,000 slot releases. One thing to note…if you were a registered Kozmo Bingo player, you will be required to register at Quality Bingo before being able to play.
Medieval Mischief
Casino Castle is more of what you could call a casino games venue with lots of table games, slots, video poker and jackpots. Just a few days after opening, they discovered a need for bingo and launched their very own castle pub and grill themed bingo room ready to serve you up great bingo prizes, rewarding chat games with a side order of socialising. Features of the one room include prizes that are typically 3x bigger than their competitors (whoever they are!), original and fun promos you won't find anywhere else, a hot ball feature paying out bigger cash and more often plus magical bingo cards that open-up special quests and exclusive offers!
To get your winning quest off to a flying start, a no deposit offer of 100 spins and $10 casino bonus will be triggered on new sign-ups. Then there are bonuses of up to 1300% on your first three deposit and re-loads guaranteed every day! Live tourneys, achievements and quests offer more ways to pick up bonuses and cash (daily), plus when your bingo buddy wins, you win half their loot too!
There you have it LBB'ers, an exclusive insight into the two latest bingo sites to launch. Will you be putting them to the test? Let us know below.
New Bingo Sites
Back to articles
Your feedback
Please enter your comment.
Your comment is added.
HangingAround
08/19/21, 07:08:15 AM
Love the look of quality bingo – so much fresher than Kozmo. Casino Castle is great for bitcoin players with bigger offers warded to those who use the currency.