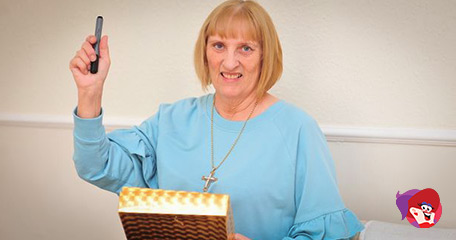 Unlucky Numbers Really Can be Lucky!
Waiting on a number that you just know isn't going to come – we've all been there, some more than most. If there was an award for sweating for that jackpot win, I tell you, I'd have a full house! The thrill of a jackpot game is in the not knowing, but I can typically tell if I'm going to win before I even sit down, how? Because I rarely win at land-based bingo anymore.
We all have our lucky and not-so lucky numbers, our favourite places to sit, a lucky mascot or trinket and plenty of superstitions, but at the end of the day, whether you win or not is down to luck, not what you carry in your pocket! Do lucky numbers play a part in you winning or losing? I highly doubt it, what with all gaming outcomes coming from a highly sophisticated and impregnatable RNG system, but it's better to be positive about things rather than negative.
Luck of the Draw
They say (not sure who actually!), "positivity is the key to success," if you're going to be a Debbie downer while playing bingo, you may as well not play at all! Angela Lockhart from North Shields, a North-East bus driver, is proof of just how a positive mind can be beneficial, and in her case, to the tune of tens of thousands of pounds!
While playing at Hay Heaton Bingo in Newcastle, the 61-year-old decided she wasn't going to win when she saw what was waiting for her on her jackpot ticket – her unlucky number 18, but as soon as the game started, she believed her luck was about to change. To win the National Bingo game jackpots, you have to call house within 16, 20 or 24 numbers. All participating clubs offer an in-house prize too, so if you win a jackpot, you win the in-club full house prize too!
The rules are simple in the 50-ball linked-up game, no line prize, just a full house. If you manage to call in 24 numbers, you get an additional £100. Call house in 20 numbers for an extra £1K but call that full house within 16 numbers and you're guaranteed an extra £50K in wager-free cash! Angela went one better; she called the full house on the 15th number drawn and it was on her unlucky number 18!
What does she plan to do with her winnings? Nothing lavish! As soon as the funds clear, she is off to Curry's to purchase a new cooker ready for the Christmas party, and she will make sure her 2 grown-up children and her 8 grandchildren receive a treat (or two!). When a club produces a jackpot winner, they host a winner's party soon after with free buffet food and drinks. Not only did the club host a free party, but the winner put cash behind the bar to ensure everyone had a great time celebrating her win.
Source: "North Shields Woman Wins £50,000 National Bingo Jackpot on Her 'Unlucky Number". Chronicle Live. November 10, 2021.
Bingo Society News
Back to articles
Your feedback
Please enter your comment.
Your comment is added.
MadamMilly
11/25/21, 07:11:03 AM
Great win and just in time for Christmas! I've seen a few win this in my club, but I've never been close.