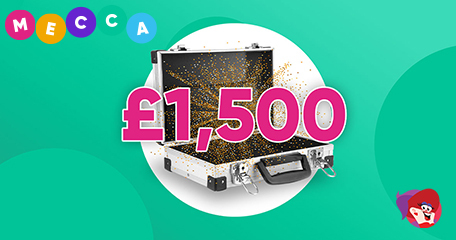 Get Your Name Into the Draw to Win!
A new and exceptional line-up of raffle prizes has been unveiled over at Mecca Bingo HQ, and each one offers players the chance to enter for free! The big one – the Mini Convertible, is still open for entries with a closing date of June 18th. To enter for free, all you need to do is send your details on a postcard, along with the details of the prize draw and closing date (before the closing date!), and your name will be put into the draw for just the cost of a first-class postage stamp!
Every week, a 'flash cash' draw springs up but you only have until the Friday to enter, so keep your eyes peeled for that as it's worth £1.5K in cash with multiple runners up prizes. If you fancy putting your feet up in front of a massive telly, this is your chance! A Samsung QLED 65-inch TV with 4K viewing and an adaptive picture that adjusts the screen's brightness for optimal viewing, will be won on Thursday 10th June. If you don't manage to win the top prize, they have 25 runner's up prizes of £5 bonuses to be won! Tickets are £1 each or you can enter for free. Postal route details can be found below.
Feast Upon a Prize
This next one is a must for lovers of film, TV and music – it's a digital entertainment bundle! "What's that?" I hear you say…it's a prize that includes a year's subscription to Netflix, Amazon Prime, Now TV and Spotify. Mecca Bingo provides the binge-watch content, you just need the snacks! Tickets are 50p each with no minimum entry requirement. Entries must be in by Thursday 10th June. There are also 20 runner's up prizes of £5 all games bonuses to be won.
Amazon is one of my favourite places to shop online – it has everything you could think of! From games to laptops, home furnishings to outdoor furniture, it really is a one-stop shop for bargains. Imagine what you could do with £250 in Amazon vouchers for just 50p! Would you treat yourself to something nice or get the Christmas shopping off to an early start? Remember, you can't win unless you're in and tickets cost to this draw closing on the 11th are just 50p each! There will be 25 runner-up prizes of £5 bingo bonuses to be won in this draw too.
Free (postal) route details. First up, the details on the postcard must match what they have on record for you. Your name, telephone number (including area code if a landline) and email address must be written clearly, along with the prize draw you are entering and the closing date. Address to. Send your postcards to is Mecca Bingo Raffle, PO Box 5002, Alton, Hants GU34 9BZ and it must be via first-class post. An example of what your postcard needs to look like is as follows:
Name: Hopefully a Winner
Telephone Number: (00000) 000 000
Email Address: luckybingoplayer@lbb.com
Prize Draw: £250 Amazon voucher 
Closing Date: Friday 11th June
Bingo Promotions & Bonuses
Back to articles
Your feedback
Please enter your comment.
Your comment is added.
Member's Feedback (1)
bridgetjones
06/05/21, 03:06:42 PM
More great prizes! I've managed to win runner-up spins and bonuses but no main prize yet. I'm hoping for that car!