Wire Transfer Bingo Sites
No credit/debit card or e-wallet? Fund your online bingo account with the Wire Transfer banking method. Review and list of bingo sites accepting Bank Transfers.
Wire Transfer Online Bingo Sites
Wire transfers are still being offered across online bingo sites more often than modern solutions. Why is that? Why would anyone decide to use bank transfers when they have loads of eWallets, prepaid cards and mobile payment solutions at their disposal? The answer is simple: people still don't trust alternative solutions as much as they trust traditional ones. What is wire transfer and why use it as your payment method for deposits and withdrawals?
About Wire Transfer
Players, when they see the little bank icon on an online bingo site, are usually confused as to what type of bank transfer is at their disposal. They are often confused with the term 'direct bank transfer'. These two, however, are actually pretty different, so it is important that you know the difference.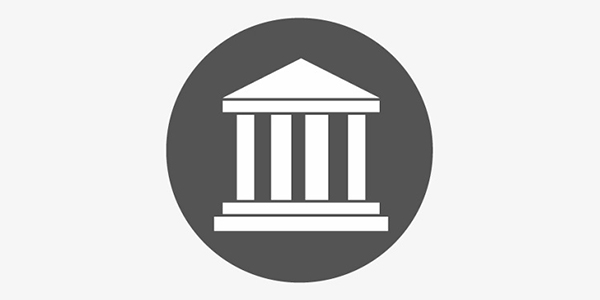 A Direct Bank Transfer is a solution where you're wiring money through the modern EFT technology (electronic funds transfer). This is a contemporary solution, which more or less, could get into the alternative payment methods category. The thing is, you don't need to visit your bank or a wiring office, but you need to fill out a form providing details about yourself and your bank, as well as the receiver's, and send money anytime, anywhere across the globe, with the assistance of a money transfer company.
Wire transfers allow you to send money from your bank account to another bank account….
….anywhere in the world, through global wire networks such as the Society of Worldwide Interbank Financial Telecommunication (SWIFT), the Clearing House Interbank Payments System (CHIPS) or the Federal Reserve Wire Network. To move the money from your bank account to the receiver's, a string of correspondent banking institutions would be involved, but the key to the entire process would be the security levels involved.
In fact, wire transfer is one of the safest payment solutions out there. Considering banks are involved in the money transfer process and not third-parties, their highest levels of security are implemented in the process. That's proof enough that your funds would be 100% safe and that you'd be covered if anything goes off the trail. Banks and other financial institutions involved use preventative measures and the latest encryption technology to protect your data from any interference and cyber-attacks. Once you send money using it, you can sit back and relax knowing that your money is handled in the safest way and that if anything wrong happens with it, it would be resolved by the banking institutions involved.
When it comes to its availability across online bingo sites, wire transfer is one of the methods you'll definitely see on the accepted payment methods list, along with VISA and MasterCard. However, contrary to these two credit card brands, bank wire transfer is also always available and the most preferred payment method for withdrawals. Stay with us to find out why!
Getting Started
To get started with this solution, you don't need to create a special, separate account. You don't need to go through the boring and exhausting registration and identification procedures known with alternative payment methods.
Naturally, to use wire transfer, you would need to be a bank account holder, with any bank in the world. You would need to have an active bank account, so that you can visit it or its online platform, in order to request a payment.
Considering you'd be using it for an online bingo deposit, add your account details to your bingo account. It may look something like this: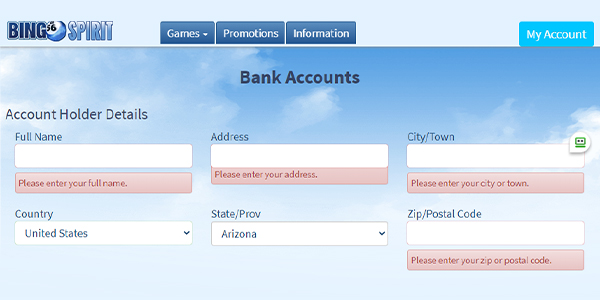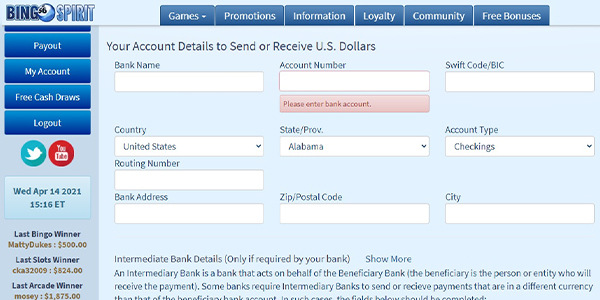 How to Deposit at Online Bingo Sites with Wire Transfer?
The wire transfer is an option for deposits and withdrawals across most, if not all, online bingo sites. Therefore, you won't be having any issues finding one that accepts it to join it. Before you do, however, remember to find yourself an online bingo site licensed and regulated by a respected jurisdiction, so that you are certain that your entire experience will be safe.
Sign-Up or Join Us button and fill out the required fields with information about yourself. You would probably be asked which currency you'd like to use on your account and which payment method to use for deposits. But if not, after you create your account, do the following:
Go to your online bingo site's Cashier/Banking page.
From the list of accepted methods, click on the wire transfer's icon.
A new window will open where you need to enter your personal details and bank account details, including the needed international codes.
Specify how much you wish to deposit at the site and confirm your request.
In a few business days, the money will arrive on your bingo site balance.
Deposits with this solution won't be instant and wires are not processed on weekends. The transfer will take 1 to 2 business days for deposits, usually.
Online Bingo Wire Transfer Withdrawals
Withdrawals with a wire transfer are not only possible but also quite popular across online bingo sites. One of the reasons is the fact that players' winnings will arrive directly on their bank account. Another reason is the fact that they know their funds will arrive safely. And the third reason is, they don't really care how long it would take for the money to arrive, as long as it arrives safely.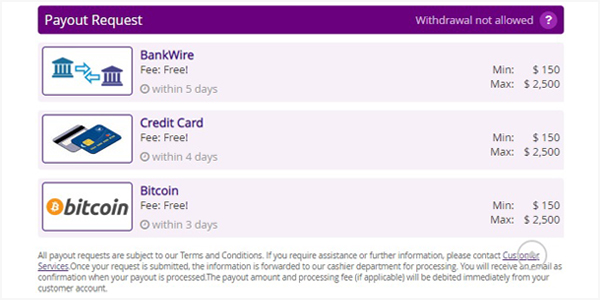 The process is exactly the same as with deposits. You need to provide personal and bank account details and codes, you need to specify how much you wish to withdraw and wait for the bingo site to confirm the transaction and send the money to your bank account. This process, however, might be slightly longer than with deposits, and you should expect the funds to arrive on your bank account in 3 to 7 business days.
Restricted Countries
There are no restricted countries when it comes to wire transfer. This is a solution that is truly globally available, thanks to the global networks involved in the money transfer procedure.
However, you should bear in mind the gambling restrictions worldwide. Some countries forbid online gambling transactions to be processed through banks.
Applicable Fees
Fees definitely apply when using wire transfer. These can be charged by the sender's bank, the recipient's bank, or both. Therefore, before you request a payment, make sure you learn more about the fees by visiting your bank.
Keep in mind, though, that the online bingo site may charge fees itself, for deposits and withdrawals with a bank wire transfer. Therefore, in addition to consulting with your bank, you might also need to contact the bingo site's Customer Support to figure out whether any you'd be charged with some extra fees.
Available Currencies
Literally, all currencies are available currencies with a wire transfer, and you've probably figured that out already. Since we're talking about bank transfers, it is only natural that all currencies are accepted.
When making an international transaction, however, which would normally be denominated in a different currency than your country's currency, you should be prepared to pay a currency exchange fee, as well.
Showing results for Virginia, United States
Wire Transfer Bingo Sites FAQs
How big can the processing fees be when using wire transfer?
Even though the fees would depend on the banks involved, they are normally ranging from $5-$10 to $50, or currency equivalent, per transaction. The fee would depend on the money amount you're wishing to deposit or withdraw. On that note, for deposits, you would rarely need to pay a fee, but for withdrawals, you inevitably would.
Are the withdrawal fees always high with all online bingo operators?
In fact, no. There are many operators which promote and encourage the use of wire transfer for withdrawals, and they usually charge lower fees. Therefore, make sure you find yourself such an online bingo site to join.
Must I share my bank account details with the bingo site upon deposits?
Yes. Your data is inevitably needed for the whole transfer to be successful. But, if you don't wish to use the bank account you're using currently for your everyday payments and purchases, you can always open a separate bank account that would serve for online gambling transactions only. That way you will separate your personal life and your online bingo transactions and experiences.
What's the biggest advantage of using this payment solution for deposits?
The biggest advantage with wire transfer is that you can deposit quite higher amounts of money compared to deposits with other methods. Most online bingo sites won't even put a limit as to how much you can deposit with it, and that can be quite handy, especially if you're on a winning streak.
Is there any way to shorten the waiting times when depositing with wire transfer?
Unfortunately, no. You should come at peace with the fact that your deposit won't be instant when using it. You would at least have to wait three business days, considering the banks involved in the transfer process. So, unless you're certain you can wait that long or longer, don't use it as your deposit method.
Join and start earning awards
You will immediately get full access to our online bingo forum/chat plus receive our newsletter with news & exclusive bonuses every month.
Join instantly with your social account