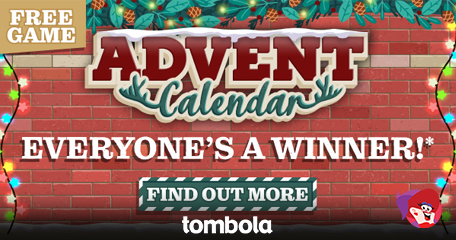 When we told you the Christmas promotions will be flying in thick and fast, we weren't wrong! Tombola are the latest to rise to the surface with another brilliant no deposit, no wager freebie, and everyone is guaranteed to win a prize!
The Advent Calendar is back and will run daily from the 1st until the 24th of December. To get your free win from a £150K prize pot, log in daily and open the corresponding door. Match 3 of the same symbol to win a prize! It's important to point out here that in order to get a guaranteed win, those numbered doors must be opened daily. Miss one day and that could be the difference between you winning and losing!
Ho, Ho, Ho – So Much Dough
Minimum prize is a bonus of £5 and this is enough for 500 chances to win real cash (for free!) and jackpots in the paper bingo room. You could even play 5 x £1 Cinco or Rollercoaster games to win up to £10K – the choice is yours! Remember, bingo bonus prizes come with no strings attached, meaning anything you may win from said bonus, will be credited to your main withdrawable balance. Same principle applies with the cash prizes.
Take a look at what you can win with the Tombola Advent Calendar:
Stockings or Snowflakes: £5 bingo bonus
Snow Globe or Reindeer Rocking Toy: £10
Santa's Hat or Snowmen: £20
Sleigh or Candy Cane: £50
Christmas Tree or Bauble: £100
Gift or Holly: £500
Wreath or Candle: £1K
Star or Bell: Win £5K
It must be 3 matching symbols to win the stated prizes, not three from one prize category, so a wreath and two candles doesn't trigger a £1K win. If you catch my drift! It's totally free to play every day! That's not all! A second no deposit promotion us underway with 70 guaranteed weekly winners! The Christmas raffle is a free SMS game with prizes ranging from chocolate hamper to iPhones, voucher and even £2K in cash!
Simply register your mobile phone number in your Tombola account and by 11pm on the Sunday before each raffle, a 3-digit code will be sent to your phone. Head to the bingo site on Monday to see if any of the prizes match your ticket. It must be identical to what is shown on-screen (colour as well as number).
The first raffle will be drawn on Monday 5th December. There are more than 70 weekly prizes from 10 chocolate hampers to 5 snazzy new iPhone 14 Pro's…
…and even that £2K cash prize. Play every week for free! Already registered your mobile phone? Best double check to be sure or you could end up missing out on a prize!
Promotions & Bonuses
Back to articles
Your feedback
Please enter your comment.
Your comment is added.