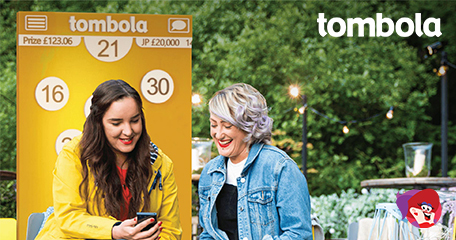 Have the Same Fun, Same Chance of Winning only Better!
Playing bingo online should be fun, but sometimes we can lose track of time and end up spending way more than we planned to. It may not be intentional, but to stop you doing just that, Tombola and Arcade, have come up with multiple ways of putting you in control of your time and money, and we all know how important it is to only spend what we can afford!
A range of tools were unveiled a while ago, but not many players know this. I was only in Picture bingo last night when the chat host made a reference to these tools and the replies back were crazy! It got me thinking, how many of our readers here at LBB know these tools exist? And more importantly, how many of you actually use them?
Safe Play Fun
From setting your own daily, weekly and monthly deposit limits to controlling the games you want to play, having a little break to staying away completely, all these and more are readily at your disposal. Housed within 'my account' is a section called 'safe play', and it is here where all those responsible gambling tools and information on how to play safely can be accessed. To help you make the most of these features, Tombola will credit your account with a £1 bonus when you set, confirm or lock down your limits for the first time, whether you're a regular player or a newbie.
Deposit limits section allows users to set personal deposit limits up to £500 per day or week, and up to £2,500 per month. However, they also have weekly net deposit limits of £250 per week and £500 per month which cannot be exceeded regardless of your own defined personal deposit limits. Decreasing your deposit limit will take effect immediately while any increase to the limit will only come into effect after a period of 24-hours.
In the stake limit section, you can set yourself a maximum amount that you would like to stake per single game, on either the bingo or arcade site. Choosing your stake amount will apply immediately and will remain in place until you decide to change it. A cool-off period of 24-hours applies to any increases on your account. Tombola stake limit can be set to 25p, 50p or £1 and can be locked in place for 1 week, 1 month, 3 months, 6 months, or a year. Stake limits for Arcade can be locked in for the same duration with 5p, 10p, 20p and 50 limits. An example of these includes setting a stake limit at 50p and then only being able to buy tickets amounting to 50p. Stake limits on Arcade would mean a single spin or game would have an upper limit of your pre-defined limit.
Time can really fly when you're having fun…
…and more time playing means more spending! The new timer system will encourage you to recognise the time you're spending on the site with reminders kicking in every hour, 2-hours or 3-hours. When the pop-up appears, you will be prompted to continue playing, view your transactions or close the game.
My personal favourite is the game freeze tool, as it prevents me from accessing games that in my opinion, eat into my cash! If you no longer wish to play a specific game, maybe one you're tired of losing on all the time, all you have to do is freeze the game in question. Freezing a game (or multiple) will kick in immediately. Un-freezing will commence after a cooling off period of 24-hours. Arcade and Tombola games are all on the page, and for me, the one single game that can see my deposit of £10 gone in seconds is spin. I have this permanently ticked.
Cooling off allows you to temporarily exclude yourself for any period from 24-hours to 5-months. Self-exclusion cannot be reversed and stops you accessing both Tombola and Arcade for a period of between 6 months to 5-years. If you are considering self-exclusion, you may wish to register with GAMSTOP, as this will prevent you access all other online gambling websites for this same period, for free!
General Bingo News
Back to articles
Your feedback
Please enter your comment.
Your comment is added.
lollipops321 08/02/21, 06:08:33 AM
Handy to know. I didn't realise I could put a block on a specific game. I always think I'll try a few arcade games and then my money is gone. I'll be setting that...
Handy to know. I didn't realise I could put a block on a specific game. I always think I'll try a few arcade games and then my money is gone. I'll be setting that feature in motion and pick up £1 for doing it!
Show more