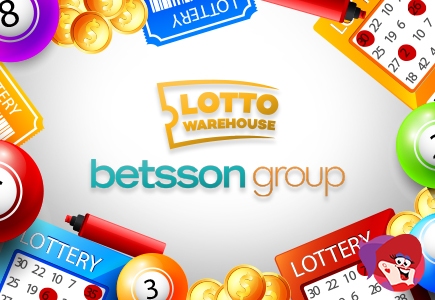 Major betting operator,
Betsson
, is ready to roll out its latest product - new lottery games, produced in collaboration with Lotto Warehouse, that will present the first time ever they have procured access to major global lotteries such as
Mega Millions
and
Powerball
to their clientele!
The Potential That Didn't Escape Them:
Betsson is already a household name thanks to their diverse, sought-after content that covers betting, table poker and
bingo games
- and just ahead of the launch of
Sweden's newly regulated market
in January, they've prepared this lottery segment.
For this, they've chosen to team up with Lotto Warehouse - 500.com's subsidiary from China who has obtained licenses in both
UK
and Malta. Their platform consists of over thirty global lotteries that they offer to partners and operators worldwide - EuroJackpot and Euromillions among them.
Thomas Biro, Lotto Warehouse's CEO, holds Betsson in high regard as he calls them a
'hugely respected operator which saw the potential of our offering,'
which is a very pleasing thing for this company.
He added:
'We wanted to revolutionise one of the oldest gaming industries whilst giving players the opportunity to dream big. Today's players are discerning ones - they want choice and they want customisation. Lotto Warehouse offers all that and more by breaking down borders and offering the world's biggest lotteries in one place.'
Seeking Those Mega Wins:
In a conversation with iGamingBusiness portal, Biro revealed that the primary focus and concern that Betsson and Lotto Warehouse tried to tackle and comprehend when devising this product is how to make players' desire to win the
'largest possible cash prizes a reality.'
The lottery vertical is growing rapidly, he explains, and more and more players are looking to play for massive jackpots that simply are not available in their respective regions.
Lotto Warehouse's 2018 was, it is safe to say, a watershed year for them as they've landed several similar deals with leading operators such as
Bethard
, Giant Gaming Group and Kootac.
Betsson's head of gaming, Joey Hurtado, commented:
'After a thorough search and review of different lottery providers, we felt that Lotto Warehouse's great user interface, excellent offering and outstanding business models were the best fit for Betsson Group and our players.'
Lottery has seen quite a surge in interest recently, with all-time record Mega Millions jackpot of 1.5 billion recently won and with numerous other lotto games launching with colossal potential payouts.
First half of the year was very successful for Calemot UK who reported a
5.4% growth in sales
and Kentucky Lottery even enjoyed the
most lucrative month in their 30-year history
,
with $115.5 million in sales during October!
Source:
'Betsson enhances offering with new lottery games'
. iGaming Business. November 20, 2018.
Lottery & Scratchcards
Back to articles
Your feedback
Please enter your comment.
Your comment is added.
DomLatVit
11/21/18, 07:11:22 PM
Good news – I think lotteries are getting back something of that glam and charm they've lost thanks to numerous other verticals and games out there.