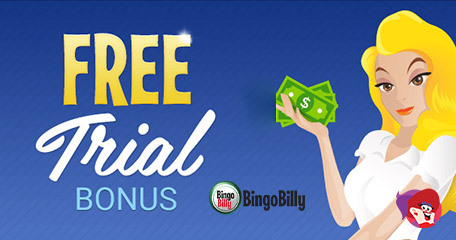 Pick Up Exclusive Prizes by Getting Social
Bingo Billy has been in the online bingo business for almost two decades now and in that time she has bagged numerous awards for quality promotions, games and customer support. From the huge trial welcome offer to daily freebies, she knows just how to run a successful bingo website while giving players exactly what they want – more choice, more chances to win and lots of free offers!
The progressive welcome bonus comes as standard and kicks in as soon as the no deposit offer has been claimed. New players are guaranteed five bonuses on their first five deposits, growing in size from the first to the last.:
1st Deposit: 500% free bonus
2nd Deposit: 525% free bonus
3rd Deposit: 550% free bonus
4th and 5th Deposit: 600% free bonus
Free Opportunities to Win Cash
New depositing players will also qualify for the new member freerolls consisting of 15 free bingo games spread over an hour, each awarding real money prizes! The weekly bingo room is open on a Saturday and qualifying players are welcome to enter four times, that's a total of 60 chances to win free cash!
Private bingo rooms unlock on a deposit too with 7-days access awarded the very day you credit your account. Bitcoin deposits are by far the most popular method because when it comes to withdrawals, no other method can match Bitcoin for (processing) speed. If you deposit on Monday, you will have access to Monday, Tuesday, Wednesday, Thursday, Friday, Saturday and Sunday Private Rooms, and only those who have made a deposit qualify which means fewer players competing for the prizes! The private rooms feature…
…4 hours of exclusive games that include $500 to $1K guaranteed jackpots. This month, players also have the chance to win some great prizes in the Spring Fest promotion. Trivia, fun contests, bingo patterns, competitions and much more will be running right up until May the 31st, all you need to do is log into your Bingo Billy account to view the daily "missions."
More Value for Money Always
Other May promotions include:
Night Owls & Early Birds Raffle: Win $200 cash in morning bingo games
Slots Tournaments: Play casino games to earn points. The more points you have the more chance of you being featured on the leaderboard. Sushi Swap, Licky Luck, Halloween Treats and Flip Wonderland all offer great bonus features as well as regular base game wins. What will you play first? The top 8 players will receive a cash prize ranging from $25 to $500 every week, plus you get to keep anything you win from spinning those reels.
Top of the Hour Games: Play pattern bingo games and tournament games to win boosted cash prizes. There are four hours of these games scheduled on special days.
Free Honey: Depositors get access to one of many free bingo rooms to win up to $100. All games are even chance games with 10 cards available per player. Wins generated in this room are considered real wins.
Seasonal Rooms: Extra cash prizes for those who like to play last thing at night and first thing in the morning. There will also be reverse coveralls and two hours of jackpot games.
Kentucky Derby: Log in, make a deposit and pick a number to win up to $100 for free! Keep your fingers crossed your chosen horse makes it across the winners line first to score that cash prize.
Bitcoin Club: Monthly benefits for cryptocurrency players.
There are other things you may not know about Bingo Billy, such as the private group for players…
…over on Facebook. You can chat with your fellow roomies and chat hosts any time of the day or night. Plus, you can pick up exclusive bonuses, promo codes, get all the details on the latest and upcoming promotions plus enter bingo prize draws! Recently Bingo Billy gave away bonuses and a new Apple iPad to a lucky few members of the group. By requesting to join you will be sent a questionnaire:
Are you already a member of Bingo Billy?
(if so) What is your username?
What is the first and last name registered to the bingo account?
Do you agree to the rules?
Free Prizes and Free Cash Ahead
Only when you have submitted your answers will your request to join be sent to the admin team.
Bingo players who use a MasterCard to make deposits are eligible for $60 extra free this May. The bonus of $20 is available three times this month and can be activated directly from the cashier. Open the 'help desk ticket' option within your account and navigate to the $20 free MasterCard extra bonus and voila!
Another feature that makes Bingo Billy so special is the ability to send your fellow roomies funds and if you use Bitcoin, you'll get some too! You can send as little as $10 by:
Bitcoin: You can send your friend a gift to our wallet and you will get the same amount as cash into your account. Example: if you send $50 to a friend, they'll credit the $50 as cash and you'll get $50 cash too!
Gift Certificate: Request the link to the store via live chat and they will help you complete this.
Love chat games? The good news is after brief break away the chat games are back (for good!) allowing players to scoop as much as 200% bonuses when actively taking part. The wild penny room is where to head if you want to play more free bingo games. Doors are open 24/7 with no restrictions on who can enter.
Bingo Promotions & Bonuses
Back to articles
Your feedback
Please enter your comment.
Your comment is added.
Member's Feedback (1)
lollipops321 05/13/22, 10:05:07 AM
I didn't know there was a facebook group. Can't believe I've been missing out on promotions and prizes! I've just requested to join. Anyone know how long it takes...
I didn't know there was a facebook group. Can't believe I've been missing out on promotions and prizes! I've just requested to join. Anyone know how long it takes to get approved?
Show more