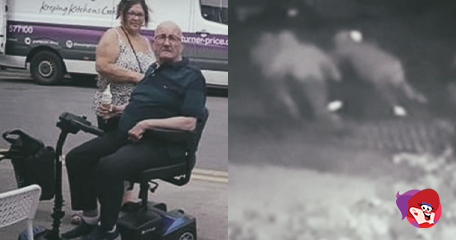 Dab and Grab Leads to Fury in Hull
We're all about bingo news here at Latest Bingo Bonuses, and not only online bingo and bingo promotions, but land-based bingo news too. This latest piece of breaking bingo news is of a pensioner who after almost dying last year, has been subjected to the cruelest of acts. While Bill Green, 77, was out playing bingo at his local club, his 'lifeline' mobility scooter was stolen and destroyed by an unknown group of thugs.
On Wednesday evening, a group of mindless vandals decided it would be a great idea to take off with the mobility scooter, which was parked outside the Crow's Nest pub doors, but by the time the pensioner realised it had gone, it was already too late. Alerting family, they pooled together to conduct a search of the area and it wasn't long before it was found trashed to pieces!
No More Bingo for Bill
In May, Bill was rushed to hospital after his heart stopped beating and his family were told he wasn't going to make it. Remarkably, the pensioner pulled through but is facing more difficulties now than ever before in terms of mobility. Family and friends came up with the funds needed to get the beloved man a scooter and the gratuitous act gave Bill his freedom back. Being able to hop on his scooter to the shops or to play bingo meant the world to him but now that has been taken and he and his family are furious.
Bill's daughter Julie Green has pleaded for information to find the thugs responsible for this heinous act, but so far, all they know is a local group of youths are responsible. Speaking to local media, Julie revealed the traumatic impact of what happened just six months ago which then ended up with them having to buy the mobility scooter.
After his heart attack in May, Bill's health deteriorated and medical staff told the family to prepare for the worst. After putting up the greatest battle of his life, the pensioner pulled through only to contract Coivid-19. Swelling of both legs has rendered him unable to walk and every night he is attached to a ventilator to help him breathe, and that is why the mobility scooter is a must for Bill Green.
Julie said: "We are all very, very frustrated. If they had taken it to sell and make money at least it would make more sense but what they have done is so pointless. They just took it and then destroyed it. We can't understand why they have done this.My dad now feels guilty for leaving it outside when everyone helped pay for it."
A kind-hearted local saw what had happened to Bill and reached out to the family…
…with an offer to lend a scooter for a few weeks. Humberside police are appealing for anyone with information to come forward. The theft occurred outside of the popular bingo site in Douglas Road in Hull on Wednesday 5th January, between 4pm and 9pm.
Source: "Despair as Hull Pensioner's Lifeline Scooter Destroyed While He Played Bingo". Hull Live. January 8, 2022.
Bingo Society News
Back to articles
Your feedback
Please enter your comment.
Your comment is added.
Member's Feedback (1)
HangingAround
01/10/22, 09:01:16 AM
I hope they catch the criminals involved and make an example of them. They get away with things too easily these days and that's why they continue to be the way...
I hope they catch the criminals involved and make an example of them. They get away with things too easily these days and that's why they continue to be the way they are. Tough punishment would make them think twice about their actions.
Show more