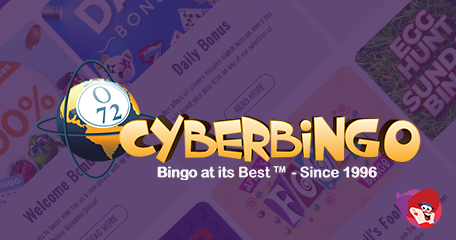 Cash & Bonus Showers Guaranteed
Sunny with a chance of mega wins, that's the forecast for Cyber Bingo players this month, what with an epic line-up of promotions already underway, including the bonus mania feature…
…what's that exactly?
Bonus Mania gives the biggest bonus boost of the week with as much as 325% free play to use on all you favourite games! From slots to table games, bingo to jackpots, this exclusive offer is available not once but twice every week!
Triggering this offer is as easy as 1, 2, 3:
Decide how much of a bonus you want – 125%, 175% or 325%
Make a qualifying deposit on Thursdays and/or Fridays of $30, $60.01 or $100.01 for extra bonus credit of 125%, 175% or 325% respectively
Get your chosen offer credited instantly!
Want more? We all want more, and Cyber Bingo is here to deliver just that to the bingo community with extra bonuses to boost play time every single day of the week! There's a bonus waiting to land in your account every time you make a deposit, giving you more chances to win! Get up to 200% match on bingo – that's triple your deposit, or 50% on casino games.
Bingo Bonuses:
Daily 75% match when depositing a minimum of $25
Daily 100% match when depositing a minimum of $50 (double your deposit)
Daily 200% match when depositing a minimum of $100 – tripling your original deposit amount
Casino Bonuses:
Daily 10% match when depositing a minimum of $25
Daily 25% match when depositing a minimum of $50
Daily 50% match when depositing a minimum of $100
Eggstra Special Promotions
Other promotions at Cyber Bingo this month include bingo tournaments where the more you dab and win, the more you erm, win! Slot games tournaments delivering multiple ways to win extra cash, bonus cash back on slot game losses, a big bingo party with $20K up for grabs and a special Earth Day celebration!
Mega Money: Once a month $20K is won by real bingo players just like you and with 10 warm up games of $1K followed by a grand finale of $10K up for grabs, there's plenty of chances to win! The one-night event will be hosted in the Nature Room on the last Saturday of the month (29th), with games commencing the top of the hour and half past the hour from 6pm (EST).
Earth Day is Coming: On April 22nd, Earth Day will be celebrated by Cyber Bingo with bonuses and cash to be won across a 4-hour event. There will be guaranteed cash jackpot games as well as a special offer on cards.
Win $500 Extra: Want the chance to scoop $500 on top of your bingo winnings? Here's how! Take part in the MasterBlock bingo tourney between Monday and Tuesday to be one of 20 top players walking away with bonuses and cash. The more times you win, the higher up that leader board you'll get!
Promotions & Bonuses
Back to articles
Your feedback
Please enter your comment.
Your comment is added.