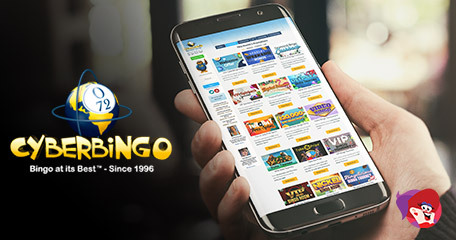 Scorching Summer Promotions & Big Freebies
Where has 2022 gone? One minute it's January and bang, the next minute we're bringing you the latest July promotions! Summertime is bingo time and this month Cyber Bingo has a series of fun-filled, cash-packed promotions to suit all budgets, including bingo and slots tournaments, bonus spins offers, bingo ticket bundles such as 'buy 7 get 3 free' and a big bingo party with $18,200 up for grabs!
As ever, there's cashback to be claimed, special weekend bonuses, spinback specials and a free trial offer for new players. Newbies are eligible for our exclusive reader offer of $50 bingo bucks without having to make a deposit. Sign up in less than a minute and get your freebie offer…
…credited instantly, it's that simple. Regular promotions available day-in, day-out include Fair and square bingo games where everyone has the same chance to win, guaranteed cash paying games, reverse coveralls and big diamond specials for prizes of up to $13,950.
A Snapshot of July's Promotions
#1: Take the Prize promotion is being run in conjunction with Betsoft, with a mega $6K prize pool to be won daily until July 3rd. There are 80 prizes up for grabs every day and all you have to do to win is play one of the qualifying slot games. The minimum bet requirement is 0.50 per spin – no opting in required, no leader-boards no points. Just one lucky spin could bag you the top prize of $1K.
What? A daily Betsoft promotion with a prize pool of €6K for the top 80 players and a top prize of €1K in cash.
When? The event will take place daily starting on June 23rd at 10:00 AM CEST and ending on July 3rd at 10:00 AM CEST.
How? Simply play one of the qualifying games at a minimum of €.50 per spin and you will automatically be participating. Prizes will be credited manually the next day.
Qualifying Games: Safari Sam 2, Primal Hunt, Lava Gold, Quest to the West, Book of Darkness, Chilli Pop, The Hive, Jungle Stripes, Wild Drops, Take Olympus, Gold Tiger Ascent, Return to Paris, Golden Horns, 7 Fortune Frenzy, Stacked, Alkemors Elements, Kensei Blades, Gemini Joker, Primal Wilderness, Lost Mystery Chests, Tower of Fortuna, Triple Juicy Drops, Take the Kingdom, Thai Blossoms, Stampede and the cops 'n' robbers themed Take the Bank title.
#2: Love bonus spins and the chance to play slots for free? Well, this July, Cyber Bingo are inviting you to claim as many as 200 bonus spins in twice weekly deposit deals. To join, make a deposit from one of the listed tiers and you will get your bonus spins. The offer will only be available on your first deposit on a Sunday and a Monday, so make sure you fund your account with the correct amount.
What? A bonus spins deposit deal is available twice a week where players can claim up to 200 bonus spins with their first deposit of the day.
When? This promotion can be claimed once every Sunday from 6:01 AM CEST to 5:59 AM CEST on Tuesday during the month of July.
How? All you need to do to claim is make a qualifying deposit of €30 or more on your first deposit of the day.
Bonus Spins Tiers: Deposit $30 to $54.99 for 50 bonus spins on Return to Ra, deposit $55 to $109.99 for 100 bonus spins on Great White Buffalo, deposit $110 or more for 150 bonus spins on Crackin' Eggs. VIP players who deposit $110 or more get 200 bonus spins on Flip Wonderland.
#3: Head to the Cyber Bingo tropical bingo room this July to take part in a red-hot summer promotion. Every Monday and Tuesday there will be tons of prizes to be won with top of the hour games and multi-part games. Plus, when you buy 7 tickets you get 3 free. The first part of all games is the small patter, followed by summer themes before the coverall. The top 40 players at the end of the week get to share extra prizes, with the top prize being $760 in cash!
What? A weekly bingo tourney with of top of the hour multi-part starting games and a weekly prize pool of €2,114 that will be awarded to the top 40 players with a top prize of €760 in cash.
When? The event takes place every week from 6:00 AM CEST on Mondays through to 5:59 AM CEST on Wednesday. All games are top of the hour.
How? The fun only takes place in the Tropical Bingo Room with a card cost of $0.24 and an offer of 'buy 7 cards get 3 free'. Pre-order is available.
#4: Throughout July, video bingo tournaments will be getting underway with exciting events and extra weekly prizes of $1K in cash. There will be twenty winners guaranteed each week with a top prize of $300 in cash. All remaining 19 players will receive universal bonuses for use on online bingo games and/or casino games.
What? A weekly 2-day video bingo tournament with a prize pool of $1K for the top 20 players and top prize of €300 in cash.
When? The tournament plays every week from 6:01 AM CEST on Saturday to 5:59 AM CEST on Sunday during the month of July.
How? You must have funded in the previous 7 days and need to 'opt-in' using the button on the promotions page. The promotion will be ranked by the total of winnings of each player. Participating game is Xtra Power Ball.
#5: The big monthly bingo party is scheduled for Sunday July 31st with 10 warm-up games guaranteeing $910 in prizes and a massive $9,100 main event game. Cards for the warm-up games will set you back $1.82 each with the main game cards increasing to $4.55 each. The good news is there is a 'buy 3 get2 free' deal attached to this promotion.
What? A one-night bingo event with a prize pool of $18,200. Event consists of 10 warm-up €910 guaranteed games and a main guaranteed game with a €9,100 cash prize.
When? The bingo party will take place in the tourney bingo room on the last Sunday of each month at 12:00AM CEST with 10 warm-up games and the main event will be at 5:00 AM CEST.
How? The cards for the warm-up games can be bought for $1.82 each and the cards for the main event will be priced at $4.55 each. There is a deal for all cards of 'buy 3 and get 2 free' with a cap set at 120 cards per player.
Bingo Promotions & Bonuses
Back to articles
Your feedback
Please enter your comment.
Your comment is added.
lollipops321 07/04/22, 06:07:25 AM
This is one of the best places to play bingo games. They have been running for over 20-years and that means they are a genuine site. I find them to be so friendly.