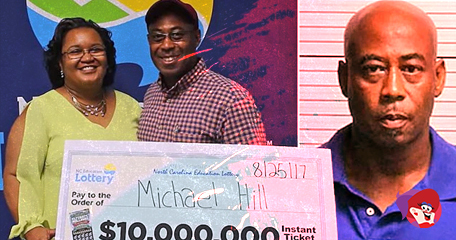 Instant Win Delight Soon Toons to Murder
In another episode of strange but true we take a look at Michael Hill, a 54-year old from North Carolina whose fortunes were altered twice. In 2017, Hill hits the headlines when he landed a mega $10million fortune on a scratch-off lottery ticket, taking him from rags to riches. Fast forward to 2020 and his luck had run out when he was arrested for murdering his sleeping girlfriend!
Keonna Graham, 24, was shot in the back of the head with a single bullet and the reason for this heinous act? Hill accused her of texting other men. Leaving her body to be found by the maid, Hill fled the scene. Surveillance footage showed the only person to enter and exit the room was the lottery winner.
When Lottery Leads to Murder
It wasn't long before the police caught up with the murderer and hauled him in for questioning. Admitting to the crime, Hill revealed him and Graham had been in a relationship for more than a year when he discovered she had been chatting to other men. Last week when the case went to court, it took just an hour for the jury to find the scratchcard winner guilty of first-degree murder. Hill will spend the rest of his life in prison with an additional sentence of 36 months to run concurrently, for possession of a firearm by a felon.
In 2017, Hill was working as a nuclear power plant worker. He became a household name in the North Carolina area when his winners story was told to the nation. Purchasing a scratchcard, he wasn't surprised to see it was a losing ticket. Instead of walking away disappointed, he decided to buy another and that ticket was hiding a $10million fortune!
"I saw the one and then the zero and it still didn't hit me," he told the N.C. Education Lottery at the time. "But then I saw the 'M'. My heart dropped down to my toes and I lost my breath."
It's not the first time a lottery win has led to murder. In November 2020, a 31-year old woman from Oklahoma won $2million on an instant prize crossword scratchers game. According to the family lawyer, within months of winning such a vast sum of money, tension grew between Tiffani Hill and her husband John Donato. The pair hadn't been together long at the time of the win. Eight months after the life-changing win…
…Donato murdered his wife and shot his 1-year old daughter before turning the gun on himself. The little girl was still alive when authorities arrived but sadly died later in hospital.
Source: "Man Who Won £10,000,000 Jailed for Life for Shooting Sleeping Girlfriend Dead". Metro. May 31, 2022.
Bingo Society News
Back to articles
Your feedback
Please enter your comment.
Your comment is added.