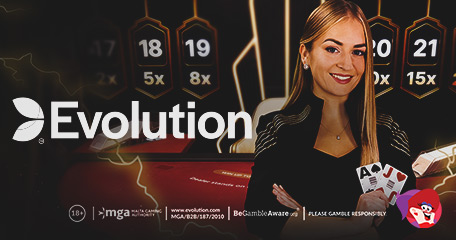 New Blackjack Variant with Enhanced Payouts
Known for delivering industry-firsts, Evolution has a reputation for creating the unimaginable. Take Crazy Time for example, with its super-sized wheel, multiple funfair style bonus rounds and an interactive feature where prizes are won based on individual player choices.
The award-winning lightning series of casino games includes roulette, baccarat, craps plus dice, and now that list of games is set to get even bigger with the arrival of Lightning Blackjack! Available in both first-person (no dealer) and live versions, Lightning Blackjack is turning up the thrills with superior 3d animated technology with the chance to have payouts multiplied with every hand!
This super-charged casino game comes complete with RNG-based lightning card multipliers in every round, boosting your chances of winning and winning big regardless of your stake. An infinite number of players can take a seat at the table, interact with the host and customise their camera angles for a style of play that suits the individual.
Massively Multiplied Winnings
In a similar style to that of Lightning Roulette and Lightning Baccarat, the studio is designed in a stunning Art Deco style with bold blacks and golds. Keep your eyes on the surroundings when those lightning cards are called, because this is when things start to get intense! Flashes of lightning will strike the studio with pulsating audio to give an authentic stormy atmosphere.
What makes this release so exciting is the fact payers are always guaranteed a randomly generated multiplier of between 2x and 25x on a winning score. If you have a winning hand, you will automatically receive a multiplier of either 2x, 5x, 8x, 10x, 15x, 20x or 25x. That multiplier is then saved and carried over to the next round. If you have a winning hand during this round, your winnings will be multiplied by that stated sum. If you leave the game the multiplier is saved for when you next log in, up to a 180 period.
Prefer to play in a more relaxed setting with no count-down timer or live dealer? No problem! There's a first-person format for that on all Lightning games, including roulette! This version of the game replicates the unique gameplay of its live counterpart with multipliers and multiple winning opportunities. If at any time you wish to switch to live, you can press the 'go live' button on your screen.
Todd Haushalter, Chief Product Officer at Evolution, said: "It's high time that we brought our Lightning brand to the player favourite Blackjack. We've been very careful to preserve the true essence of Blackjack, while adding extra layers of excitement with added Lightning multipliers. The end result is a beautiful game that gives players the opportunity to have enhanced payouts whilst still playing the game the way it was originally intended– and I think players are going to love it!"
Source: "Evolution Launches Electrifying Lightning Blackjack". Evolution. November 17, 2021.
Bingo Games
Back to articles
Your feedback
Please enter your comment.
Your comment is added.
Member's Feedback (1)
HulioSas 11/23/21, 07:11:45 AM
I love lightning games! Roulette is my favourite with 500x multipliers. I have only ever won 100x but it's the excitement of not knowing when you will hit a big...
I love lightning games! Roulette is my favourite with 500x multipliers. I have only ever won 100x but it's the excitement of not knowing when you will hit a big one.
Show more