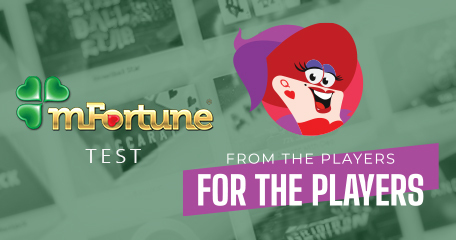 Established in 2007, mFortune has been entertaining players with a series of exclusive bingo and slots packed with cash prizes. Having a reputation for being generous, this In Touch Games Ltd brand guarantees no deposit freebies from the moment you sign up! Plus, to celebrate the arrival of new cannot-be-found-anywhere-else gaming releases, no deposit spins are granted to both new and existing customers! There's a freebie for just about everything at mFortune – from signing up to referring your mates. How did they stack up when we put them to the test?
We've been putting online bingo sites to the test for the last couple of months, and we've discovered some things no other online reviewer has encountered. Recent test subjects have included Bingo Cams and Pink Ribbon Bingo in our From the Players for the Players project. Did our tester get the red-carpet treatment with mFortune or did they trip up? Let's find out!
Tester of the day: WannabeABigWinner
Registration date: Thursday 8th July 2021.
Deposit date, amount and payment method: Saturday 10th July, £150 via MasterCard Debit.
KYC verification: Uploaded on the day of registration (8th July)
Withdrawal request date: Saturday 10th July, withdrawal request of £221.90p via Bank Transfer.
Withdrawal received date: Tuesday 13th July, £221.90 via MasterCard Debit.
The Registration Process
As mobile optimised bingo and casino operator, players must verify their mobile number before gaining access to the games. This applies whether you're on a desktop, laptop, smartphone or tablet. Once completed, you will receive a free text message to the mobile number you supplied on the registration form. Verification is only complete when you supply the unique code.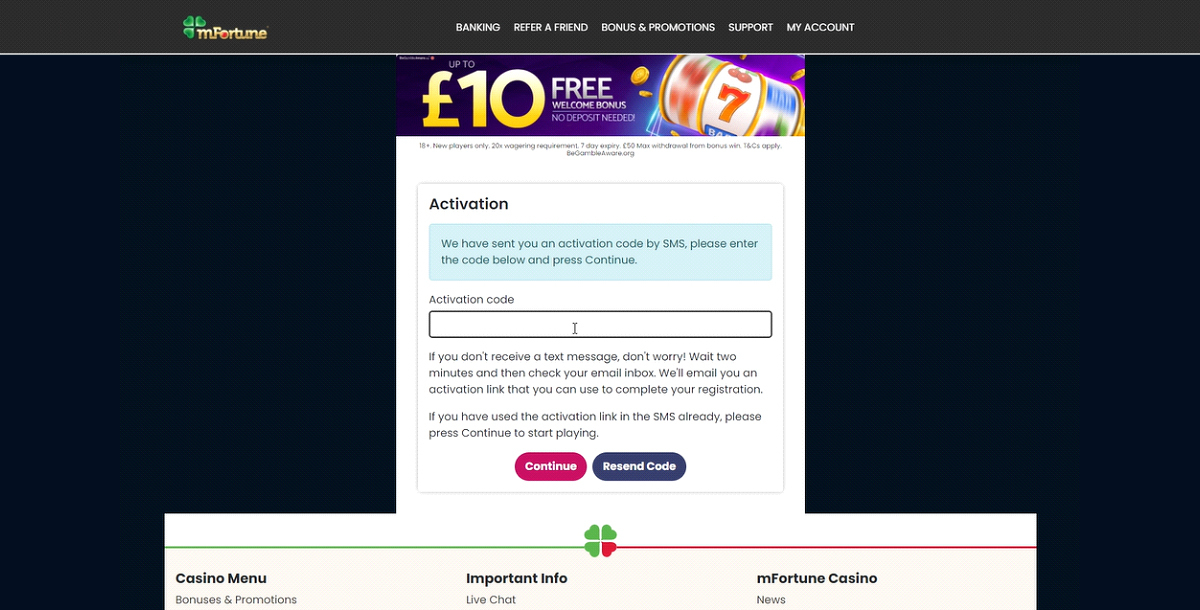 It took our tester just a few minutes to go from unregistered to verified, with a pop-up and a text confirming this.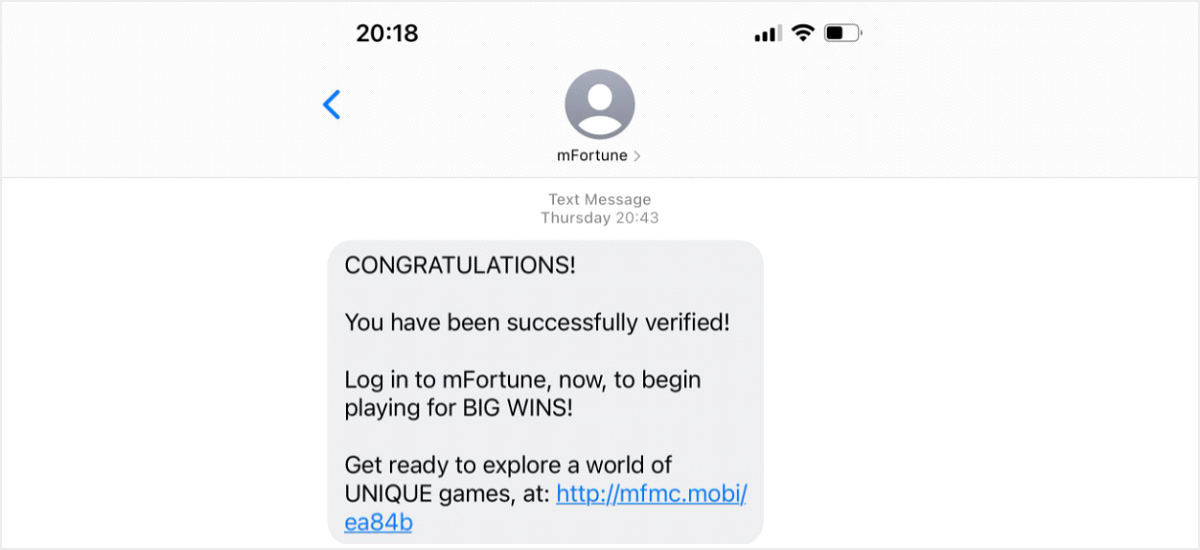 Initial Deposit & KYC Verification
WannabeABigWinner had attempted to play on the same day as registration, however, the reviewer encountered a problem with his bank when making a deposit, which Santander later put down to a planned maintenance error. We should point out that this had nothing to do with mFortune.
Our tester observed the terms and conditions before signing up, and clause 13 is where information on verification is housed. Clause 13 reads as follows:

Based on clause 13, WannabeABigWinner was under the impression KYC docs 'may' be needed at some point, only, he soon discovered clause 15 and it contradicted clause 13.

So, which was it to be? KYC upon request or instantly? The only way to find out was to make a deposit. Heading to the cashier, he attempted to make a deposit, only a pop-up appeared urging our player to upload identification documents. What no other online review tells you is that you will not be able to make a deposit, play – including any no deposit offers (and there are plenty!) - nor will you be able to withdraw without supplying this info. A vital piece of information and we're sure you will agree.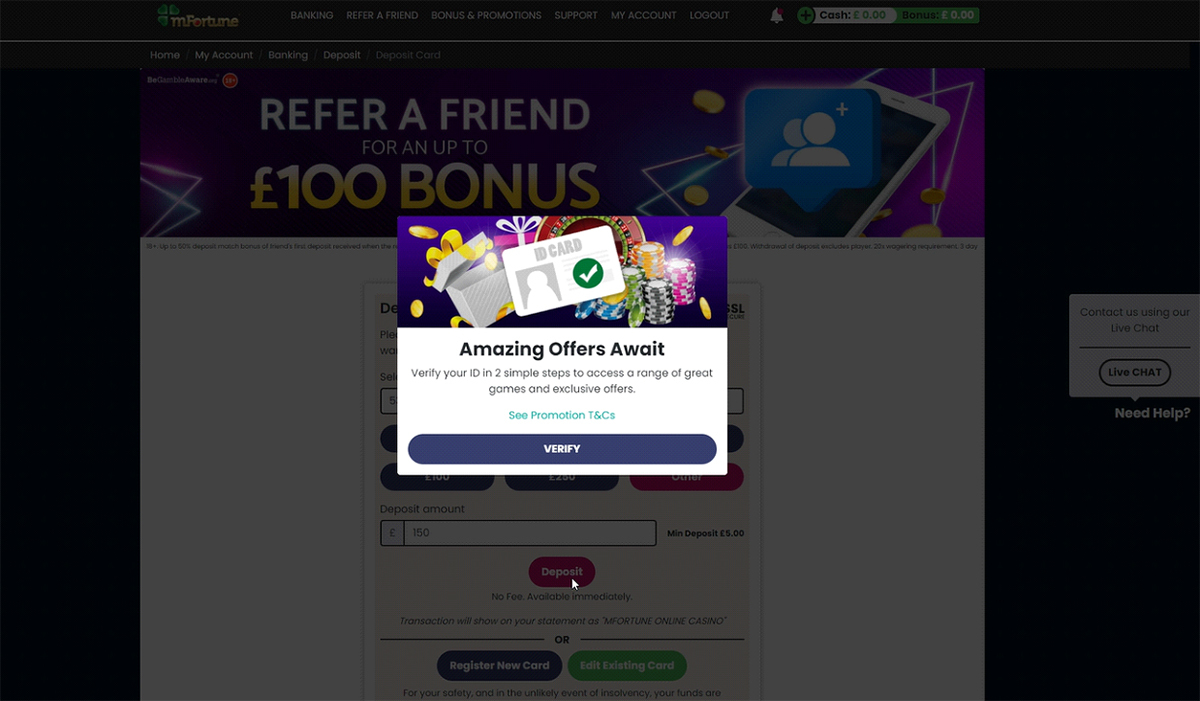 When aiming to make a deposit before uploading docs, a text message and on-screen message is triggered. The text message goes into a little more detail than the pop-up.

KYC required just a driving license or two other forms of identification. Our reviewer uploaded an image of his passport, image of his debit card, making sure the 8-digits in the middle of his card were hidden, plus a recent utility bill.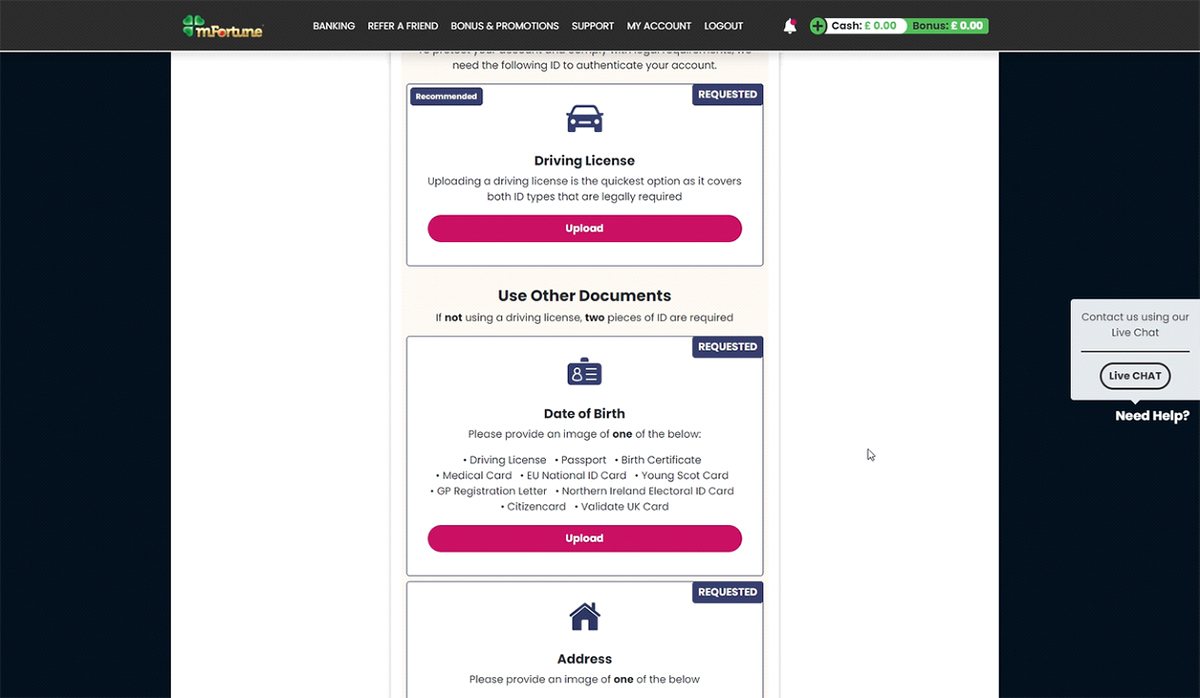 Once uploaded, a message appeared to say he would receive a confirmation via text within the next hour. Remember clause 15? "You will not be able to deposit, play (including the use of bonuses or free to play games) or withdraw any winnings from your Account until our identity verification process has been satisfactorily completed." WannabeABigWinner was able to make a deposit and play games straight after uploading the required documents!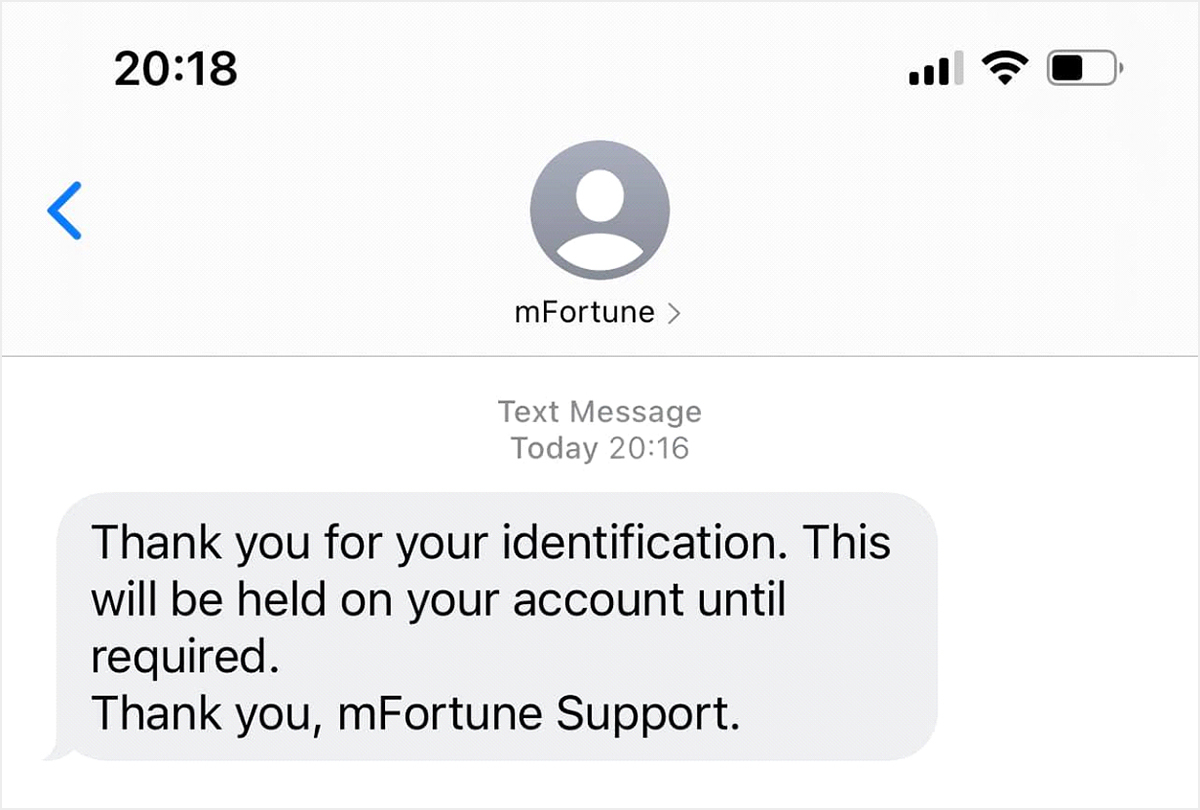 The next step was to fund his account and WannabeABigWinner decided on a deposit of £150 via MasterCard debit. After visiting the cashier, inserting his details and making the deposit, his balance was updated to £150. A welcome bonus offering appeared on screen soon after. Wagering requirements are middle of the road here, but our reviewer didn't want to go through the hassle of meeting turn over terms, so declined the offer…on more than one occasion!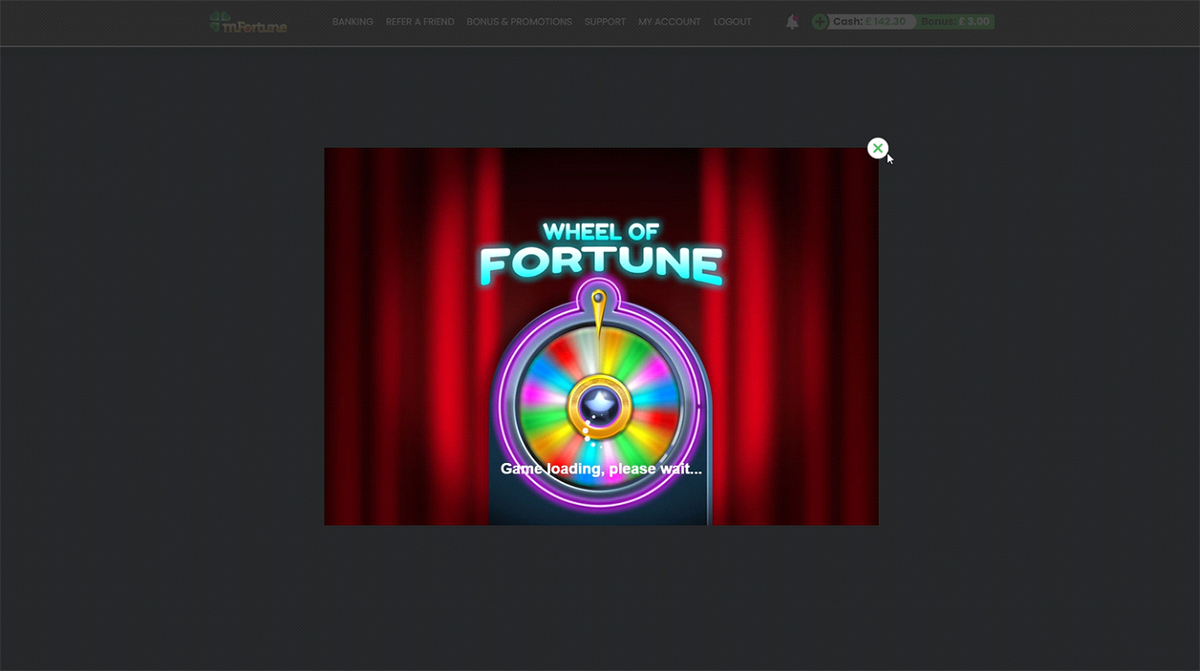 Gameplay
The choice of games isn't as substantial as most other online bingo sites, but there is a reason for this. All games featured are created in-house and are exclusive to mFortune, which makes gameplay more exciting. Not only do mFortune specialise in no deposit offers, but progressive jackpots too and our tester headed straight to the biggest cheese – Cat & Mouse where a sum of more than £530K is on offer!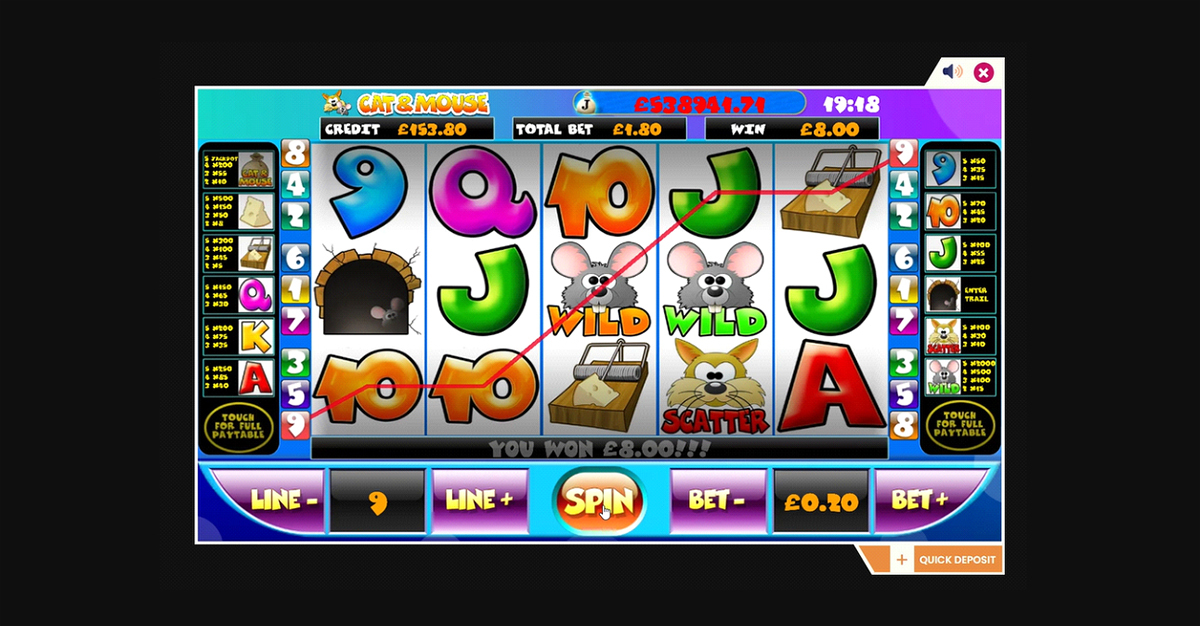 Being a fan of Deal or No Deal, our tester of the day thought he'd try his luck with the gameshow inspired Big Box Bonus, and he managed to lift the lid on a nice little (or should that be big?) win! Three or more boxes or the same colour will trigger the feature where you can win up to 250x in each box during the base game or 500x during the bonus games round!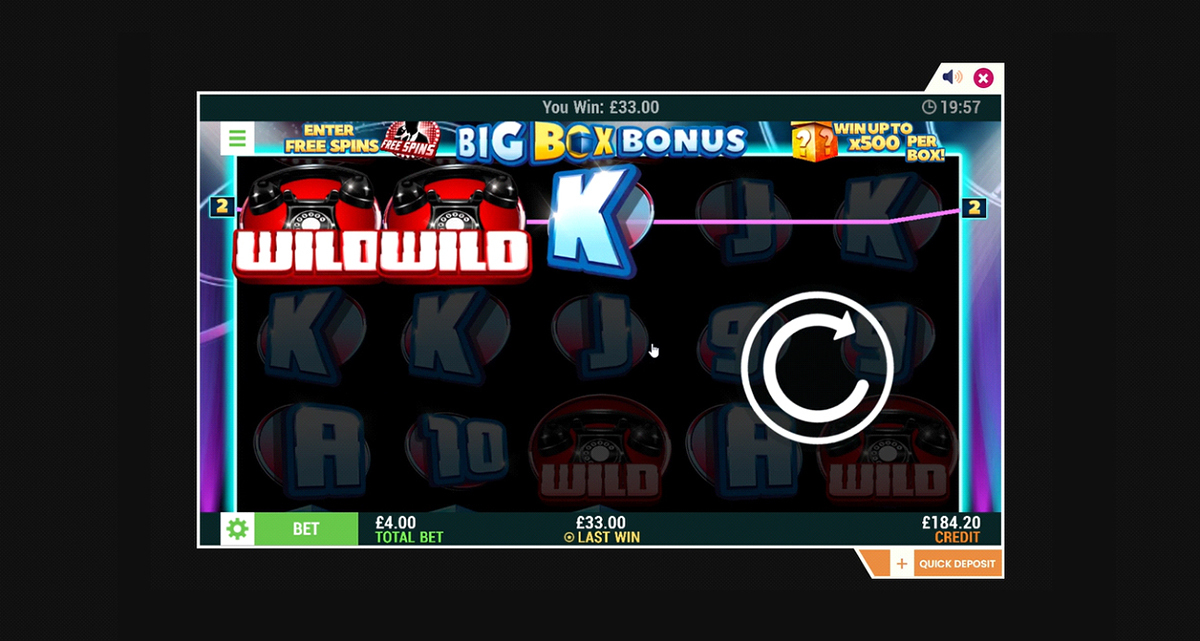 After playing a few other titles – Krispy Kash with its consecutive win spin multiplier and Gold Mine with split symbols, all of which came with a welcome offer reminder after closing each one, it was back to Cat & Mouse for WannabeABigWinner before winning a sum that would see his bankroll tip over the £220 mark. He knew then it was time to cash out.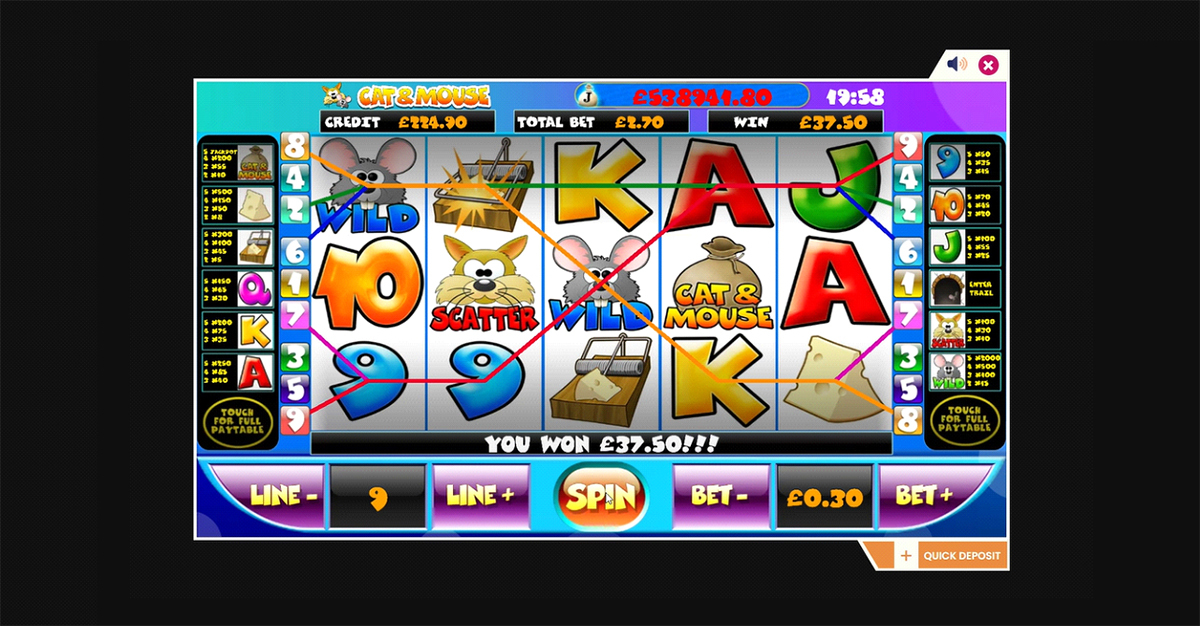 Requesting a Withdrawal
WannabeABigWinner headed to the cashier and chose the bank transfer option for his withdrawal, something he later finds out he shouldn't have done. After supplying his bank name, amount he wished to cash out, account number and sort code, he was reminded that any bonuses in his account would be lost if he were to proceed with the request.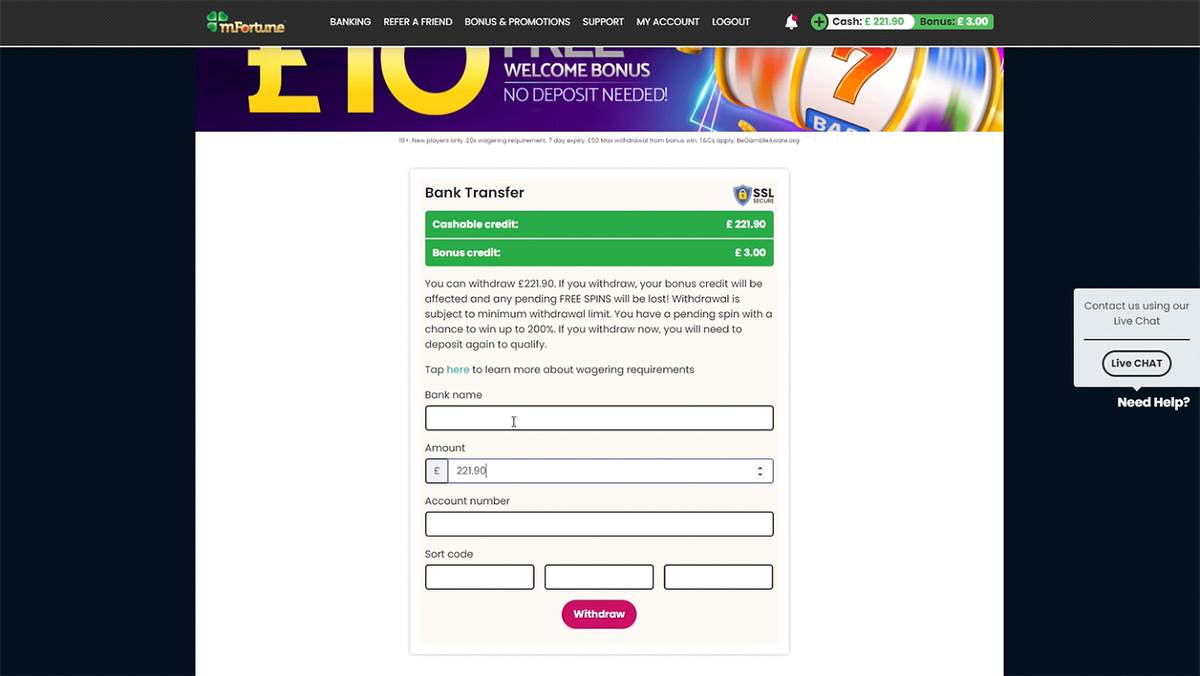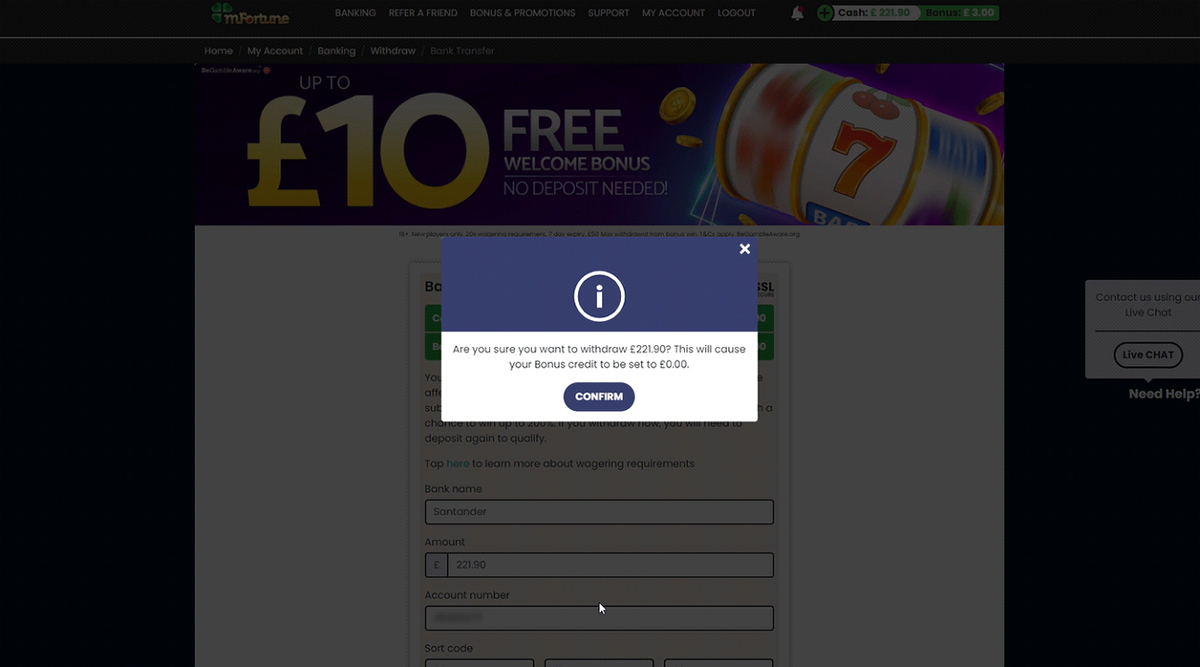 Having only £3 in bonuses in his account, he carried on with the withdrawal request - £221.90p via bank transfer on Saturday 10th July.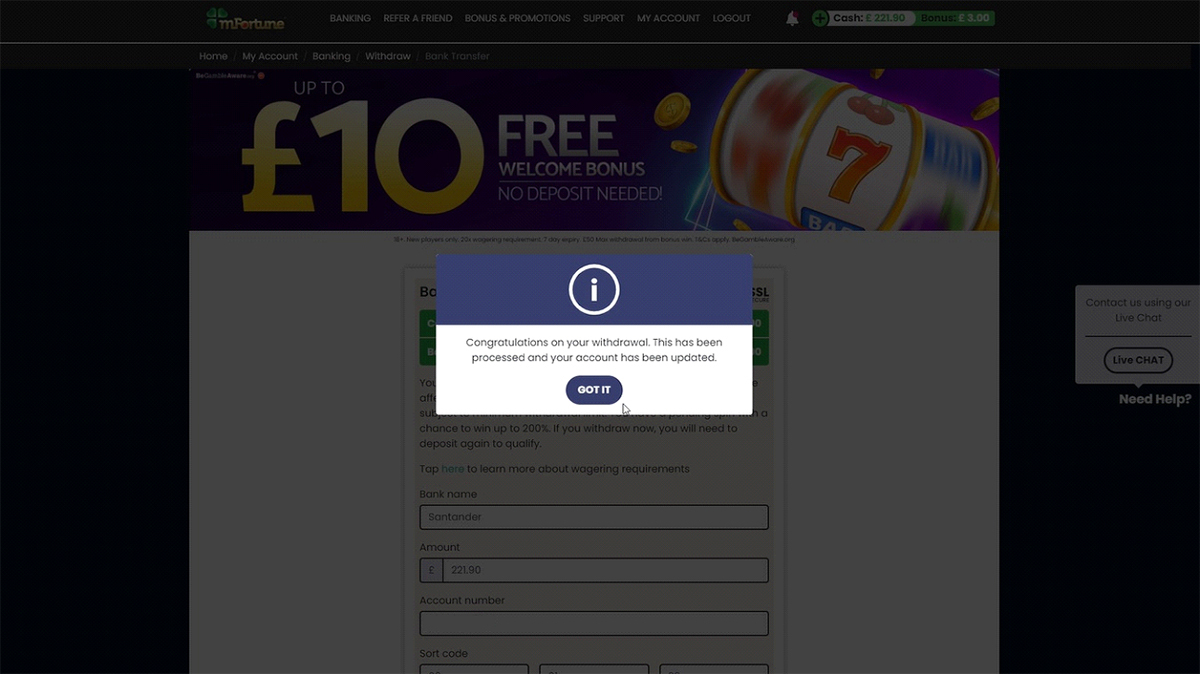 Some three days later on Tuesday 13th, our tester received a text message to say he should have requested a withdrawal back to the funding source he used to initially credit his account – MasterCard debit. mFortune changed this themselves and assured him there would be no time delay in receiving the withdrawal.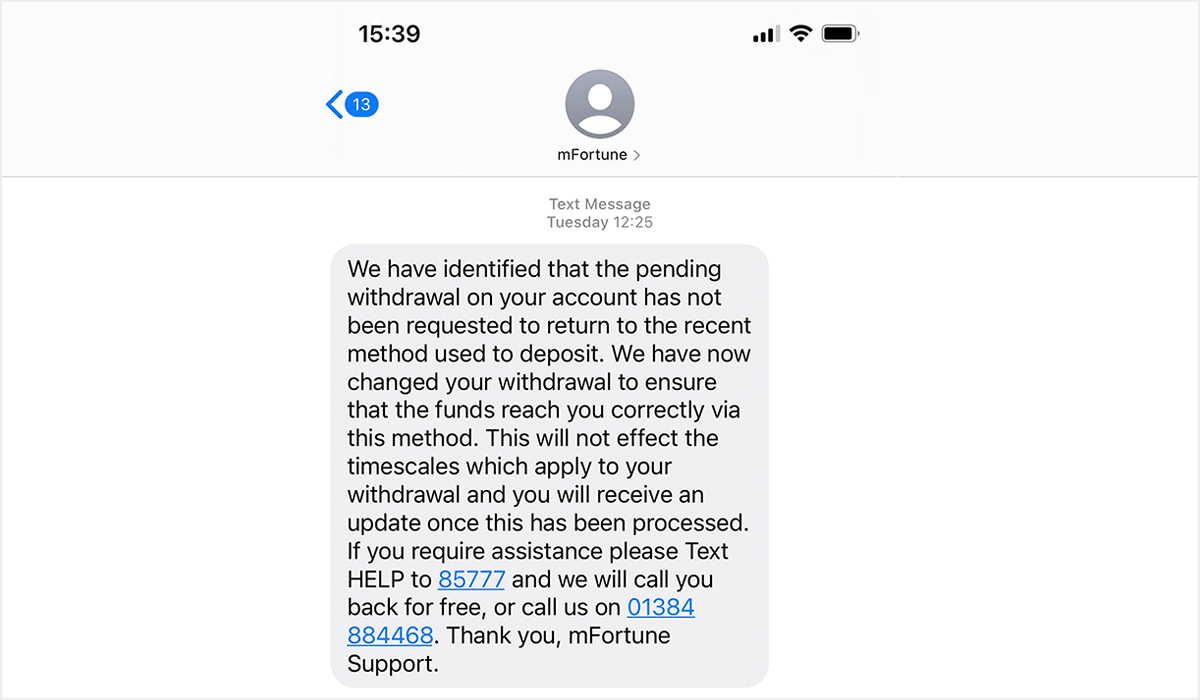 Just a few seconds after receiving that text, another came through with a message stating the withdrawal was complete. WannabeABigWinner headed to his bank and there it was, £221.90p.

How Does mFortune Stack Up?
From deposit to withdrawal, the efficiency of mFortune is spot on. There was confusion in relation to when KYC will be needed within the T&Cs. Verification docs are indeed required up front before funding your account and placing a single bet. Approval was lightning fast. We do, however, recommend adding identification documents as soon as you join any bingo site, as this eliminates stalling when it comes to withdrawals. Speaking of withdrawals, the tester was paid within 3 days.
This information concludes this extensive test as part of the project From the Players, For the Players. If you are a member of mFortune or consider making a deposit, we hope that this comprehensive and detailed experience helps in your future endeavours. Feel free to drop by and leave a comment for other potential players!
From the Players for the Players
Back to articles
Your feedback
Please enter your comment.
Your comment is added.