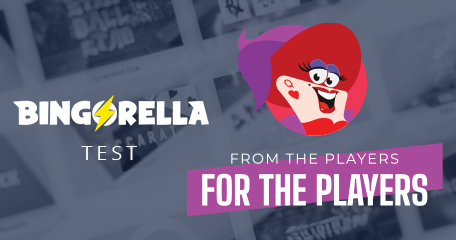 Bingorella have gone through a few changes over the years, including a software and name change. Their bingo journey began in 2014 when they launched as Winneroo Bingo (and games). Two-years later, a change of software resulted in a rebranding via the Dragonfish platform to Bingorella then finally, in 2021, after splashing some paint around, players were treated to a whole new look and theme.
Players are promised a big deposit bonus as well as on-going perks through the Star Rewards program, daily codes and a once-a-month special bingo room offering physical prizes. On top of all that is the networked promotion where players (by invitation only!) can win a guaranteed share of £10K every month. Anyone can see what Bingorella claim to do by reading the website, but we decided to put our money where our mouth is to see how they handled registration, deposits and withdrawals as part of our 'From the Players for the Players' experiment. Did our reviewer find an issue or was everything plain sailing? Stick with us as we reveal all there is to know about Bingorella!
Tester of the day: bigmoneyrella
Registration date: Tuesday 5th October 2021
Deposit date, amount and payment method: October 5th, £150 via Visa Debit
Withdrawal request date: October 5th, withdrawal request of £75.48p via Visa Debit.
Withdrawal received date: £75.48p on Thursday October 7th via Visa Debit.
The Registration Process
Our tester of the day, bigmoneyrella, took on the task of registering, playing and withdrawing at Bingorella on Tuesday 5th October. Her journey began by filling in the registration form. There are a total of 4 steps to complete. Before submitting her details, she decided to opt out of any bonuses to eliminate any pesky wagering requirements. Step 3 is where she checked the 'no' box under "would you like to receive exclusive offers?"

A few minutes is all it took for her to be welcomed to the Bingorella community.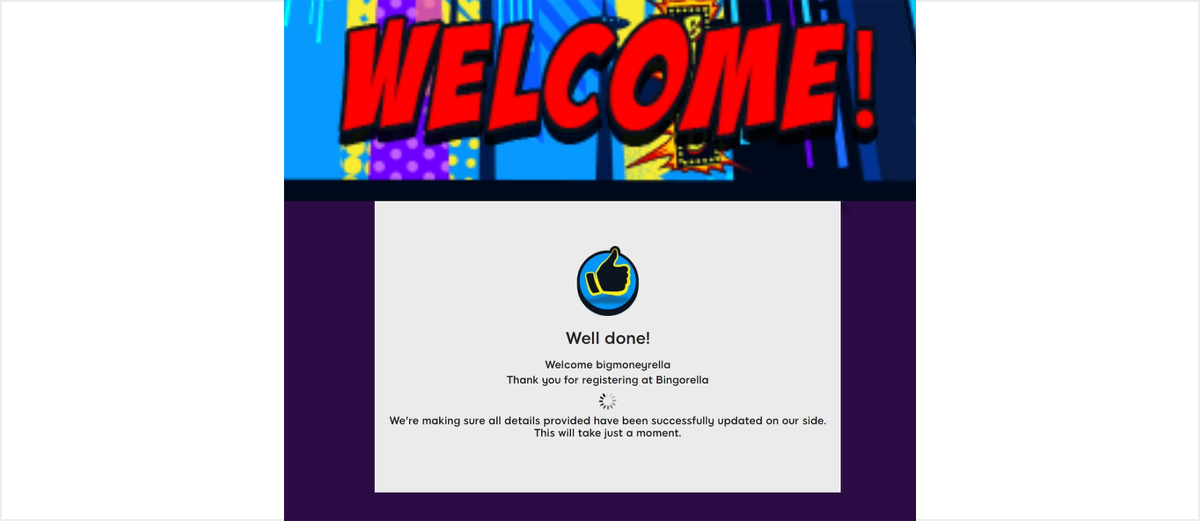 Initial Deposit
Hoping to use PayPal to make her deposit, bigmoneyrella headed to the cashier to find a familiar message – one that would result in her waiting longer for her withdrawal. As documented in previous From the Players for the Players reports, Pink Ribbon Bingo and Wink Bingo to be precise, Internet Explorer Windows 10 is not classed as a modern browser, therefore a deposit via PayPal wouldn't be supported.

Eliminating PayPal as a deposit method, the only other choice was a debit card. Adding her details, our reviewer was able to make a deposit of £150 via Visa Debit in just a few clicks.

Again, she had to decline any bonuses for her to guarantee no wagering requirements on her winnings (if any!).

Gameplay
The bingo lobby is varied with games ranging from traditional 90-ball bingo to patterned 75-ball. Being a Dragonfish powered website also means unique games such as bingo roulette and mystery jackpots, however, due to playing at off-peak times, the number of players in the rooms was at a low, resulting in less prize money too.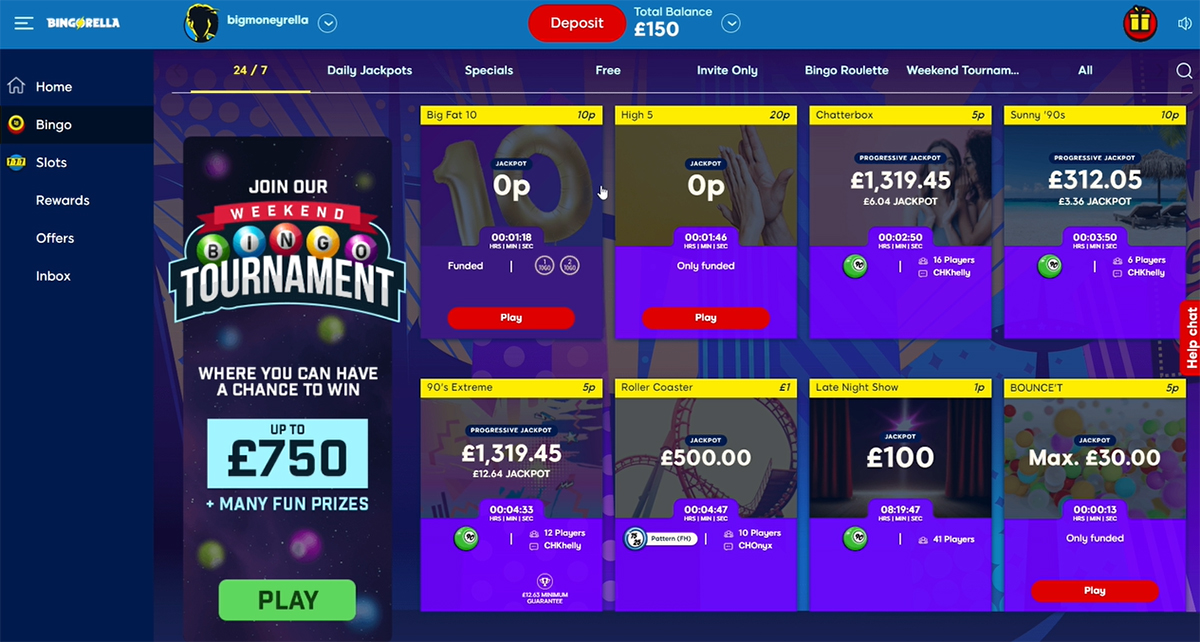 Bounce'T was a strange room to play in as the full house prize money on display would go up and down with each number called! Usually, sliding jackpot games see prize money decrease with every ball called, but here, the prizes would jump to random amounts until the full house was won!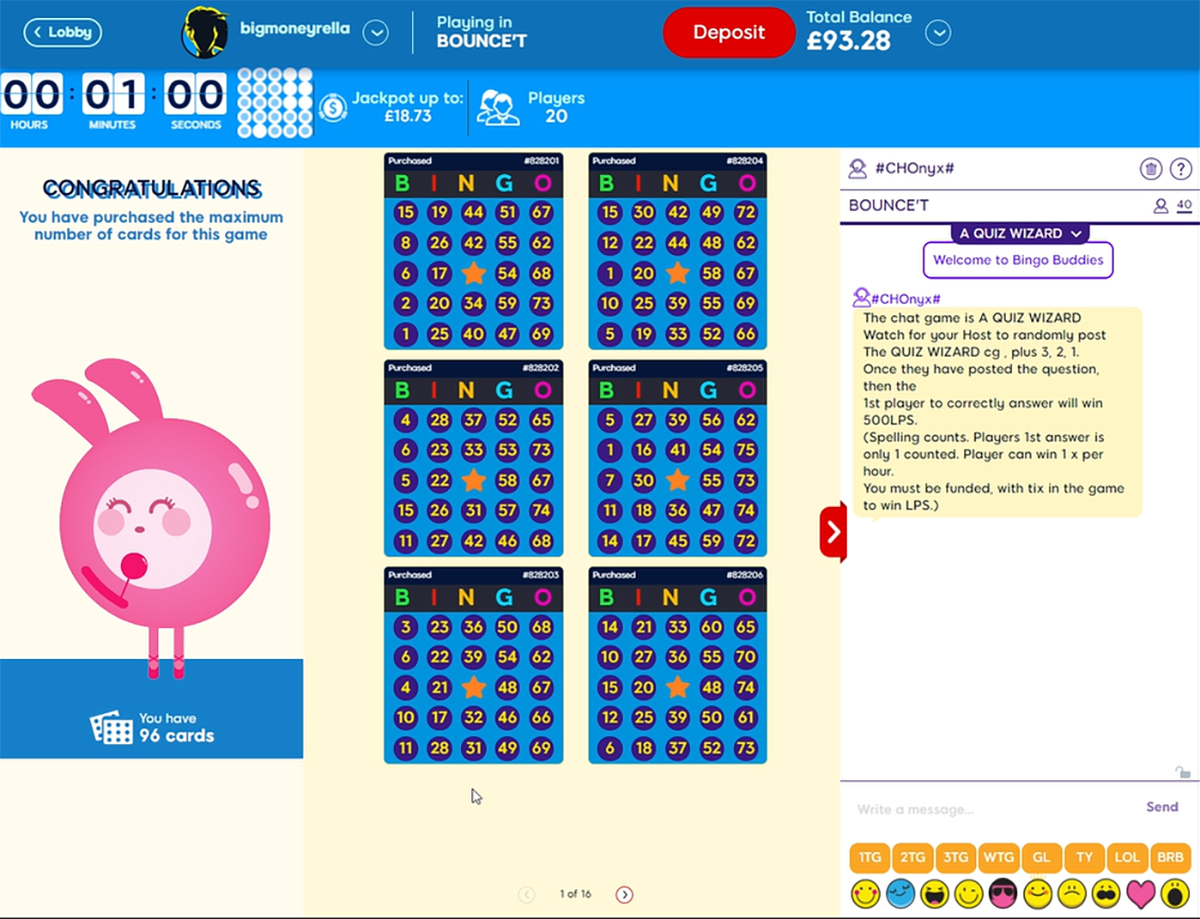 Side games include Eyecon favourites as well as progressive jackpot games such as A Nightmare on Elm Street. A far greater choice of titles can be found in the main lobby. If you can't see the side game you want to play, the bad news is it will only be available in full screen mode.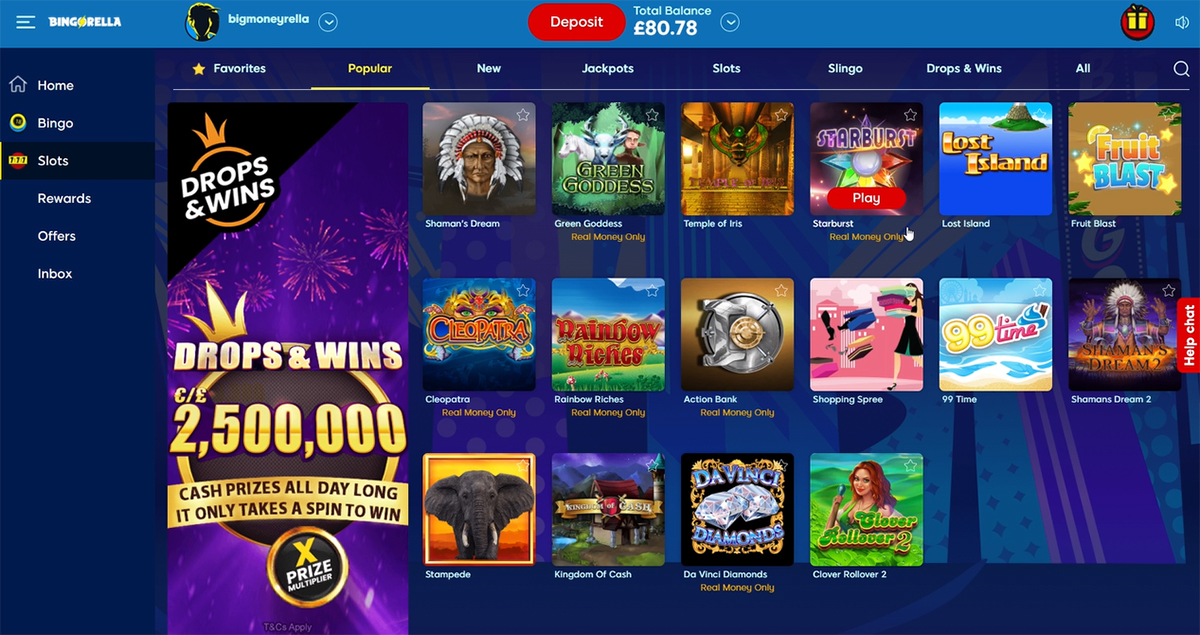 Requesting a Withdrawal
Terms and conditions state the following when it comes to age and verification:

Deliberately omitting this information, bigmoneyrella headed to the cashier to request a withdrawal of £75.48p. Would she be required to send over documents to satisfy KYC procedures? You'll find out shortly! The withdrawal process itself is a little confusing. When it comes to cashing out, players need to press the big 'deposit' button.

Once done, they are then required to click the purple floating tab to the left of the screen before hitting the 'more options' tab and then finally the withdrawal option. Once inserting the sum to be withdrawn, a pop-up appeared with a summary of her actions. Pressing confirm finalised her request with details on how long (on average) she would have to wait.

In regards to KYC, this info wasn't required to process her withdrawal and on Thursday October 7th, within a few seconds of receiving an email with her bingo withdrawal details, the funds (75.48p) were in her bank account.

According to the email, Debit Card withdrawals would take 4 – 7 business days from the point of that email being received, however, bigmoneyrella only had to wait 48-hours from requesting a withdrawal to receiving her money.
How Does Bingorella Bingo Stack Up?
Other than not being able to use PayPal to make a deposit/withdrawal, Bingorella performs better than expected, especially when you take into account speedy withdrawals. The choice of rooms is superb, the only downside is the number of players in the rooms at off-peak times. Our tester didn't want to accept any bonuses to remove wagering all together, but there are no wagering requirements when it comes to free bingo tickets, something she only discovered after playing.

From the Players for the Players
Back to articles
Your feedback
Please enter your comment.
Your comment is added.
Feelin froggy
10/19/21, 08:10:51 PM
PayPal is available to UK players only using modern browsers (Internet Explorer no longer supported). Visa Debit withdrawal received within 48 hours is a great result!
Bixy
10/19/21, 11:10:07 AM
Even though the PayPal banking method couldn't be processed, fast withdrawal is the advantage for this bingo site.