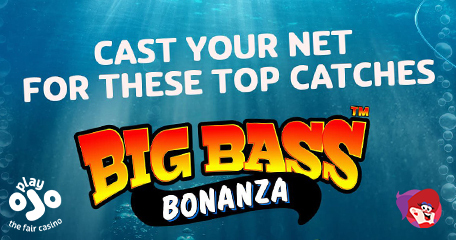 All Spinning with A Chance to Win Top Tech!
Howdy LBB'ers! I've details on how you can win some of the very latest (and greatest) tech for just one quid, and there's literally no skill involved – just luck! It's a slot tourney, only don't panic, this one doesn't involve you spending heaps of cash to try and get your name on a leader-board, instead, you exchange £1 for 20 spins and with those spins you try to win as much as you can. All spin wins will be converted into points and will go towards your name on that prize board.
You may be wondering why I'm giving you the details of a casino style promotion, and the answer to that is simple – Play OJO Bingo customers can access this great treasure trove of prizes too! Bingo customers don't lose out in promos at OJO, thanks to the 'one-log in access to all' system. How do you take part? I thought I'd get the prize list out of the way first, so take a gander at what you could be winning at the end of this promo:
1st Prize: LG 60-inch Widescreen Full HD
2nd Prize: Samsung Galaxy S21 Ultra 5G 512GB
3rd Prize: Fujifilm X-S10 Mirrorless Digital Camera
4th Prize: Folding Electric Bicycle
5th Prize: iRobot ROOMBA966 Vacuum Cleaner
6th Prize: Bose Bluetooth Headphones 700
7th - 9th Prize: 400 bonus spins
10th - 19th Prize: 350 bonus spins
20th - 29th Prize: 300 bonus spins
30th - 39th Prize: 250 bonus spins
40th - 49th Prize: 200 bonus spins
50th - 59th Prize: 150 bonus spins
60th - 69th Prize: 100 bonus spins
70th - 89th Prize: 90 bonus spins
90th - 100th Prize: 80 bonus spins.
Impressive huh! To join in the Play OJO spinoff, head to the 'kickers' section of your account and click the 'catch of the day' option. Exchange £1 and receive 20 spins to use on the Thor: The Trials of Asgard title. The spins will be a fixed stake for all players giving everyone who takes part the same chance of winning. At the end of your spins, your winnings will be shown on screen and converted to points. No money will be credited to your account.
To gain a free ticket (20 spins) to the tourney, play through 100 spins on Big Bass Bonanza. There's no limit to how many tickets you can pay for or gain for free by playing the fishing-themed slot, but you only have until midnight on May 2nd to get your name onto that board! Winners of the free games will be credited their spins in one lump sum, with no wagering! All winners will be informed via email or telephone, so make sure those details are up to date or you may miss out on a big prize!
Bingo Promotions & Bonuses
Back to articles
Your feedback
Please enter your comment.
Your comment is added.
Member's Feedback (1)
HulioSas 04/29/21, 07:04:25 AM
Love these, only I've never managed to win yet! Anyone on here won?