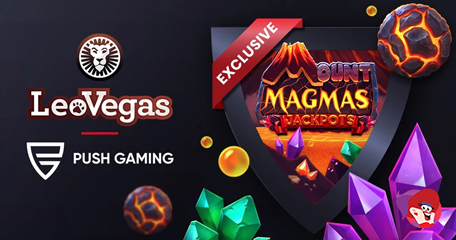 First-Ever Jackpot Slot Explodes Onto Gaming Scene
Push Gaming, the folks behind Jamming Jars and Dinopolis, have created their very first jackpot slot, Mount Magmas, after teaming up with top-tier casino operator LeoVegas, and it cannot be found anywhere else! It's fun, fiery and extraordinarily unique, but on first impressions, this is just another 5x4 reel engine with 20 ways to win per spin, only in reality, it offers much, much more than that!
Not only is it part of the progressive jackpot network at the casino, but it also offers a daily jackpot which is guaranteed to be won each day, plus a mega pot designed to keep on rolling over until it's maximum limit of €86,288 is reached! Either it goes before then or it goes when it reaches that target! Super stacks of symbols can lead to great big wins, only not as grand as those hiding within the volcano in the distance!
Commenting on the release, James Marshall, CEO at Push Gaming said, "Mount Magmas is another great production offering huge win potential and we're delighted to be launching it exclusively with a market leader and valued partner in Leo Vegas. This is also a significant milestone for Push Gaming, with the game being our first Jackpot game, on top of it offering must drop and timed Jackpots. We're looking forward to building on this in future titles."
Red Hot and Ready to Erupt
Remember that volcano I was talking about a little earlier? Well, it may look like it's hiding in the distance as part of the game's scenery, but in fact, it offers jackpots and huge cash prizes! Keep your eyes peeled for magma rocks, as these could fly off into that fiery furnace to initiate the click and pick bonus – the volcano bonus. Here, the player will be faced with 11 rows of selectable tiles starting from the ground up. The further one gets, the larger the prizes become. Options behind the tiles include instant win prizes, advance symbols (move to the next level plus a game over option. Reach the top and the stated jackpot is all yours!
James Ford, Casino Director at LeoVegas added, "Here at Leo Vegas Group, we constantly strive to earn ourselves the coveted title of King of Casino, with a core philosophy of being first with the latest and greatest on mobile. Introducing bespoke games to our portfolio gave us the opportunity to offer and promote unique content tailored to our player base and it was with this in mind that Leo Vegas Originals came to be."
Jackpot slots over thee self-proclaimed 'king of mobile casino,' work in a way that is similar to a normal progressive slot – the amount you can win will increase as the game is played until it decided to drop. Only, you won't just find the one slot machine offering additional jackpots, but a network of them. To win one of these jackpots, players must opt-in and be playing a game associated with the jackpot. Every spin will cost 9p more than your chosen in-game stake. So, a bet of £1 with a jackpot bet would become £1.09. When a jackpot is won, the seeded value for the next is as follows:
Mini: £4.50
Minor: £90
Major: £9K
Mega: £4.5m
Ford continued: "Mount Magmas is the latest instalment to our Leo Vegas Originals offering and our first bespoke collaboration with Push Gaming. Push Gaming have really made a name for themselves as one of the industry's most exciting studios - and we are very excited to be launching such a unique game together exclusively for our players."
Source: "Push Gaming and LeoVegas Collaborate to Release Mount Magmas Jackpots". Push Gaming. May 27, 2021.
General Bingo News
Back to articles
Your feedback
Please enter your comment.
Your comment is added.
Member's Feedback (1)
HulioSas 06/22/21, 05:06:10 AM
Shame there is no free play demo on this as it sounds and looks great!