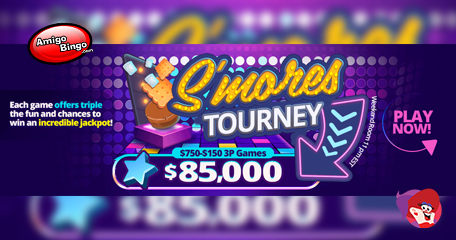 You Could be Jetting Off to Las Vegas with a Mate!
Attention bingo players! Amigo Bingo is back with new promotions, new thrills and new chances to win in a series of specials designed to keep players entertained. From bingo tournaments to slot tournaments, guaranteed weekly prize draws to once-a-week no deposit spins, there is literally an offer/deal to suit all budgets. You could go as far as saying the promotions are like a sundae, all cool and delicious, why? There's a cherry on the top coming and it could result in you jetting off to Las Vegas baby!
The Regular Promotions
In this section we're going to recap on the welcome offer and on-going offers at Amigo Bingo. If you're an existing player, save yourself some time and skip to the next section. New players are eligible for a no deposit offer but what is better than a free trial offer? The answer is an exclusive offer where you get more funds and we have one of those just for our readers! Sign up with code: LBB50 to get a $50 free trial plus 50 bonus spins!
Fancy huge bonuses on every deposit you make? They've got that too with 600% on your first deposit and up to 800% on future reloads! Plus there's a daily bonus of 300% on your first deposit every Monday. Every Thursday it's bonus cashback day where 20% of total deposits from the previous week will be credited back to your account.
Bitcoin depositors are welcome to join the special reward program where exclusive perks and freebies are generated on cryptocurrency deposits. An example of this is when you first join, 30 bonus spins and 1 team bingo entry will be awarded along with a bonus of 200%. You'll also get $500 in bingo bonuses on every ten deposits with $1 withdrawal fees.
Six of the Best Promotions
Everyone loves to play for free and Amigo Bingo is giving you that chance twice-a-week with their no deposit fun days. This June you'll get the chance to spin the reels on one of their most popular games not once but twice a week for free, that's 50 bonus spins on the house! To get your risk-free spins, log in every Sunday and Wednesday for 25 casino spins on the machine of the day.
The bingo circus is back in town with $150K in guaranteed cash jackpots and extra weekly prizes. Roll-up to the games and be on the lookout for popcorn, jumping jackpots, speedy pie games, guaranteed jugglers and strongman progressive jackpots. A different circus act will kick off every week to keep you entertained while giving you a chance to win a share of that mega $150K.
There will be a special buy 30 get 5 free offer in place throughout the promotion. If you've never taken part in a bingo tournaments before, it's simple. You earn points as you play and the more points you have the better your chance of landing a spot on that leaderboard. To keep things fair, there will be two random draws and two draws from players on the leaderboards. There are extra prizes of double the daily bonuses, bonus cashback, lottery tickets, team bingo entries and bingo bonuses to play your favourite games. Then, at the end of the month, 4 lucky players will win $1K each.
Fun chat, great games and huge jackpots are guaranteed in the main bingo room this month, including $250K in guaranteed cash! Every top-of-the-hour, $10K jackpots will get underway plus there are weekly prizes to give you even more chances to win. Collect points as you play to be included in leaderboard and random draws. Every week bonuses of between $25 and $250 will be won.
Over 250 jackpots of $3K or more are guaranteed this month in the fifteen million slots tournament. Amigo Bingo slots are paying out over $15 million a month, with over 1000 jackpots at $1,000+, more than 425 jackpots at $2,000+ plus 250 jackpots of $3,000 or more being won in May alone! Can June top that? To take part, have fun playing your favorite casino games and compete against each other for extra prizes. First prize of $300 cash and 200% bonuses will be won every week with a $4K cash draw at the end of the month.
Every Saturday to Monday in June, $85K in cash jackpots will be won. Everyone taking part will be gifted24 cards on the house, with a buy 30 get 5 free deal in place here too. The games are triple chance with at least three winners per game.
Win an unforgettable trip to Las Vegas! This is your chance to head off to Sin City, the gambling capital of the world where shopping, fine dining, entertainment and nightlife come together for one epic, memorable experience. There are plenty of free attractions too! Amigo Bingo are giving you're the chance to win a grand prize of a fantastic trip to Las Vegas for two (2), flights (2 roundtrip tickets) + plus hotel (2 nights) plus taxes & fees, just for playing bingo and games.
To take part, earn raffle tickets. Every single deposit of $50 or more will generate one ticket into the draw, a deposit of $75 or more will generate three tickets while a single deposit of $100 or more will generate five entries. The lucky winner will be drawn on August 3rd and given the chance to claim the trip for two, or the $1,500 cash equivalent. What would you choose?
Don't forget to check out the free bingo room where you can take part in 24/7 bingo games for free every day. Open to all members there are $5 bingo bonuses up for grabs in each game plus, every win in the room gives you a free entry into a special weekly contest where you could win bonuses of 100%, 150% or 250%! These bonuses will be added on top of the $1000% Welcome Bonus Package or your Loyalty/Daily Bonus. Remember, these are no deposit bingo games with no risk to your cash!
Bingo Promotions & Bonuses
Back to articles
Your feedback
Please enter your comment.
Your comment is added.
Member's Feedback (1)
HulioSas 06/07/22, 11:06:54 AM
Amigo bingo is one of my go to bingo sites. So many promotions and ways to win big money. The chat community is super friendly and there are always quizzes to keep...
Amigo bingo is one of my go to bingo sites. So many promotions and ways to win big money. The chat community is super friendly and there are always quizzes to keep you entertained.
Show more