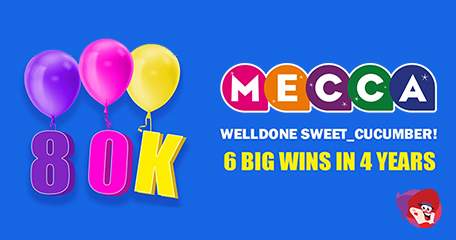 We bring you a win-credible story today of a lucky bingo player from the UK who just can't stop winning jackpots! Winning is extremely difficult at the best of times but when it comes to jackpots, the winning is harder still, but not for this 50-something bingo dabber from the North East. Mecca Bingo have crowned 'sweet-cucumber' their luckiest ever player after she secured a total of 6 jackpot wins in just 4-years, totalling some £80,000!
That £80K is equivalent to a £20K annual salary which is great, but what was her biggest win? Her most recent and biggest win to date was a £51,000 win from just an 18p stake! Yes, 18-pence! The life-changing bingo win didn't go straight to her head because she already knew what she would do with some of her winnings as soon as it went into her bank!
Charity was the first thought for the winner…
…and off she went to her local Tesco as soon as the funds cleared, to buy nappies, baby wipes and baby food for many families in need. A magnificent move! Laura Bacon was talking about streaks (no-pun intended) over on the Mecca Winner hub and revealed that: "repeated big wins are not unheard of, but to win six big prizes is incredibly lucky – we're really happy for our jackpot winner and it's lovely to hear how she's been helping others."
Outrageous Wins
The latest announcement on social media has generated comments of jealousy with some saying it's pure greed and others claiming it must be a 'fix'. Do these people claiming it's all rigged think Mecca staff have some system in place whereby they hand pick winners each game? It's just preposterous! All gambling establishments, whether that be online bingo with their super promotions or websites where live casino games and the latest slots, are all heavily regulated and are being watched continuously by the gambling regulator. One wrong move and they're in big trouble!
Games have to be proven to be fair before a gambling license is even offered, but these people who throw comments like this around clearly have no understanding of how gambling works. "Same winners all the time" is one that really gets me, but it's okay when they win multiple time. Ah, the joys of gambling hey!
The lucky winner from Cleveland revealed her latest win came from one of Mecca's Premier Jackpots which is a linked system within many bingo rooms, and all she paid for the tickets was 18p. "I've had all the luck, I can't believe it" she said when called from the Winners Hub, "I've been playing with Mecca for 10 years and I've got so many friends online in the chat rooms which has been a real lifeline through lockdown, especially as I caught COVID at New Year – I'm glad to be feeling much better now" she added.
Jackpots Galore
There are 15 jackpots paid out every day and since launching last year, they've paid out more than £1.5million in additional prizes to some 5,000 players! If you don't know what they are yet, let me tell you. Each qualifying bingo room (look for the crown) offers the usual prizes only with additional jackpots. If you win the full house prize, you may trigger a jackpot chance. This sees a spinning wheel appear on screen. If you spin in a jackpot, you win that on top of the full house.
Premier Jackpots up for grabs are as follows:
The Premiere Bronze Jackpot is won, on average, every 2 hours with a fixed prize of £10.
The Premiere Silver Jackpot is won, on average, twice a day with a fixed prize of £50.
The Premiere Gold Jackpot is won, on average, once a day with a fixed prize of £100.
The Premiere Platinum Jackpot is won, on average, twice a month. This is a progressive jackpot starting at £5,000 and has been won at over £50,000!
The Premiere Diamond Jackpot is won, on average, once a month. This massive progressive jackpot starts at £10,000 and has dropped at over £70,000!
The biggest jackpot winners to date include…
…'bigsil's' win of £110,518,14p on July 5th, 2020, and 'psycho280903's' jackpot win of £77,906.77p! And now 'sweet-cucumber' finds herself on that list with her win of £51,000! Will you be the next big winner?
Bingo Society News
Back to articles
Your feedback
Please enter your comment.
Your comment is added.
Member's Feedback (1)
bridgetjones
02/01/21, 08:02:45 AM
I have triggered the jackpot feature many times but never been lucky to win even a tenner. It's crazy how some people have all the luck but I agree, it's all regulated...
I have triggered the jackpot feature many times but never been lucky to win even a tenner. It's crazy how some people have all the luck but I agree, it's all regulated so it can't be tampered with.
Show more