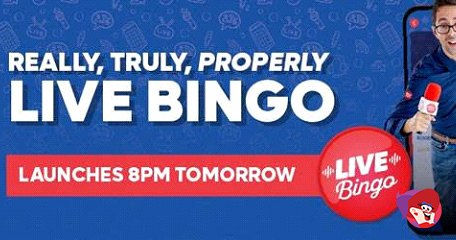 Look Out For Gameshow Bonus Rounds!
Live Bingo is a new and exclusive bingo variant only available to Buzz Bingo players and it comes complete with a live interactive feature, multiple gameshow bonus rounds and the chance to win big cash prizes.
The new bingo product game changer will run for 2 hours between 8pm and 10pm every evening with a live presenter in every show. Players (and spectators) are encouraged to take part in interactive games and chat for a more immersive experience.
I had the pleasure of testing the top secret game a few weeks ago and at the time I wasn't exactly thrilled with it, but since then, a few tweaks have been made and a lot more cash has been ploughed into the pot! Instead of 1,000+ players attempting to win just £15, there will be prizes of up to £1K to celebrate its launch.
£1,000 Full House Prizes
Real-life interaction, which is typically only found in live casino games, is what makes this bingo game so different to the rest, and of course its bonus rounds. A fun-filled, prize-packed bingo session will roll out on the first weekend which just so happens to be Buzz Bingo's 4th anniversary weekend.
Thursday 29th September: Launch Night, 3 x £1,000 Full House prizes
Friday 30th September: Buzz's 4th Birthday, 4 x £444 Full House prizes
Saturday 1st October: Saturday Night Live, 21 x £100 Full House prizes
Sunday 2nd October: 80's Night: Call bingo on any number in the 80's and win an extra £80
Now for the bingo bonus rounds, where the presenter can give players bigger and better prizes via in-game features. Here are a few of the bingo bonus rounds available in the new live bingo game:
Bonus Board - Call a full house on any number on the bonus board to win extra money (prizes stated during the game).
Prize Wheel - Spin the wheel to reveal a guaranteed prize to be added to the full house prize.
Magic Number - A random number is selected between 1 and 9. If a full house is claimed on that number, the winner gets an extra prize.
Double Bubble - If a full house is called on a double number (e.g. 11, 22, 33 etc) then the player wins double the prize money
Multiplier Wheel - Special prize wheel with added multiplier (of up to x6) to increase the full house prize money.
Money Back - In the last game of the night, a player wins back all the money they staked in that day's Live Bingo session.
What do you make of the new bingo experience? Will you be giving it a try? Reminder: Buzz Bingo's live bingo room comes with a pre-buy feature, allowing you to participate in upcoming games without being logged in or online.
Bingo Games
Back to articles
Your feedback
Please enter your comment.
Your comment is added.
Jovana1407
09/30/22, 05:09:16 AM
Sounds really good but I suspect the room will be heaving for the first couple of weeks. I'll hold off until it quietens down.