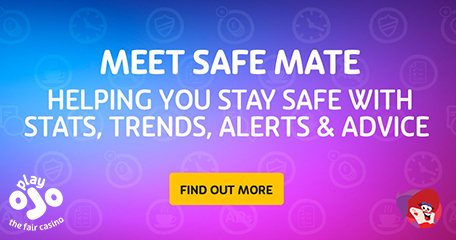 The Devil is in The Detail!
Popular SkillOnNet bingo and casino operator, Play OJO, has introduced a new feature which is designed to help players keep track of their spending. Up until now, tracking was limited to how much you had deposited during a certain period as well as individual stakes. Teaming up with Neccton, the new 'Safe Mate' tool allows for closer monitoring with finer details which can go back as far as 6-months.
Behavioural scientists and psychologists were onboard with the developing of this tool, but it also does more than you think! The feature also tracks player data and is programmed to detect any anomaly such as changes to betting pattern and changes in behaviour. If any abnormality is detected, it allows for swifter action from the operator. Basically, it's Play OJO's safer gambling assistant and a personal one at that.
Many tools are already in place to help players stick to a responsible gambling limit…
…with one being the 'game status reminder.' You can set yourself a reminder to stop playing at 15, 30, 60 or 90-minutes. As ever there are deposit limit options too with daily, weekly, and monthly limits. Think you're playing too much? The player limitation is effectively a cooling off period of time ranging from 24-hours to a complete self-exclusion of up to 5-years.
Digital Track and Trace
Safe mate can be found within 'my account,' under the play history section. Accessing this will bring up a new screen with your recent gambling up to a period of 180 days. Stats include your win/loss, amount you've deposited, amount withdrawn, number of days playing and your play duration. It's a little like screen time on modern mobiles – if you can see you're doing something, chances are you're likely to either reduce it or stop completely!
Peter Bennett, head of brand at Play OJO, commented: "We are delighted to partner with Neccton to offer our players this state-of-the-art new safer gambling tool. We pride ourselves on being the fair online casino and bingo site and will continue to find new innovative methods and tools to help promote safe play for our customers."
Tip: If you ever get in a pickle and need to contact support over a game, you will need its ID number. Recently, I was playing the festive-themed Jingle Spin (yes, I know it's only April!), and the game froze and didn't credit me with my winnings. The bauble dropped into the wild gift and nothing happened. I was told I needed to get the ID number, but how, I'd already logged out! It's simple: you head to the game activity section (in your account), choose the type of game you were playing (video bingo etc), then pick the actual game and a list of your plays will appear with ID numbers!
Source: Fletcher, Robert. "PlayOJO launches new responsible gambling tool". iGamingBusiness. April 13, 2021.
General Bingo News
Back to articles
Your feedback
Please enter your comment.
Your comment is added.
Member's Feedback (1)
bridgetjones
04/16/21, 02:04:11 PM
You could see 6-months of spends before, not sure what a new dashboard will achieve to be honest.